Coronavirus Update, Map Shows 169,000 Cases Worldwide, With Nearly 6,500 Deaths, More Than 77,000 Have Recovered From Infection
Cases of the new coronavirus, COVID-19, have soared past 169,000, including more than 6,500 deaths, across 148 countries, while more than 77,000 people have recovered, according to a map of the latest figures from Johns Hopkins University.
The outbreak continues in the U.S., where President Donald Trump declared a state of national emergency and the total cases have risen to more than 3,770. Several states have enforced stricter precautionary measures to combat the spread, including the closure of schools, restaurants and bars in various parts of the country.
Similar measures have been expanded in Spain, France and Italy, where cases continue to spike, with Italy recording the highest surge in deaths within 24 hours, reporting nearly 398 new fatalities in the last day, BBC reports.
There are nearly 81,000 infections in China, including at least 3,000 deaths. More than 55,000 in the country have also recovered from the virus. For the first time, the combined total number of infections outside China has surpassed those within, reaching more than 87,000, according to figures from Johns Hopkins University on Monday.
Nearly 11,000 new cases have been reported across the globe, including first cases within at least seven African countries, as well as in Europe and the Americas region, in the past couple of days, according to the latest report by the World Health Organization (WHO).
The graphic below, provided by Statista, illustrates the recovery curve compared to the infection curve of the virus.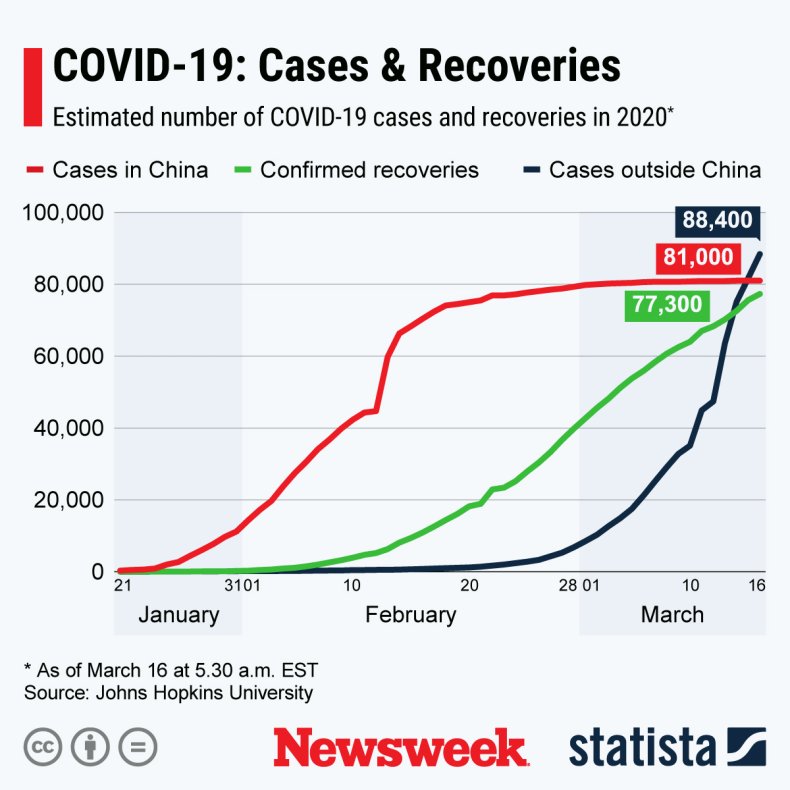 U.S. death toll climbs to 69, more schools and venues shut
At least 69 fatalities have been reported in the U.S., including 42 in Washington state, six in New York, six in California, five in Florida, two in New Jersey, two in Louisiana, while Oregon, Kansas, Virginia, South Dakota, Georgia and Colorado have each reported one death, according to the latest from Johns Hopkins University. New cases have been reported across the country, including Washington state, New York, Connecticut, Ohio, Colorado, and Hawaii.
The virus has spread to at least 46 states as well as Washington, D.C., according to the U.S. Centers for Disease Control and Prevention (CDC), which has issued new guidelines in a bid to help curb the spread of the virus.
The new advice recommends "for the next 8 weeks, organizers (whether groups or individuals) cancel or postpone in-person events that consist of 50 people or more throughout the United States," the health body announced in a statement on Sunday.
"Events of any size should only be continued if they can be carried out with adherence to guidelines for protecting vulnerable populations, hand hygiene, and social distancing. When feasible, organizers could modify events to be virtual," the CDC said.
While the CDC statement noted its recommendation was not meant for schools, other educational institutes and businesses, several cities and states have shut down schools and commercial venues, such as restaurants and bars, amid the outbreak.
Washington state, which currently has the highest number of cases in the U.S., has ordered the temporary closure of all restaurants, bars, entertainment and recreational facilities, according to a statement from Governor Jay Inslee released on Sunday. The state's total number of infections is at around 770, KIRO7 reports.
As least 29 states across the country have announced school closures, according to CNN. Schools in New York City as well as in the New York state counties of Nassau and Suffolk will be closed for two weeks from today Governor Andrew Cuomo announced in a statement on Sunday. The state has now reported around 729 cases, as of Sunday, with around 329 in New York City and around 196 in Westchester County, according to the latest statement from the governor's office.
The New York City mayor's office also announced on its website: "Starting Tuesday, March 17, restaurants, bars and cafes may only serve food take-out and delivery. Nightclubs, movie theaters, small theater houses and concert venues must all close."
The mayor of Los Angeles, Eric Garcetti, also ordered the closure of all bars, while restaurants are limited to delivery services only. The restrictions will be in place through March 31, the mayor announced at a news conference on Sunday, the Los Angeles Times reports.
Las Vegas also announced closures for several resorts, including the city's MGM resorts as well as Wynn Las Vegas and Encore, KTNV Las Vegas reports. Caesars Entertainment also announced closure for all ticketed shows through March 31, the company confirmed in a statement.
The graphic below, provided Statista, illustrates the spread of COVID-19 virus across the U.S.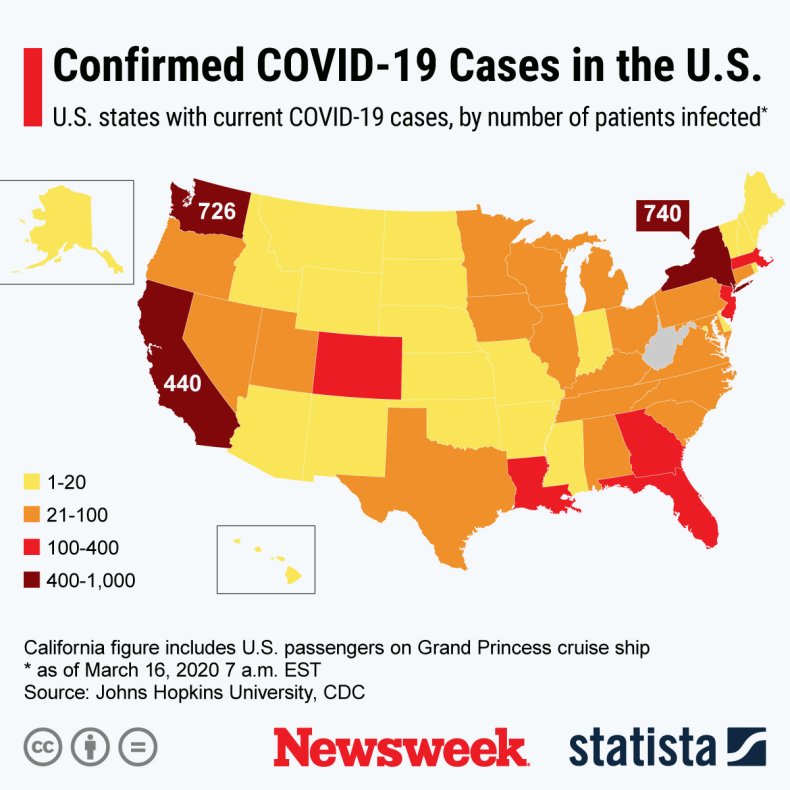 Europes see largest death tolls in a day
Italy, which is currently the worst-hit country outside China with more than 24,700 cases, saw at least 398 deaths in one day. Spain reported 97 and France saw 29 deaths. Each country marked their highest death tolls within 24 hours, BBC reports.
Italy remains in lockdown, with Lombardy being the worst-affected region. The area has seen at least 1,218 deaths and 252 of them were reported in the last 24 hours, Reuters reports.
Residents of Spain have also been on lockdown since Saturday, with the government having deployed the military to disinfect its formerly packed streets, which are now empty of tourists, Reuters reports. The country has the second highest number of cases in Europe, after Italy, with more than 7,800 cases, according to Johns Hopkins University.
Some of the high profile cases recently have included the wife of Spanish prime minister Pedro Sánchez, two cabinet ministers and five members of the country's Valencia soccer team, Reuters reports.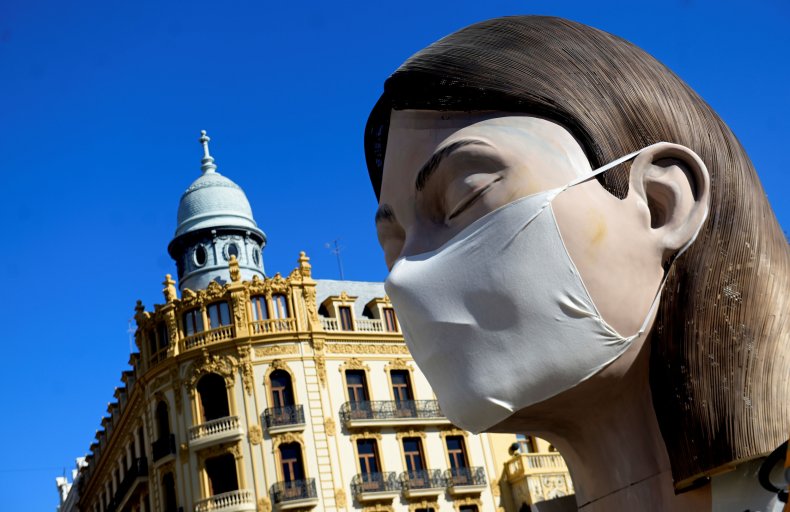 Up to 80 percent of U.K. to be infected, The Queen to remain in London
The virus could last up a year and see around 7.9 million people hospitalized, according to a Public Health England (PHE) briefing for officials of the country's National Health Service (NHS) obtained by The Guardian.
"As many as 80 percent of the population are expected to be infected with COVID-19 in the next 12 months, and up to 15 percent (7.9 million people) may require hospitalisation," the document states.
The document also reportedly states that at least 10 percent of the U.K. population will experience a cough during the peak of the spread and that only the "seriously ill who are already in hospital and people in care homes and prisons where the coronavirus has been detected will get tested," The Guardian reports.
The PHE report also expressed concerns over the strain on the NHS, which is estimated to see at least 500,000 of its five million workers who work "in essential services and critical infrastructure" off sick during a month-long peak of the virus.
The U.K. has reported more than 1,390 cases, including 35 deaths, according to the latest numbers from Johns Hopkins University.
The government's plans to potentially quarantine those aged over 70 has raised questions over the plans for Queen Elizabeth II amid the outbreak.
Her past weekend trip to Windsor Castle was reported to be part of her usual weekend residence, a Buckingham Palace spokesperson told The Metro, despite previous reports that she had left for Windsor due to fears over the virus. She is reportedly due back at Buckingham Palace this week, the spokesperson confirmed.
It is also unknown how Prince Charles and The Duchess of Cornwall, who are aged 71 and 72 respectively, will be affected following any government imposed quarantine measures for the elderly.
France prepares for lockdown, LVMH offers free sanitizers
France is reportedly getting ready for a partial lockdown which could be in effect from Tuesday, Reuters reports, as the country sees more than 5,400 cases.
All restaurants, bars and cinemas were closed on Saturday by French Prime Minister Edouard Philippe, while citizens were advised to limit all non-essential travel, Reuters reports.
Health officials were reported to be concerned as locals appear to ignore current warnings, with several people seen gathering in parks and other public spaces from Paris to Marseille.
As medical supplies are reportedly starting to see shortages in the country, French luxury group, LVMH, whose brands include Louis Vuitton, Christian Dior, Guerlain and Givenchy, will produce sanitizer gel at its perfume and cosmetic factories, The Guardian reports. The gel will be delivered free of charge to various health bodies in the country, including 39 public hospitals in Paris, the French capital.
South Korea cases decline, 70 percent expect Olympics to be canceled
The outbreak continues across the Asia continent, with South Korea having highest number of cases, more than 8,100. The rate of infection in the city of Daegu and the Gyeongsangbukdo province, where most cases were concentrated, has begun to see a decline. But "smaller case clusters continue to emerge from community and religious facilities," the Korea Centers for Disease Control (KCDC) said in its latest report on Monday.
South Korean Foreign Minister, Kang Kyung-wha, believes extensive testing has been the key to the country's relatively low death rate from the virus, she told the BBC.
Japan has reported more than 1,500 cases, with around 30 new cases and 15 clusters of infections across the country as of Sunday, Kyodo News reports.
Around 700 infected individuals are said to be passengers from the Diamond Princess cruise ship, which was quarantined at sea in Japan last month after a guest from Hong Kong was diagnosed.
The 2020 Tokyo Olympics and Paralympic Games are expected to take place as scheduled this July and August, but nearly 70 percent of people in the country were reported to not be expecting both to resume as planned, Kyodo News reports.
Malaysia sees spike in infections
The country has seen 190 new cases reported on Monday, the nation's highest jump since the outbreak in January. Malaysia is currently the worst-hit country in Southeast Asia.
At least 95 of the new cases have been connected to a cluster of infections at the Seri Petaling mosque, where an event was held from Feb 27 to March 1, The Strait Times reports.
The country has reportedly entered "the late containment phase" and the country's health minister, Dr. Adham Baba, has called for the "need to take drastic actions," the Malaysiakini reports.
"We have the onset phase, the (early) containment phase, the late containment phase and finally the mitigation phase," Baba said.
"Due to the 428 cases, we have entered the late containment stage and we need to take drastic action," he said.
Hong Kong extends quarantine rules
From March 19, those traveling to Hong Kong who have been to Ireland, the U.K., the U.S. and Egypt in the past 14 days will be put under mandatory quarantine, as part of Hong Kong's continued efforts to curb the spread of the virus, the Hong Kong government advised in a statement.
"Starting from 0.00am on March 19, the DH's [Hong Kong Department of Health's] Port Health Division officers will issue quarantine orders under the Prevention and Control of Disease Regulation (Cap. 599A) for compulsory home quarantine to people arriving in Hong Kong who have been to the Ireland, the United Kingdom, the United States and Egypt in the past 14 days, regardless of whether they are Hong Kong residents.
"Meanwhile, the quarantine measures announced earlier for people arriving in Hong Kong who have been to Korea, Iran, Hokkaido in Japan and Schengen Area in Europe (Austria, Belgium, Czech Republic, Denmark, Estonia, Finland, France, Germany, Greece, Hungary, Iceland, Italy, Latvia, Principality of Liechtenstein, Lithuania, Luxembourg, Malta, the Netherlands, Norway, Poland, Portugal, Slovak Republic, Republic of Slovenia, Spain, Sweden, and Switzerland) in the past 14 days remain unchanged," the government stated.
Around 26 of Hong Kong's 46 cases have been imported cases, while seven have been linked to patients who traveled outside the country, according to the government.
Calls for the government to ban all tourists from every country have also been made by lawmakers in Hong Kong, RTHK.HK reports.
The Philippines to enhance quarantines measures
The president of The Philippines, Rodrigo Duterte, is expected to announce "enhanced community quarantine" across the country's entire main island of Luzon, his spokesperson, Salvador Panelo, confirmed on Monday, Reuters reports.
A "total lockdown" of the Metropolitan Manila area was reported to be among the measures being considered, according to Panelo.
The enhanced lockdown measures would entail strict home quarantine and the suspension of transportation, Philstar Global reports.
The country's senate majority leader, Juan Miguel Zubiri, is among the latest people to test positive, which has reached to 140 infected individuals, according Johns Hopkins University.
South Africa declares national disaster and issues travel ban
The president of South Africa, Cyril Ramaphosa, has declared a national state of disaster, as the country's confirmed cases rise to 61, News24 reports.
"We have decided to declare a state of disaster in terms of the Disaster Management Act. This will enable us to have an integrated and coordinated disaster management mechanism that will focus on preventing and reducing the outbreak of this virus. We will also be able to set up emergency rapid and effective response systems to mitigate the severity of its impact," the president said.
The country is expected to see more cases in the coming days and several new restrictions will be introduced in a bid to combat the outbreak, including a travel ban from March 18 for foreign nationals from worst-hit countries including Italy, Iraq, South Korea, Spain, Germany, United States, United Kingdom and China, the president announced.
The visas of travelers from these countries will be canceled and revoked, while South Africans traveling from affected countries are also expected to face intensive health screening and possible quarantine, News24 reports.
Around 35 ports will also be shut down from Monday, while schools will be closed from Wednesday until after the Easter weekend, the president confirmed.
"Effective immediately, all non-essential travel for all spheres of government outside of the Republic is prohibited. We further discourage all non-essential domestic travel, particularly by air, rail, taxis and bus...
"As we have said before, the current circumstances require extraordinary measures to curb the spread of infections. Countries that have heeded the call to implement these radical measures, have fared much better than those that do not," the president said.
The graphic below, provided by Statista, illustrates the spread of the COVID-19 virus across the world.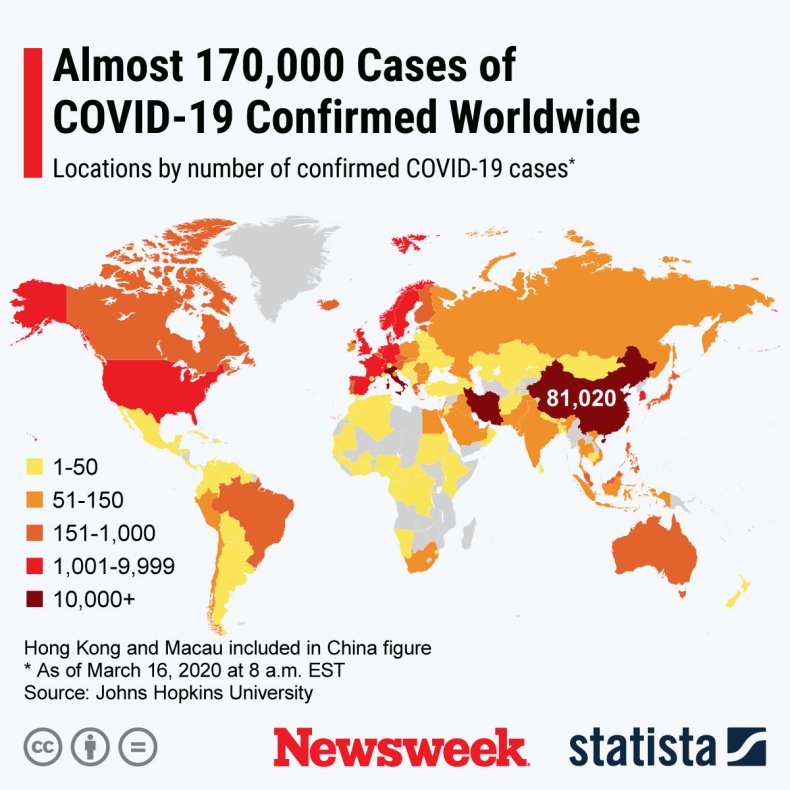 World Health Organization advice for avoiding spread of coronavirus disease (COVID-19)
Hygiene advice
Clean hands frequently with soap and water, or alcohol-based hand rub.
Wash hands after coughing or sneezing; when caring for the sick; before; during and after food preparation; before eating; after using the toilet; when hands are visibly dirty; and after handling animals or waste.
Maintain at least 1 meter (3 feet) distance from anyone who is coughing or sneezing.
Avoid touching your hands, nose and mouth. Do not spit in public.
Cover your mouth and nose with a tissue or bent elbow when coughing or sneezing. Discard the tissue immediately and clean your hands.
Medical advice
If you feel unwell (fever, cough, difficulty breathing) seek medical care early and call local health authorities in advance.
Stay up to date on COVID-19 developments issued by health authorities and follow their guidance.
Mask usage
Healthy individuals only need to wear a mask if taking care of a sick person.
Wear a mask if you are coughing or sneezing.Masks are effective when used in combination with frequent hand cleaning.
Do not touch the mask while wearing it. Clean hands if you touch the mask.
Learn how to properly put on, remove and dispose of masks. Clean hands after disposing of the mask.
Do not reuse single-use masks.