Coronavirus Update: Map Shows More Than 81,000 Cases in U.S., Around the World
COVID-19 cases continued to increase on Wednesday, with four new countries reporting their first confirmed cases of the pneumonia-causing virus.
Cases of the new coronavirus rose to 81,194 on Wednesday morning, according to a tracker maintained by Johns Hopkins University. This included increased case counts from the World Health Organization's (WHO) report on Tuesday in 16 countries, as well as the first cases in Switzerland, Algeria, Austria and Croatia.
Two people in Innsbruck, Austria, tested positive for the virus on Tuesday, according to the Tirol provincial government. Officials traced the patients' contacts and interviewed and tested 62 people at the place where one of the patients worked. Nine of her coworkers and three others were quarantined.
"Isolation was ordered for the twelve people, which must last two weeks and be monitored by the police. In addition, the people must continuously monitor their health status for this period. The authorities informed everyone about the further procedure," state governor Günther Platter and interior minister Karl Nehammer said in a statement.
All three cases in Switzerland, Croatia and Algeria involved people who were recently in Italy, where the largest outbreak in Europe is occurring. These new cases, combined with Afghanistan, Bahrain, Iraq and Oman, who all reported their first cases on Tuesday, brought the total number of countries with the virus to 33.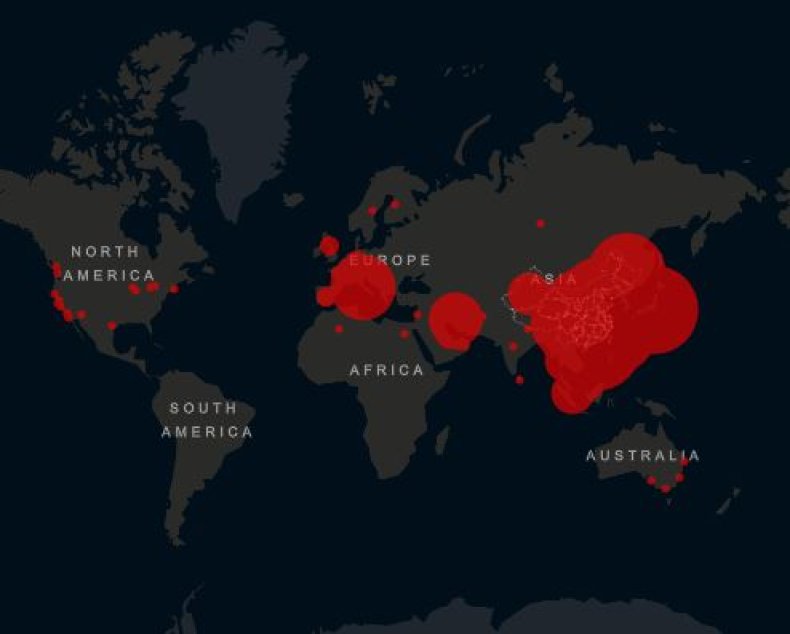 The World Health Organization (WHO) initially reported eight cases in Bahrain, two in Oman and one each in Afghanistan and Iraq. Cases in Afghanistan remained at one on Wednesday morning, according to the Johns Hopkins tracker, but increased in Iraq and Oman to five and four, respectively
Overnight, cases in Bahrain increased to 26, according to the Ministry of Health. Three of the cases included women who arrived in the country on indirect flights from Iran, prompting the Ministry of Health to issue a requirement that everyone who visited Iran schedule an examination. Until the examination is completed, people were told to remain in their homes in a separate room.
In the United States, cases climbed to 57 on Tuesday, after four additional passengers from the quarantined Diamond Princess cruise ship tested positive for the virus. Health and Human Services Secretary Alex Azar confirmed during a hearing before the Senate Appropriations committee that 40 people who were evacuated from the ship have the virus. Three other cases involve people who were passengers on evacuation flights from Wuhan, China, the epicenter of the outbreak, and 12 people who became infected after recently traveling to China.
As of Wednesday, there have been only two cases of human-to-human transmission in the United States, both involving people who contracted the virus from their spouses, who recently visited China.
"We are asking the American public to work with us to prepare in the expectation that this could be bad," Dr. Nancy Messonnier, director of the Centers for Disease Control and Prevention's (CDC) National Center for Immunization and Respiratory Diseases said during a press call on Tuesday.
Eight U.S. states have had confirmed cases or have treated patients for the virus: California, Illinois, Massachusetts, Washington, Arizona, Wisconsin, Nebraska and Texas. However, Messonnier said the CDC expects to see community spread and it's just a question of "exactly when this will happen and how many people in this country will have severe illness."