Coronavirus Update, Map As Death Toll Reaches 3,200, Infections Soar in Italy, Iran and South Korea
The COVID-19 virus has hit thousands more across the globe, the majority of cases in China, South Korea, Italy and Iran. The U.S. death toll had risen to nine as of Wednesday, all of which were reported in Washington state.
New cases have also been recently reported in Morocco, Latvia, Saudi Arabia and Senegal, according to the latest report by the World Health Organization (WHO) on Tuesday.
The virus, which was first identified in Wuhan city in the Hubei province of China, has now affected at least 93,160 people. Of that figure, 80,270 are in China, including 2,871 deaths. Around the world, the death toll has reached 3,198, according to the latest figures from Johns Hopkins University.
The WHO warned that "severe and mounting disruption to the global supply of personal protective equipment (PPE)—caused by rising demand, panic buying, hoarding and misuse—is putting lives at risk from the new coronavirus and other infectious diseases," in a statement on Tuesday.
"WHO has so far shipped nearly half a million sets of personal protective equipment to 47 countries, but supplies are rapidly depleting," it added.
WHO's director-general, Dr. Tedros Adhanom Ghebreyesus, said in the statement: "Without secure supply chains, the risk to healthcare workers around the world is real. Industry and governments must act quickly to boost supply, ease export restrictions and put measures in place to stop speculation and hoarding. We can't stop COVID-19 without protecting health workers first."
The increase of the virus in the eastern Mediterranean is of great concern, the WHO said.
"While the numbers inside China have been rapidly declining, the sudden increase in cases in countries outside China, including in our Region, is deeply alarming. We remain concerned about the surge of cases and deaths in the Region and the increase in the number of travel-related confirmed cases," the WHO regional director of the Eastern Mediterranean region, Dr. Ahmed Al-Mandharim, said in a statement.
"We have also seen cases of local transmission in our Region, and it is likely that the outbreak may continue to progress from case importation to local transmission."
The graphic below, provided by Statista, illustrates the spread of the COVID-19 virus as of March 4.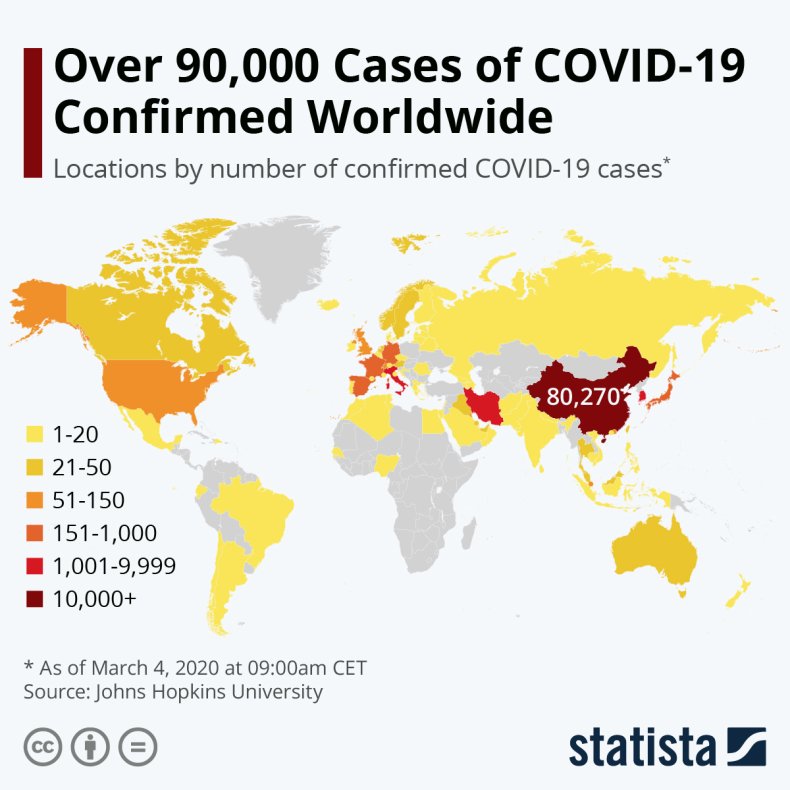 Death toll climbs in the U.S.
The U.S has confirmed three more deaths in Washington, bringing the death toll to nine in the country, all of which were reported in the state. Eight of the deaths were in King County, while one of them was in the neighboring Snohomish County.
There are now 27 confirmed cases across the state, 21 of which are in King County, while the remaining six are in Snohomish County, according to the Washington State Department of Health.
The state has placed 231 others under "public health supervision," which includes those at risk of having been exposed to the virus "who are monitoring their health under the supervision of public health officials," as well as those who have returned from China in the past 14 days.
"This is a very fluid, fast-moving situation as we aggressively respond to this outbreak," said Dr. Jeff Duchin, a health officer for Seattle and King County.
A second case has tested positive in New York City, Governor Andrew Cuomo confirmed. The patient was reported to be a man from Westchester County who commutes to work in Manhattan and lives with school-age children, the governor told Long Island radio station 103.9.
Berkley and Contra Costa County each reported their first case of the virus, while Santa Clara County is expected to see more cases, with older residents, especially those aged above 80, facing the greatest risk of developing serious conditions from infection.
North Carolina's department of health confirmed the state's first "presumptively positive" case of the virus on Tuesday, meaning it has been confirmed as positive by a public health lab and is pending confirmation from testing by a U.S. Centers for Disease Control and Prevention (CDC) lab. The individual, who is from Wake County, was reported to be in isolation at home.
"Local health department officials are identifying close contacts to monitor symptoms and contain spread," the department said in a statement.
"Today's [Tuesday] announcement represents an isolated case, and COVID-19 is currently not widespread in North Carolina," it added.
New Hampshire announced its second presumptive positive case on Tuesday. The individual is an adult male from Grafton County who was in close contact with an infected person, the New Hampshire Department of Health and Human Services (DHHS) confirmed.
The DHHS has also been tracing the contacts of the state's first presumptive positive case, an employee of Dartmouth-Hitchcock Medical Center (DHMC), who has defied the department's instruction for isolation.
"Through the course of the investigation, DHHS has determined that the first patient, despite having been directed to self-isolate, attended an invitation-only private event on Friday, February 28. DHHS has issued an official order of isolation to the first patient under RSA-141-C:11," the department said in the statement.
"DHHS is managing the investigation into individuals in the community who may have been exposed to the virus," it added.
Nearly 120 people who were quarantined for 14 days in the Lackland Air Force Base in Texas after being aboard the Diamond Princess cruise ship were released yesterday, while around 15 were reported to be "locally in medical care or quarantine because of their close contact with a confirmed case," according to a CDC statement.
Two people in Wisconsin are also being tested, while the first person who tested positive in the state last month has recovered and is no longer in isolation, CBS 58 WDJT-Milwaukee said.
South Korea cases surpass 5,000
South Korea, which has the highest number of cases outside China, had confirmed at least 5,328 cases as of Wednesday, an increase of 516 since Tuesday, according to the Korea Centers for Disease Control.
Most of the cases continue to concentrate around the city of Daegu, which has seen more than 4,000 patients to date, while the capital Seoul has seen 99, followed by 93 cases in Busan.
Most patients have been linked to a religious group known as the Shincheonji, Church of Jesus, the Temple of the Tabernacle of the Testimony (SCJ), with several members of the secretive sect reported having been infected by an infected member who attended a service in Daegu.
SCJ is known for hosting large services with people sitting close to each other for long periods.
The leader of the group, Lee Man-hee, issued an official apology to the public after authorities in Seoul accused him of failing to cooperate in containing the outbreak.
Prosecutors have been asked by Seoul officials to file charges of homicide against Lee and 11 other SCJ leaders, alleging the leaders submitted false lists of church members to authorities who were trying to track other possibly affected individuals.
"We remain confident in the South Korean government's robust and comprehensive response efforts to limit the spread of the virus," US ambassador Harry Harris said on his official Twitter account Wednesday after meeting with the country's 1st Vice Minister of Foreign Affairs, Cho Sei-young, to discuss measures around the coronavirus outbreak.
Italy reports highest number of deaths outside China
Italy has reported 79 deaths, surpassing Iran as the nation with the highest number of deaths outside China. Most of the deaths were reported to be in the high-risk category and the older population has seen the highest number of cases so far.
The country has seen the greatest outbreak of the virus in Europe, with at least 2,502 cases confirmed. Italy has reported 27 more deaths and nearly 500 new cases since Tuesday, according to the latest figures from Johns Hopkins University.
Europe has seen more than 3,190 confirmed cases, according to Johns Hopkins University, the majority of which has been in Italy, followed by France (212), Germany (203) and Spain (165), which reported its first death, in the city of Valencia, on Tuesday.
"Despite contact tracing measures initiated to contain further spread, there continue to be cases exported between EU/EEA [European Union/ European Economic Area] countries, and an increasing number of sporadic cases across EU/EEA countries," the European Centre for Disease Prevention and Control said in its latest assessment on Wednesday.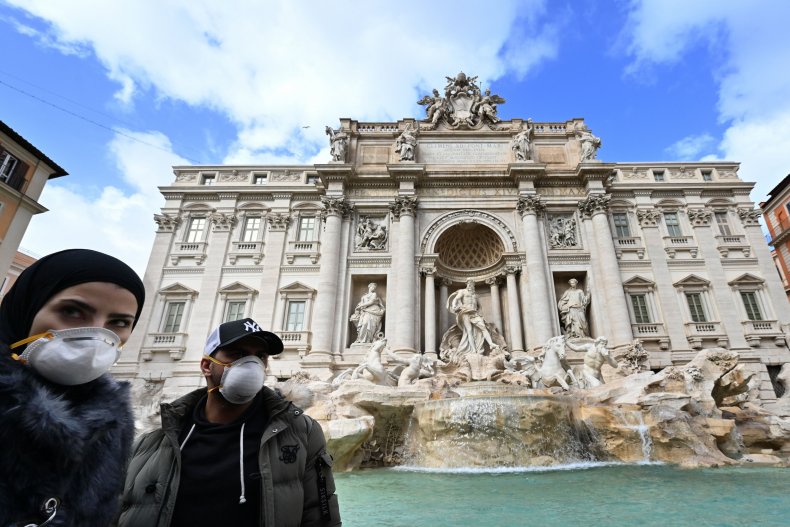 "The probability of further transmission in the EU/EEA and the UK is considered high. There is still a level of uncertainty regarding several unpredictable factors in a situation that is still evolving."
A new concentration of cases has been reported in the Italian city of Bergamo, just northeast of Milan, including a newborn baby. It has yet to be determined how the baby was infected.
The recent surge in cases in the Milan area may see another quarantine zone be imposed around the region, according to the head of Italy's national health institute.
The majority of the cases and deaths in Italy are in the northern region of Lombardy, which has seen around 55 deaths and 1,500 positive cases, while the second worst-hit region is Emilia Romagna with 420 positive cases and 18 deaths.
The Veneto region has reported 307 positive cases and 3 deaths, while two were reported in Marche and one was reported in Liguria. The Alpine region of Valle d'Aosta, the country's smallest and least populated region, is the only unaffected patch in Italy.
"None of us can be sure about the future evolution of the disease. This is an important week to understand what will happen," Angelo Borrelli, head of Italy's civil protection agency, said at a news conference.
French President Emmanuel Macron announced on his official Twitter account that the country, which reported its fourth death on Tuesday, will regulate the distribution of face masks to be sure they are reserved for the infected and healthcare professionals.
Nearly 2,000 surgical masks were reportedly stolen from a hospital in Marseille in southern France.
"We requisition all stocks and the production of protective masks. We will distribute them to healthcare professionals and French people affected by the Coronavirus," Macron said on Twitter.
The country's finance minister, Bruno Le Maire, has reportedly directed France's consumer watchdog to launch an investigation following reports that prices for masks and hand sanitizers have doubled or tripled.
"I'm ready to regulate prices of masks and gels by decree if the abuses are numerous," he said on his official Twitter account.
Elsewhere in Europe, Poland reported its first case on Wednesday, while cases rose to 203 in Germany and doubled in Sweden from 15 on Monday to 30 by Tuesday.
More cases in Africa, Middle East, Asia and Australia rations toilet paper
Australia's confirmed cases rose to 41 on Wednesday, which includes 10 from the Diamond Princess cruise ship. Most other cases involve people who have traveled to China, Iran, Japan, South Korea, Singapore and the United Arab Emirates, while two infections are of unknown origin, Australia's department of health confirmed.
The panic buying of supplies has ensued since the outbreak, prompting Woolworths, Australia's largest grocery store, to place a four-pack limit on toilet paper purchases on Wednesday.
"Before this we were seeing people with trolley loads, more than folks need," a Woolworths spokesperson said.
"The demand has been pretty unprecedented, unlike anything we've seen before.
"Our teams are continuing to work hard on restocking stores with long-life food and groceries from our distribution centers," the spokesman said.
The ration was introduced after Australian Prime Minister Scott Morrison contacted Woolworths to ensure essential supplies would not run out.
The prime minister has reassured locals that supplies are guaranteed and that they should not panic.
Elsewhere in the world, Algeria confirmed three more cases, bringing its total to eight, while Qatar and India also confirmed new cases.
Six more were confirmed in Oman, bringing its total to 12.
Argentina also reported its first case, while Pakistan's total cases reached five, following a new case confirmed on Tuesday.
Correction: This article has been updated to say Cho Sei-young is South Korea's 1st Vice Minister of Foreign Affairs, not the Prime Minister.