Coronavirus Update, Map as Death Toll Hits 3,300, India Sees Spike in Cases Amid Outbreak Fears
COVID-19 virus cases continue to climb, with the U.S. reporting its first death in California, while Washington state reported its tenth death on Wednesday. Cases continue to soar in Italy, which ordered the closure of all schools, while India has seen a surge in cases.
Hong Kong reported what is believed to be the first human-to-animal transmission of the virus after a dog tested positive.
The virus, which was first detected in China's Wuhan city in the Hubei province, has infected at least 95,748 people and claimed the lives of 3,286 globally, according to the latest figures from Johns Hopkins University.
The spread of the virus was said to have been slowing in China, but has been picking up outside the country. Cases continue to rise in South Korea, which has nearly 6,000 confirmed cases (the highest outside China), as well as in Italy, which has more than 3,000 cases. Iran (2,922 cases), Japan (331 cases), and France (285 cases) round out the top five worst-hit countries so far, according to the university figures.
New infections have been confirmed in various parts of Asia, Africa and the Middle East, including Malaysia, Algeria, Israel, Iraq, and Saudi Arabia, which has now suspended Umrah pilgrimages (which Muslims around the world go on throughout the year) to Mecca and Medina for its citizens and residents. The country has already banned foreigners from going on pilgrimages to both cities.
The virus continues to spread across Europe, with new cases in the U.K., France, Germany, Hungary, and Sweden, while Italy remains the epicenter of Europe and Bosnia reported its first case.
As the panic buying of supplies continues around the world, including in the U.S. and Australia, the World Health Organization (WHO) continues to warn "Disruptions to the global supply of personal protective equipment (PPE) are leaving healthcare workers ill-equipped to care for patients," in its latest report on Wednesday.
"WHO is working with governments, industry and the Pandemic Supply Chain Network to boost production and secure allocations for critically affected and at-risk countries," the report said.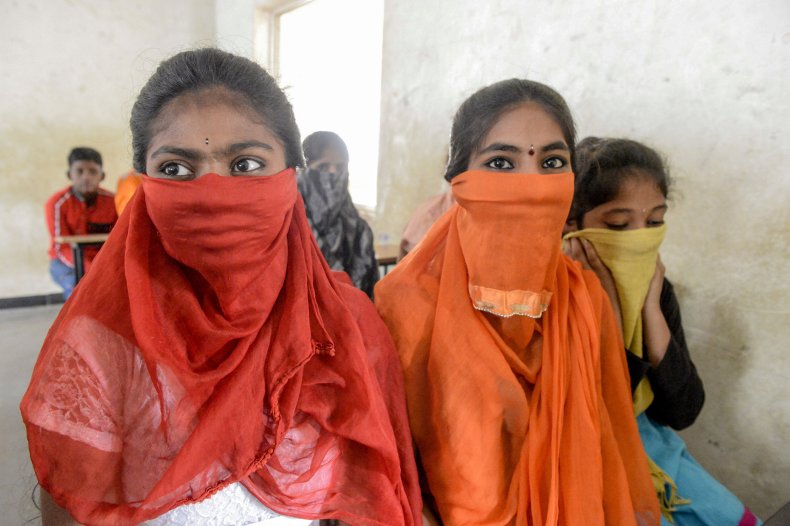 California declares state of emergency following first death
The U.S. death toll climbed to 11 on Wednesday, following the death of an infected patient in California. The 71-year-old resident from Rocklin of Placer County, who had underlying health conditions, tested positive after going on a cruise from San Francisco on February 10 to Mexico on February 21, the Los Angeles Times reported.
The individual traveled aboard the Grand Princess cruise ship from Princess Cruises, the cruise line that operates the Diamond Princess.
The Diamond Princess cruise ship was quarantined in Japan last month after a passenger from Hong Kong was diagnosed. At least 45 people from the Diamond Princess tested positive and were taken to a hospital near the Travis Air Force base in Fairfield, California.
The Grand Princess is currently being held off the coast of San Francisco, with around 100 passengers being tested for the virus, Princess Cruises confirmed in a statement.
Health officials are also tracking down the nearly 2,500 passengers who were aboard the ship to be screened for possible exposure, The Times reported.
California state governor Gavin Newsom declared a state of emergency across California on Wednesday following the death. Los Angeles County also declared a state of emergency, with its total number of cases rising to seven, following six new cases. Most have been linked to people traveling from countries heavily affected by the outbreak, The Times reported.
New York cases climb by nine patients overnight
Cases in New York rose to 11 by Wednesday evening, increasing by nine cases after a 50-year-old Manhattan commuter from New Rochelle was infected earlier this week.
His 20-year-old son (a student at Yeshiva University's Washington Heights campus), his 14-year-old daughter (a student at SAR Academy and High School in the Bronx) and his wife also tested positive.
Subsequently, a male friend of the Manhattan worker was also diagnosed, followed by the friend's wife, two sons and daughter, state governor Andrew Cuomo confirmed in a statement.
The governor confirmed the SAR school will be closed through Tuesday, while classes at Yeshiva University will be canceled through Tuesday. But residence halls and dining venues at Yeshiva will remain open.
Major London events canceled as cases rise in the U.K.
There are around 87 confirmed cases in the U.K. and the country is seeing a surge in cases with 36 new cases since Wednesday, all of which involve people who have recently traveled to affected countries or came into contact with an infected person, the BBC reported.
Eighty of the cases are in England, including two in London. One of the infected Londoners was reported to have stayed in the same room as an elderly relative, who was a patient at King's College Hospital, before being infected.
Elsewhere in England, new cases have been confirmed in Liverpool, York, Carlisle, Newcastle, Torquay and Manchester, as well as in Lancashire and Derbyshire, the BBC reported.
There are also three cases in Scotland, while another three are in Northern Ireland and one is in Wales.
Major events in London with large gatherings have been canceled including the London Book Fair and the world premiere of the next James Bond film, No Time to Die. The star-studded red carpet event was planned for March 31 in London, Reuters reported.
Fears over next month's London Marathon being affected by the outbreak have been raised following the recent outbreak. But Britain's Secretary of State for Health and Social Care, Matt Hancock, believes it's "far too early" to cancel or restrict the event in any way, ITV News reported.
The events director for the London Marathon, Hugh Brasher, said, "We are monitoring closely the developments relating to the spread of coronavirus and noting the updates and advice given by the UK Government, the World Health Organization and other UK public bodies."
"With just under eight weeks to go before the event on Sunday 26 April, we will continue to monitor the situation," he added.
The graphic below, provided by Statista, illustrates the spread of the COVID-19 virus as of March 5.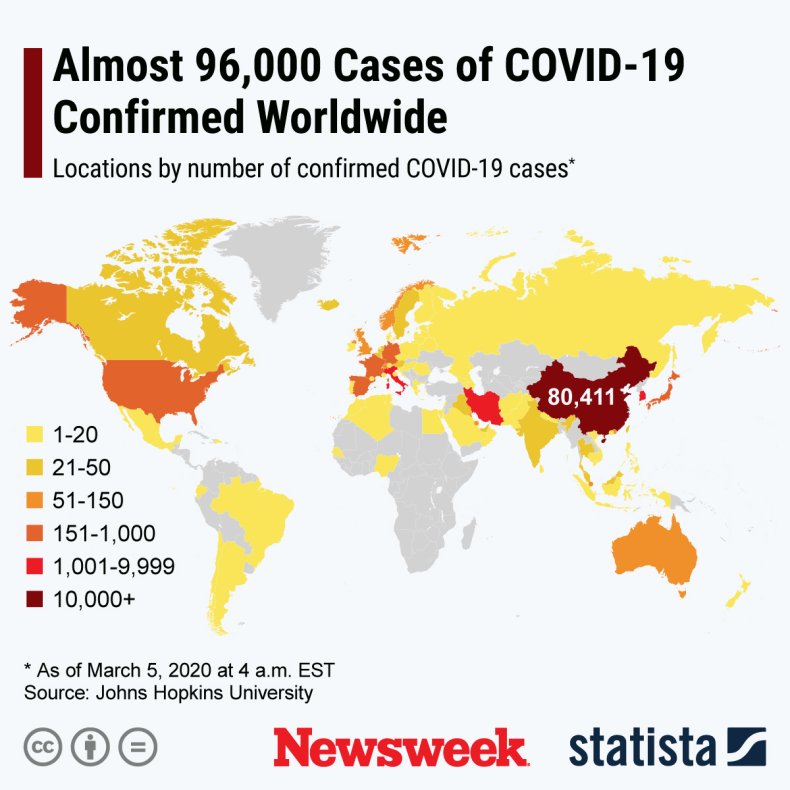 Italy closes schools, major soccer matches to be held in empty stadiums
With at least 3,089 cases, including 107 deaths, confirmed in Italy, according to the latest figures from Johns Hopkins University, the Italian government has announced the closure of all schools and universities across Italy until March 15, Reuters reports.
Some schools in northern Italy, which has been most heavily affected by the outbreak, have already closed. The virus has been spreading at a rapid pace of around 500 new cases per day, Reuters reports.
"Our hospitals, despite their efficiency, risk being overwhelmed, we have a problem with intensive-care units," Italy's Prime Minister Giuseppe Conte said.
The government has introduced various measures to help mitigate the situation and prevent further outbreaks. They include "the suspension of events of any nature... that entail the concentration of people and do not allow for a safety distance of at least one metre (yard) to be respected," the government's decree states, Reuters reported.
The decree also calls for the closure of cinemas and theaters and advises residents to avoid "direct physical contact with all people," including shaking hands and hugging each other.
It also mandated that all major sporting events, including Serie A soccer matches, to be played in empty stadiums, Reuters reported.
India sees spike in cases
The world's second most populous country has seen a rise in cases, with 28 cases reported as of March 4, according to a statement by WHO. Many of the infections have been among travelers from Italy.
Festivities around Holi, the Hindu festival marking the start of spring which see participants throw bright-colored paint at each other, at the presidential palace have been canceled in a bid to prevent further spreads in mass gatherings, CNN reported.
The Indian prime minister's office, the Indian Ministry of Health and Family Welfare (MoFHW) and the country's cabinet secretary are reported to be looking at ways "to strengthen core capacities for disease preparedness and surveillance and focus on cluster containment strategy to avoid widespread community transmission," the WHO statement said.
"States were also asked to identify possible quarantine facilities, to augment isolation wards and for active engagement of district collectors in cluster management at district, block and village levels," the statement notes.
First "likely" human-to-animal transmission in Hong Kong
A dog in Hong Kong was reported to have a "low levels" of the virus in its nasal and oral cavity after showing "weak positive" results in repeated tests, a spokesperson for Hong Kong's Agriculture, Fisheries and Conservation Department (AFCD) said in a statement on Wednesday.
The dog has not shown any symptoms of the virus and has been quarantined at an animal keeping facility at the Hong Kong Port of Hong Kong-Zhuhai-Macao Bridge, for further testing. It will be released to its owner once the test results are negative, the statement confirmed.
Experts from the School of Public Health of The University of Hong Kong, the College of Veterinary Medicine and Life Sciences of the City University of Hong Kong and the World Organization for Animal Health (OIE) have been consulted, and unanimously agreed that these results suggest that the dog has a low-level of infection and it is likely to be a case of human-to-animal transmission.
Another dog, which has tested negative for the virus, has been quarantined at the same facility (in a separate room from the other dog) and will be tested again before it is released.
The AFCD spokesperson noted "there is currently no evidence that pet animals can be a source of infection of COVID-19 or that they become sick. Apart from maintaining good hygiene practices, pet owners need not be overly concerned and under no circumstances should they abandon their pets."
However, the spokesperson advised "pet owners to adopt good hygiene practices (including hand washing before and after being around or handling animals, their food, or supplies, as well as avoiding kissing them) and to maintain a clean and hygienic household environment. People who are sick should restrict contacting animals."
German health minister says outbreak is pandemic
While WHO officials have yet to declare the virus pandemic, its rapid spread in Germany, which has now reported at least 262 cases to date, has seen the country's health minister call it a "global pandemic."
"The coronavirus outbreak in China has become a global pandemic," Germany's Federal Minister of Health, Jens Spahn, told German parliament on Wednesday, TheLocal.de reported.
"The situation is changing very quickly," he said. "What's clear is that we have not yet reached the peak of the outbreak."
The virus has spread to all 16 states in Germany, apart from the state of Saxony-Anhalt. About half of the cases are reported to be in North Rhine-Westphalia, Germany's most populous state, according to the Robert Koch Institute (RKI), the German federal agency responsible for disease control and prevention.
"Further cases, infection chains and also outbreaks must be expected in Germany," the RKI warned.