Coronavirus Update, Map as Death Toll Hits 4,000, Flights Cancelations Across Major Airlines Around the World
The coronavirus outbreak continues, with the whole of the European Union (EU) now seeing cases, while the U.S. reported several more deaths in Washington state and another in California. The possibility of a pandemic has "become very real," the World Health Organization (WHO) warned on Monday.
There have been more than 116,000 cases of the COVID-19 disease caused by the novel coronavirus, which was first detected in Wuhan city in the Hubei province of China, and the global death toll is over 4,000. The number of recoveries is also climbing—there have been more than 64,000 cases of recovery so far, according to the latest figures from Johns Hopkins University.
The majority of the cases (nearly 80,700) and deaths (around 3,000) have been in China, but the outbreak seems to be slowing down in the country. Earlier this week, China's President Xi Jinping made his first visit to Wuhan, which has been in lockdown for weeks.
But the virus continues to spread outside China, with several countries having reported their first cases in the past couple of days, including Cyprus, Bangladesh, Albania and Paraguay, according to the latest report by WHO on Monday. In the U.S., the virus has spread to around 35 states, according to the U.S. Centers for Disease Control and Prevention (CDC), CBS News reports.
The director-general of WHO, Dr. Tedros Adhanom Ghebreyesus, noted: "Now that the virus has a foothold in so many countries, the threat of a pandemic has become very real," he told reporters on a conference call from the WHO's Geneva headquarters on Monday, CNBC reports.
He added that only a handful of nations "have signs of sustained community transmission," and that "China is bringing its epidemic under control."
The executive director of the WHO's emergencies program, Dr. Mike Ryan, also noted: "When you reach 100 countries and when you reach 100,000 cases, it is time to step back and think, two weeks ago it was 30 countries."
"We're still very much in the up cycle of this epidemic, and there are still a number of miles to go," he said.
Flight cancelations
As fears over the spread of the virus grow, several major airlines have canceled services to the worst hit regions such as Asia and Italy in Europe.
American Airlines will be reducing its domestic, international and "trans-Pacific" capacity in the next few months, in view of the ongoing outbreak.
The company plans to "reduce international capacity for the summer peak by 10% versus the previous selling schedule, including a 55% reduction in trans-Pacific capacity" as well as "reduce domestic capacity in April by 7.5% versus the current schedule," the airline said in a statement on Monday.
American Airlines is suspending several services to Europe, Asia and parts of South America, including to Rome, Milan, China, Hong Kong, Seoul in South Korea, Tokyo in Japan and Chile and Uruguay, as well as reducing flights to Paris and Madrid. See full details on the flight changes at the airline's website.
British Airways canceled its U.K. flights to and from Italy, following the U.K. government's foreign office advice which warns against all but essential travel to Italy, which has reported the largest number of cases outside China.
"In light of the Italian government's announcement and the U.K. government's official travel advice, we have contacted all customers who are due to travel today," a British Airways spokesperson told The Evening Standard.
"We have updated our policy to give customers more options and flexibility. Any travellers due to fly to or from Italy between now and April 4 can rebook to a later date up until the end of May, move their destination to Geneva or Zurich or receive a full refund," the spokesperson said.
Australia's Qantas airline also announced it will be reducing its capacity by nearly a quarter over the next six months, following a significant drop in travel demand.
"The latest cuts follow the spread of the Coronavirus into Europe and North America over the past fortnight, as well as its continued spread through Asia, which has resulted in a sudden and significant drop in forward travel demand," the company said in a statement.
"These additional changes will bring the total international capacity reduction for Qantas and Jetstar from 5 per cent to 23 per cent versus the same time last year and extend these cuts until mid-September 2020.
"The biggest reductions remain focused on Asia (now down 31 per cent compared with the same period last year). Capacity reductions to the United States (down 19 per cent), the UK (down 17 per cent) and Trans-Tasman (down 10 per cent) will also be made in line with forward booking trends," it added.
Ryanair, one of Europe's largest airlines, also canceled all flights to and from Italy.
"Ryanair apologises sincerely to all customers for these schedule disruptions, which are caused by national government restrictions and the latest decision of the Italian government to lock down the entire country to combat the COVID-19 virus," a spokesperson for the airline said, The Evening Standard reports.
EasyJet, another major low-cost European carrier, will also be canceling services to Italy.
"Following a slowing in demand as a result of concerns over Covid-19, easyJet has taken the decision to cancel a number of flights, mainly to and from Italy but also affecting some other destinations," the airline notes on its website.
"As a result of this a small number of our holidays have been impacted. If your holiday is affected, we will contact you directly to explain what it means, and the options available to you. If you don't hear from us, your holiday is going ahead as planned," the airline said.
U.S. death toll hits 26
Washington state announced three more fatalities, while California saw its second death. The latest deaths bring the total death toll to 26, with 22 in Washington state, two in California and two in Florida reported last week, according to Johns Hopkins University.
The three deaths in Washington state comprised a woman in her 90s, a woman in her 70s and a woman in her 80s, King County health authorities confirmed in a statement, The Associated Press reports. The patients were residents of LifeCare, the nursing home in the city of Kirkland where most (at least 19) of those who died in Washington state previously lived.
There are now at least 162 confirmed cases in the state, with the majority (116) being in King County, according to the latest figures from the state's department of health.
California's Santa Clara County reported its first death on Monday. The patient was a woman in her 60s who had no known contact with an infected person or any history of international travel, the Santa Clara Public Health Department confirmed in a statement.
The U.S. has now seen over 760 cases, according to the latest figures from Johns Hopkins University.
Trump not tested for virus after shaking hands with exposed congressman
President Donald Trump, following exposure to two congressmen who had direct contact with an infected patient, has not tested for the virus, according to a statement by White House Press Secretary Stephanie Grisham.
"The President has not received COVID-19 testing because he has neither had prolonged close contact with any known confirmed COVID-19 patients, nor does he have any symptoms," Grisham said in the statement.
"President Trump remains in excellent health, and his physician will continue to closely monitor him," she said.
Concerns about whether Trump should be tested were raised after two congressmen, including Georgia state representative Doug Collins, with whom Trump shook hands while visiting the CDC last week, reported they had direct contact with an infected person at the recent Conservative Political Action Conference (CPAC) conference in Maryland, which was also attended by Trump.
Collins revealed he was "notified by CPAC that they discovered a photo of myself and the patient who has tested positive for coronavirus," Collins said in a statement.
"While I feel completely healthy and I am not experiencing any symptoms, I have decided to self-quarantine at my home for the remainder of the 14-day period out of an abundance of caution," he said. It is unknown whether Collins has been tested for the virus.
Florida state Representative Matt Gaetz also had contact with a person at the CPAC conference who tested positive for the virus, according to a post on his official Twitter account.
"While the Congressman is not experiencing symptoms, he received testing today and expects results soon. Under doctor's usual precautionary recommendations, he'll remain self-quarantined until the 14-day period expires this week," the post on Twitter said.
The graphic below, provided by Statista, illustrates the spread of the COVID-19 virus across the world as of March 10.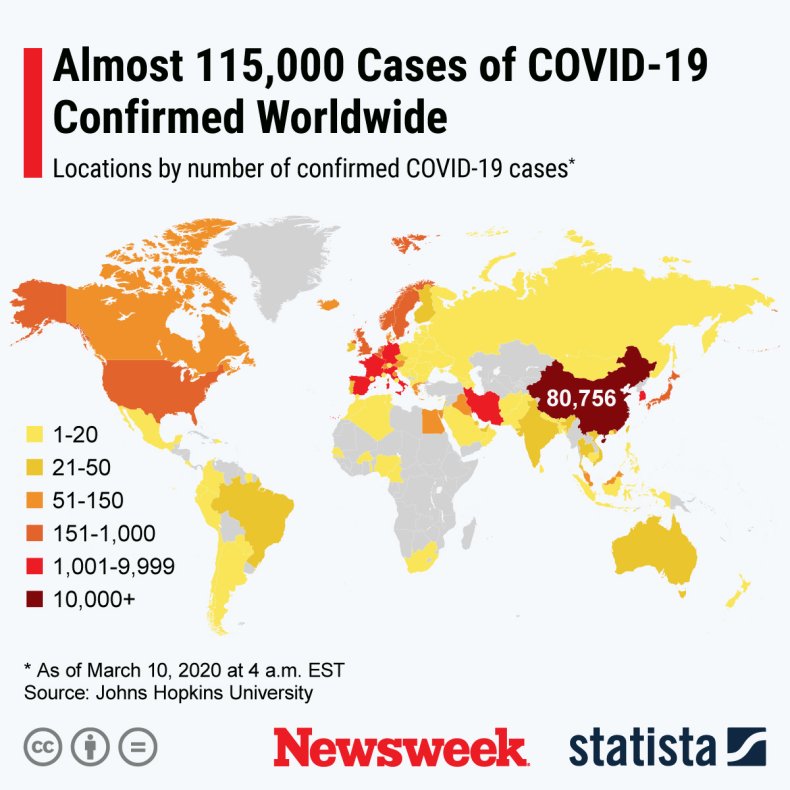 Every country in European Union now infected
Cyprus reported its first two cases of the virus on Monday, becoming the last member of the European Union (EU) to become infected.
One of the patients was reported to be a man who traveled to northern Italy. The other patient is a health worker who works in the capital city of Nicosia but recently traveled to Britain, the country's health minister Constantinos Ioannou said, The Strait Times reports.
There are at least 14,890 confirmed cases across the EU/EEA (European Economic Area) and the U.K., with Italy, France, Spain, Germany and the Netherlands forming the top five countries with the highest number of cases, according to the European Centre for Disease Prevention and Control (ECDC).
Medical certificates required to enter Thailand
The Civil Aviation Authority of Thailand (CAAT) has issued new guidelines requiring all travelers from "Disease Infected Zones of the Coronavirus Disease (COVID–19)" to present a "health certificate" verifying they have no risk of the virus before they can be allowed to board a flight to Thailand. The country has reported at least 53 cases so far, including one death, according to Johns Hopkins University.
The disease-infected zones are defined as the "Republic of Korea, People's Republic of China, including Macao and Hong Kong Special Administration Regions, Italian Republic and Islamic Republic of Iran," the CAAT outlined in a statement.
"The air operators providing services from the airport of embarkation in the Disease Infected Zones are required to perform the screening of the passengers at the time of check in. The passengers need to present Health Certificate certifying that they have no risk of Coronavirus Disease (COVID–19). If any passenger is unable to present such certificate, boarding shall be denied and the boarding pass shall not be issued," the statement said.
Following approval of the health certificate provided, passengers will also be required to fill out additional forms (known as "Form T-8"), which will be presented for approval to health officers at the airport of their arrival destination.
These health officials will have the power to "prevent anyone from entering into or leaving from the aircraft coming into Thailand without undergoing medical examination," upon reviewing the forms.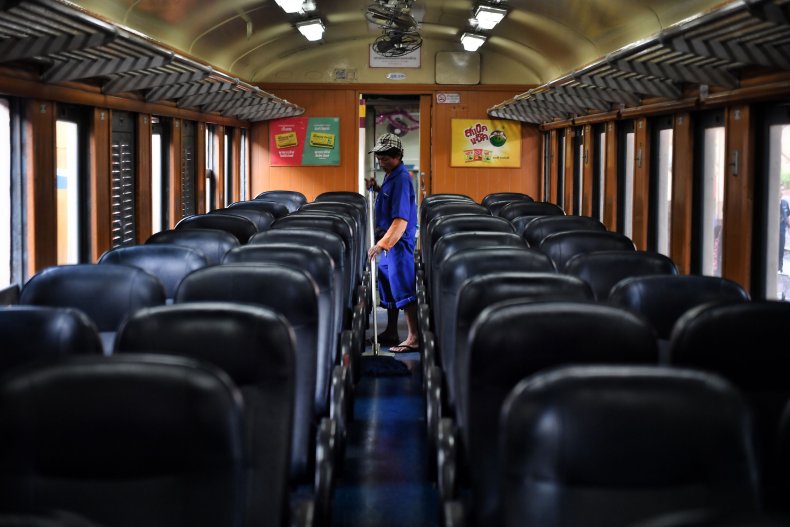 They can also require the airline to either: "(a) Disinfect the disease in order to prevent and control the spread of the disease (b) Detain the aircraft at a specified place until the communicable disease control officials at the control post permit to go (c) Require the persons on board the aircraft to undergo medical examination and may also isolate, quarantine, confine them for observation, or order to receive immunization at the place and period to be specified," according to the statement.
Anyone producing false health certificates will reportedly face legal action as well as mandatory quarantine, according to the country's transport minister, Saksayam Chidchob, The Bangkok Post reports.
The CAAT also noted: "The air operators shall be responsible for the expenses incurred relating to the isolation, quarantine, confinement for observation, and immunization of the persons on board, including the expenses for the care, hospitalization and prevention and control of
international communicable disease."
Thai Airways has already posted an announcement about the health certificate requirement but it unknown whether other international airlines have also notified their passengers about the new ruling.
Speaking to Newsweek, a spokesperson for the International Air Transport Association (IATA),
Albert Tjoeng, said: "The key thing is a person who is unwell with a fever and a cough should not be traveling in the first place. They should seek proper medical advice."
"No airline would want to knowingly carry a person who is infected with COVID-19. Airlines can ask passengers from the six territories identified by the Thai authorities to produce a health certificate before they are allowed to fly. But to pin the blame or costs on airlines when a person subsequently becomes sick is not reasonable.
"Perhaps Thailand should look at the approach taken in Singapore where foreigners on short-term visits have to pay for their own treatment," he added.
Newsweek has contacted CAAT for more information and further comment on the latest regulation.
Thousands more to be infected in the U.K.
The deputy chief medical officer of the U.K., Dr. Jenny Harries, has warned that "thousands of people" will be infected and that the death rate is likely to rise before falling again in the early stages of the outbreak.
"Large numbers of the population will become infected because it's a naive population, nobody has got antibodies to this virus currently," Harries told Sky News.
'We will see many thousands of people infected by coronavirus, that's what we're seeing in other countries and the important thing for us is to make sure that we manage those infections.
"The important thing for us is to make sure that we manage those infections and make sure that those individuals who are most affected so are elderly people particularly those with chronic underlying conditions get in touch and get treatment and we support other people in the home environment," she added.
All intensive care patients in the U.K. will be tested for the virus, while anyone who shows even mild symptoms will be asked to quarantine themselves for a week, according to the U.K.'s chief medical officer Chris Whitty, BBC reports.
The latest regulations are part of a new approach to combating the outbreak in the U.K., which has now reported five deaths and over 320 cases, according to Johns Hopkins University.
The new measures were introduced after the country recently reported two new deaths, including one in London. Both patients were said to be in their 70s and had underlying health conditions, the BBC reports.
U.K. Prime Minister Boris Johnson and Whitty also noted the elderly and vulnerable could be asked to remain at home and other measures may be introduced "in the days and weeks ahead," they said at a press conference.
Amid heightened fears over the virus, Johnson has been urged to close schools in the U.K., following the example of other countries in Europe such as Italy and France, which have announced school closures to prevent the further spread of the virus.
London mayor candidate, Rory Stewart, condemned the U.K. government's "half-hearted measures" in its response to the outbreak in a statement.
"The government made a serious mistake today. Schools should be shut and medium to large gatherings should all be cancelled. There is no justification for half-hearted measures," he tweeted.
"They [the government] should be acting more aggressively to contain the Coronavirus.
"All passengers coming from hotspots should be tested and quarantined.
"...this is now a political decision - on whether the government are prepared to spend serious sums of money...to maximise protection of the population.
"We should have no regrets about spending money to do the absolute maximum to prevent the spread of this disease," he added.
French culture minister tests positive
France's minister of culture, Franck Riester, has been diagnosed with the virus, the ministry confirmed, France24 reports.
The 46-year-old was said to be in quarantine at his home and "feeling well."
Riester was reported to have spent several days at the country's lower house National Assembly, where five other cases were confirmed. Riester has reportedly not seen French President Emmanuel Macron for several days.
France currently has the second highest number of cases in Europe after Italy, reporting around 1,400 cases so far, and 30 deaths, according to Johns Hopkins University.
This article has been updated with comment from the IATA.
World Health Organization advice for avoiding spread of coronavirus disease (COVID-19)
Hygiene advice
Clean hands frequently with soap and water, or alcohol-based hand rub.
Wash hands after coughing or sneezing; when caring for the sick; before; during and after food preparation; before eating; after using the toilet; when hands are visibly dirty; and after handling animals or waste.
Maintain at least 1 meter (3 feet) distance from anyone who is coughing or sneezing.
Avoid touching your hands, nose and mouth. Do not spit in public.
Cover your mouth and nose with a tissue or bent elbow when coughing or sneezing. Discard the tissue immediately and clean your hands.
Medical advice
If you feel unwell (fever, cough, difficulty breathing) seek medical care early and call local health authorities in advance.
Stay up to date on COVID-19 developments issued by health authorities and follow their guidance.
Mask usage
Healthy individuals only need to wear a mask if taking care of a sick person.
Wear a mask if you are coughing or sneezing.
Masks are effective when used in combination with frequent hand cleaning.
Do not touch the mask while wearing it. Clean hands if you touch the mask.
Learn how to properly put on, remove and dispose of masks. Clean hands after disposing of mask.
Do not reuse single-use masks.