Coronavirus Update: Map Shows Nearly 100,000 Cases Confirmed Globally, Infections Spread to At Least 85 Countries
Confirmed COVID-19 virus cases have soared to nearly 100,000 globally as of Friday, with new cases reported in the U.S. in Washington state, where the death toll has reached at least 12 as of Friday, while the U.K. saw its first fatality. South Korea and Italy, the two worst-hit countries outside China, continue to struggle to cope with the growing outbreak.
The deadly virus, which was first detected in China's Wuhan city in the Hubei province, has infected at least 98,387 people globally across at least 85 countries, including 3,383 deaths, according to the latest figures from Johns Hopkins University.
The virus has spread to every continent, apart from Antarctica, but the majority of the cases have been reported in China, which has 80,555 cases and at least 2,931 deaths in the Hubei province alone.
At least 55,444 people have recovered from the virus and around 119 countries have not detected any cases, including large parts of Africa and South America, according to Johns Hopkins University.
Italy is reportedly seeing the highest number of new cases and deaths per day across the globe, with around 769 new cases and 41 new deaths reported on Thursday, according to figures from Italy's Protezione Civile, the national body for emergency prevention, prediction and management.
Vatican City has also reported its first case, spokesman Matteo Bruni confirmed, Metro reports. The case was diagnosed on Thursday and clinics were temporarily closed for deep cleaning, Bruni confirms. Details about the patient and whether the infected individual is an employee or among the clergy or guards that live in Vatican City is unknown, Metro reports.
The headquarters of North Atlantic Treaty Organization (NATO) in Belgium and the French National Assembly have also reported new cases, while Facebook and Microsoft are the latest tech companies to advise employees to work from home following newly reported cases of the ongoing outbreak.
First cases of the virus have also emerged in Bhutan, Costa Rica and Palestine, West Bank, while Israel placed Bethlehem on lockdown, after seven Bethlehem residents were confirmed to be infected, the Times of Israel reports. Israelis and Palestinians have been banned from entering or leaving the city.
WHO urges countries to "pull out all the stops" to fight the virus
The director-general of the World Health Organization (WHO), Tedros Adhanom Ghebreyesus, urged all country leaders to "mobilize their plans, coordinating every part of government, not just the health ministry – security, diplomacy, finance, commerce, transport, trade, information and more – the whole government should be involved," in a post on his official Twitter account.
"We're concerned that in some countries the level of political commitment & the actions that demonstrate that commitment don't match the level of the threat we all face. This is NOT a drill, NOT the time to give up, NOT a time for excuses. This is a time for pulling out all the stops.
"The #COVID19 epidemic is a threat for every country, rich & poor. We are calling on every country to act with speed, scale & clear-minded determination. We call on countries to activate their emergency plans through the whole-government approach," he wrote on Twitter.
The graphic below, provided by Statista, illustrates the spread of the COVID-19 virus across the world as of March 6.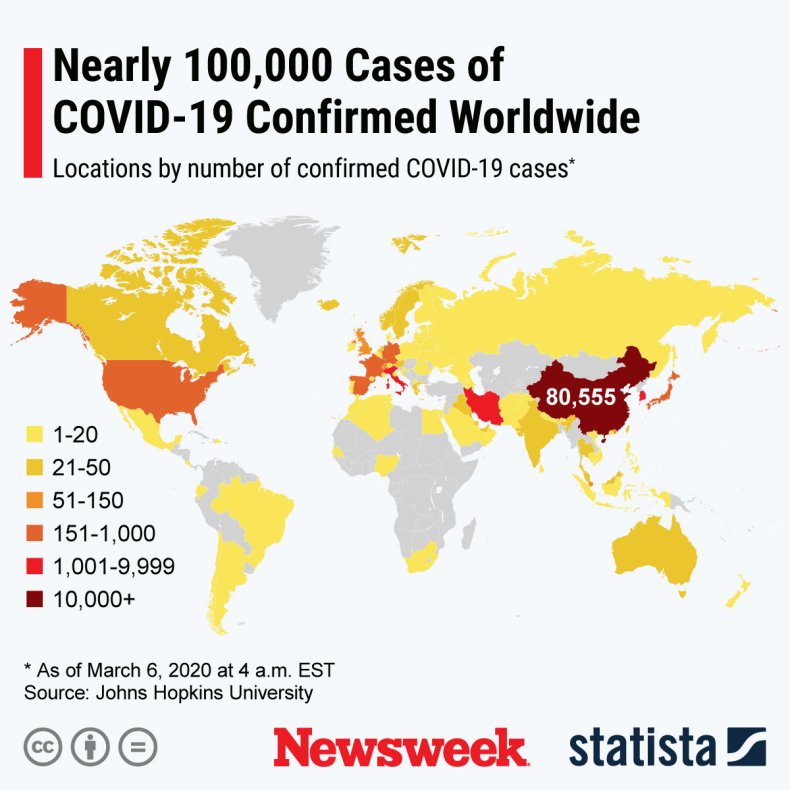 U.S. death toll hits 14
The number of deaths in Washington state has climbed to at least 13, bringing the total number of deaths in the U.S. to 14. The death toll includes the death of a California patient who traveled on a cruise ship from San Francisco to Mexico, which is currently being held off the coast of San Francisco while other passengers are screened for possible infection.
The latest fatalities in Washington state include a woman in her 90s who died at the EvergreenHealth Medical Center in King County, The New York Post reports. She was reportedly a resident of LifeCare, the nursing home where at least six of those who died in Washington previously lived.
Eleven infected patients have died at EvergreenHealth, the facility's chief executive officer, Jeff Toblin, confirmed. A man in his 50s also died at Harborview Medical Center, while a woman of unknown age died at home, without having been hospitalized, King County Public Health confirmed in a statement, NBC News reports.
Newsweek has contacted Washington's department of health for further details on the latest status of the outbreak in Washington state.
There are currently at least 70 confirmed cases of the virus in Washington state, including 51 in King County (including nine deaths), 18 in Snohomish County (including one death) and one in Grant County, according to the website of Washington state's department of health.
Maryland also reported its first three cases of the virus, state governor Larry Hogan confirmed in a post on his official Twitter account. The patients were reported to have been traveling overseas. A state of emergency has been declared across the state since the reported cases.
Officials also confirmed the first two cases of the virus in Colorado on Thursday, with more cases likely to be confirmed following more testing, The Denver Post reports.
Houston also reported its first "presumptive positive case" of the virus, which means it has been confirmed as positive in a public health lab but is awaiting confirmation from testing by the U.S. Centers for Disease Control and Prevention (CDC), according to a statement by the Houston's health department. The patient was reported to be a man aged between 60 and 70 with a history of international travel, including a recent trip to Egypt.
Harris County, Texas also reported its first three cases and all three patients are believed to have been infected abroad, NBC News reports.
New Jersey also reported its second case of the virus on Thursday, with eight others also being evaluated for possible virus testing, Philadelphia's 6 ABC Action News reports.
There are at least 233 confirmed cases in the U.S., according to the latest figures from Johns Hopkins University. At least 46 of these cases are Americans who were aboard the Diamond Princess cruise ship, according to the latest figures from the CDC. The cruise ship was quarantined in Japan last month after a passenger from Hong Kong was diagnosed. American evacuees from the ship who tested positive were taken to a hospital near the Travis Air Force Base in Fairfield, California.
World Health Organization advice for avoiding spread of coronavirus disease (COVID-19)
Hygiene advice
Wash hands frequently with soap and water, or alcohol-based hand rub. Wash hands: after coughing or sneezing; when caring for the sick; before; during and after food preparation; before eating; after using the toilet; when hands are visibly dirty; and after handling animals or waste.
Maintain at least one meter (three feet) distance from anyone who is coughing or sneezing.
Avoid touching your hands, nose and mouth. Do not spit in public.
Cover your mouth and nose with a tissue or bent elbow when coughing or sneezing. Discard the tissue immediately and clean your hands.
Medical advice
If you feel unwell (fever, cough, difficulty breathing) seek medical care early and call local health authorities in advance.
Stay up to date on COVID-19 developments issued by health authorities and follow their guidance.
Mask usage
Healthy individuals only need to wear a mask if taking care of a sick person.
Wear a mask if you are coughing or sneezing.
Masks are effective when used in combination with frequent hand cleaning.
Do not touch the mask while wearing it. Clean hands if you touch the mask.
Learn how to properly put on, remove and dispose of masks. Clean hands after disposing of mask.
Do not reuse single-use masks.
Microsoft reports new cases, Starbucks bans reusable cups
Microsoft confirmed two of its employees have contracted the virus, both of whom are in Washington state's Puget Sound region, where the company's Redmond headquarters is located, the company confirmed in a statement, Reuters reports.
One of the infected patients is an employee of Microsoft subsidiary LinkedIn and a LinkedIn spokesperson told CNBC: "Local health experts have determined that this individual had no known contact with other employees while infected and, based on that fact, there is no risk to those who work at LinkedIn from this case."
"We are doing everything we can to support our colleague and will continue to keep the health and safety of our employees, customers and partners as our top priority, working closely with public health officials globally," the LinkedIn spokesperson said.
Microsoft has advised its employees in Puget Sound and California's Bay area to work from home if possible over the next few weeks. Facebook is also "strongly recommending that all Bay area employees and contingent staff work from home starting Friday" while Google has offered a work-from-home option to employees in Bay area offices, Reuters reports.
International coffee chain Starbucks is also taking precautionary measures amid coronavirus fears. The company announced it would be temporarily banning the use of personal reusable cups for the "health and well-being," of its patrons, AFP reports.
"We are pausing the use of personal cups and 'for here' ware in our stores," Starbucks executive vice president Rossann Williams said in a statement. The company said it will continue to honor their 10-cent discount offers for customers who arrive with their own cup even if the shops won't fill the cup. Starbucks remains "optimistic this [ban] will be a temporary situation," the company told AFP.
U.K. sees first death
A woman in her 70s, who had underlying health conditions, became the first person to die after contracting the virus, the Royal Berkshire National Health Service (NHS) Trust confirmed, BBC reports.
She was treated at the Royal Berkshire Hospital in Reading and is believed to have been infected while abroad, according to country's chief medical adviser Professor Chris Whitty.
U.K. Prime Minister Boris Johnson confirmed the country is "still in the contain phase," which is the first stage of response to the outbreak. But the prime minister's spokesman also notes it is "highly likely the virus is going to spread in a significant way" in the U.K., BBC reports.
Belgium's NATO headquarters reports first cases
NATO confirmed its first three cases at its military headquarters in Belgium. The infected individuals include a civilian employee and two family members, NATO confirmed in a statement, AFP reports.
The employee traveled to Italy, the epicenter of the outbreak in Europe, while the employee and family members were reported to have not visited the Supreme Headquarters Allied Powers Europe (SHAPE) facility in Mons, southern Belgium since returning from Italy.
"There are three confirmed COVID-19 cases within our wider SHAPE community," NATO said in the statement.
"The cases were 'imported' to Belgium following foreign travel and the affected individuals have not entered the SHAPE site since returning home," it added. The three infected patients are being quarantined at home and not said to be seriously ill.
Epidemic "inevitable" in France and risk level to be raised
France has confirmed 423 cases of the virus, with 138 new cases reported on Thursday, the highest jump the country has seen so far, France24 reports.
Among the new cases has been a member of the French National Assembly, who is reportedly in intensive care following the diagnosis, the assembly confirmed in a statement.
A worker at a snack bar has also been infected, while another worker at the assembly's dining facility, who was suspected of infection, has been hospitalized, the assembly confirmed.
France's president Emmanuel Macron has warned: "There is a moment when we all know that...an epidemic is inevitable," after the country's health ministry reported three more deaths on Thursday, which raises the death toll in France to seven.
"The situation related to the spread of the infectious disease caused by the novel coronavirus COVID-19 has evolved over the last few days and hours. In particular, new infection clusters have been confirmed and case numbers are rising," European Union parliament president David Sassoli said in a statement.
The EU parliament also announced that the venue for its next parliament session next week will be switched from Strasbourg, France to Brussels in Belgium.
"The necessary security conditions are not in place for the usual transfer of the European Parliament to Strasbourg for the plenary session next week," Sassoli said.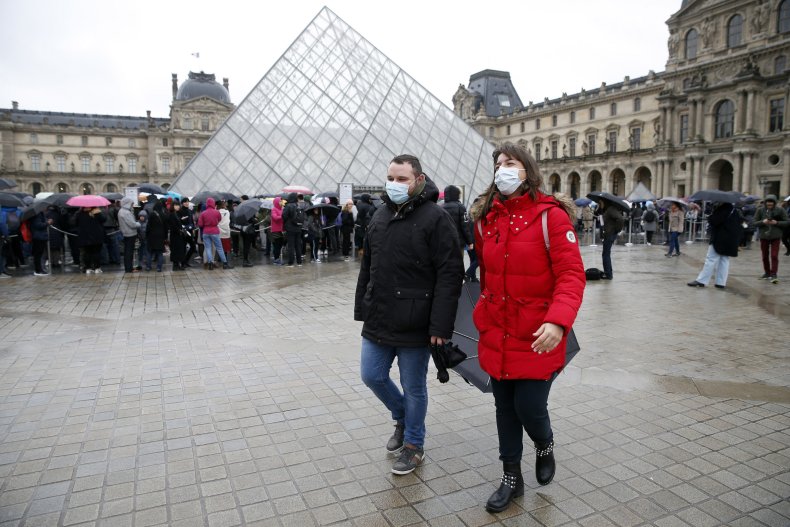 At least 150 schools across France have been closed amid the ongoing outbreak and further restrictions on public activities, events and travel may be imminent, as health officials warn the country's virus risk level will probably be raised to level three (its highest level), according to government spokeswoman Sibeth Ndiaye, France24 reports.
An immunologist among a team of experts researching the virus in France, Jean-Francois Delfraissy, also said the top alert level may be issued "in a few days, maximum one or two weeks" after his meeting with Macron, France24 reports.
South Korea condemns Japan's travel ban
As South Korea continues to report more than 500 news cases a day, the country has condemned Japan for banning the entry of any travelers from South Korea's most highly affected areas and requiring a two week quarantine for those from other regions. South Korea has seen 6,284 confirmed cases, according to the Korea Centers for Disease Control.
"It is unacceptable that the Japanese government took such an unjust action without prior consultations with us, and we will explore necessary countermeasures based on principles of reciprocity," South Korea's National Security Council said in a statement.
Most confirmed cases in South Korea are concentrated in the city of Daegu and linked to members of a secretive religious cult known as the Shincheonji Church of Jesus, the Temple of the Tabernacle of the Testimony. The group is known for hosting services in mass gatherings with people sitting in close proximity for long periods.