More Than 1,000 People In New York State Have Now Died of Coronavirus
New coronavirus deaths in New York state passed the 1,000 mark on Monday as cases surpassed 58,000.
The state is accounting for more than one-third of the country's total cases of the virus that causes COVID-19, according to a tracker from Johns Hopkins University. The epicenter of the country's outbreak is New York City, where 33,768 people have tested positive for the virus as of Monday.
Of the cases in New York state, 1,018 people have died, accounting for about 40 percent of the nation's deaths, which now total 2,572. The majority of New York state's deaths, 776, were reported in New York City.
Aside from New York City, the largest outbreaks in the state have been in Westchester, Nassau and Suffolk counties, where 19,987 cases have been identified. The three counties have collectively reported 89 deaths as of Monday morning.
Given the level of community transmission in the state, the U.S. Centers for Disease Control and Prevention issued a travel advisory for New York, as well as Connecticut and New Jersey, on Saturday. Residents were advised to refrain from nonessential domestic travel for 14 days, and governors have full discretion to implement the advisory.
Rumors about national, state or city lockdowns have been circulating for weeks, inciting runs on stores for groceries and supplies such as toilet paper. New York Governor Andrew Cuomo rejected the idea of quarantining New York City, saying it would be ineffective because residents would leave the area once they heard the news.
The travel advisory was not a lockdown, Cuomo said. Since New Yorkers have been told to stay home except when it's necessary to go outside, in essence it's not anything "we haven't been doing," according to the governor.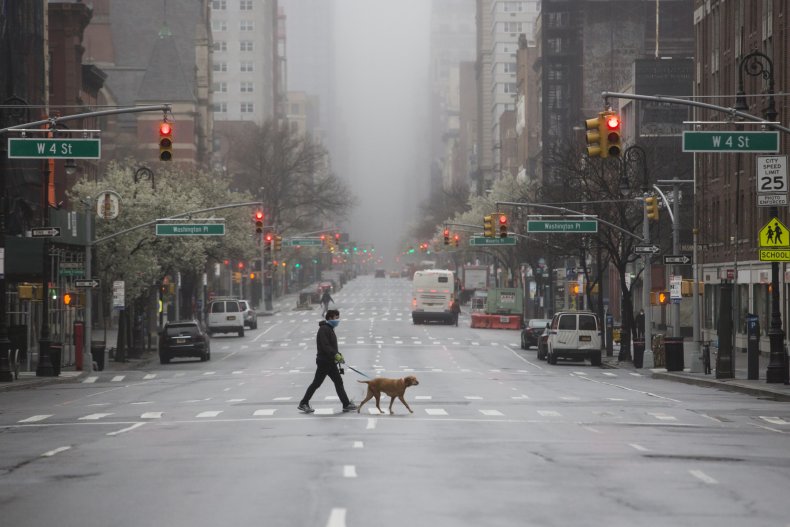 Nonessential businesses in New York closed on March 20 in an effort to curb the spread of the virus. Those businesses, as well as other facilities, including malls, gyms and movie theaters, will remain closed until at least April 15. While businesses are closed, gatherings of all sizes are not permitted.
Cuomo made the announcement on Sunday and explained that the state was extending measures in two-week intervals to accommodate daily changes. At this point, though, there is no question as to whether another two weeks of social distancing is needed.
"People ask: When is this over? I think the testing—you tell me when they come up with an inexpensive home test or point-of-care test that can be brought to volume, I think that's probably when you see a real return to normalcy in the workforce," Cuomo said.
The average time a person is on a ventilator is about three to four days, but COVID-19 patients require ventilators for up to 21 days. Unfortunately, the longer a patient needs a ventilator, the less likely the person will be able to successfully come off it. This is what New York is experiencing, according to Cuomo, who said on Sunday that deaths would increase.
As for hospitalizations, the governor noted the state is looking at trend lines more than case numbers because factors can skew case counts. Early on, the hospitalization rate doubled every two days, then three days, then four days, and as of Sunday it was doubling every six days. This showed a positive trend despite the increase in cases.
"The doubling rate is slowing, and that is good news, but the number of cases are still going up," Cuomo said. "So you're still going up towards an apex, but the rate of the doubling is slowing, which is good news."