New York Coronavirus Update: Only 5 Countries Have More COVID-19 Cases Than Empire State
Cases of a new coronavirus in the United States are spiking, and only five countries have more cases than New York, the epicenter of the outbreak.
On Friday, New York State had more than 36,900 cases–including 23,112 in New York City–according to a tracker maintained by Johns Hopkins University. That's more cases than every country to identify the virus except for Germany, Spain, Italy, China and the U.S.
New York has passed the point of being able to flatten the curve enough to prevent hospital systems from being overwhelmed, according to New York Governor Andrew Cuomo.
"Almost any scenario that is realistic will overwhelm the capacity of the current health care system," Cuomo said Thursday. "Keep the curve down as low as you can, but you cannot get the curve down low enough so that you don't overwhelm the hospital capacity."
With the expectation that there will be more cases than hospitals can manage, the only option is to increase hospital capacity wherever possible. The U.S. Army Corps of Engineers is in the process of transforming five buildings–including the Javits Center in New York City–into medical facilities. Additional sites are being scouted, and Cuomo said the goal is to have a 1,000-plus overflow facility in all five boroughs of New York City as well as Nassau, Suffolk, Westchester and Rockland counties.
At the same time, hospitals are expanding their capacities. Every hospital is required to increase capacity by 50 percent but is encouraged to try to get close to a 100 percent increase. If needed, non-critical care patients and medical personnel will also be housed at such hotels as the Plaza, the St. Regis and Yotel in New York City.
The graphic below, provided by Statista, illustrates the steep increase in coronavirus cases in New York.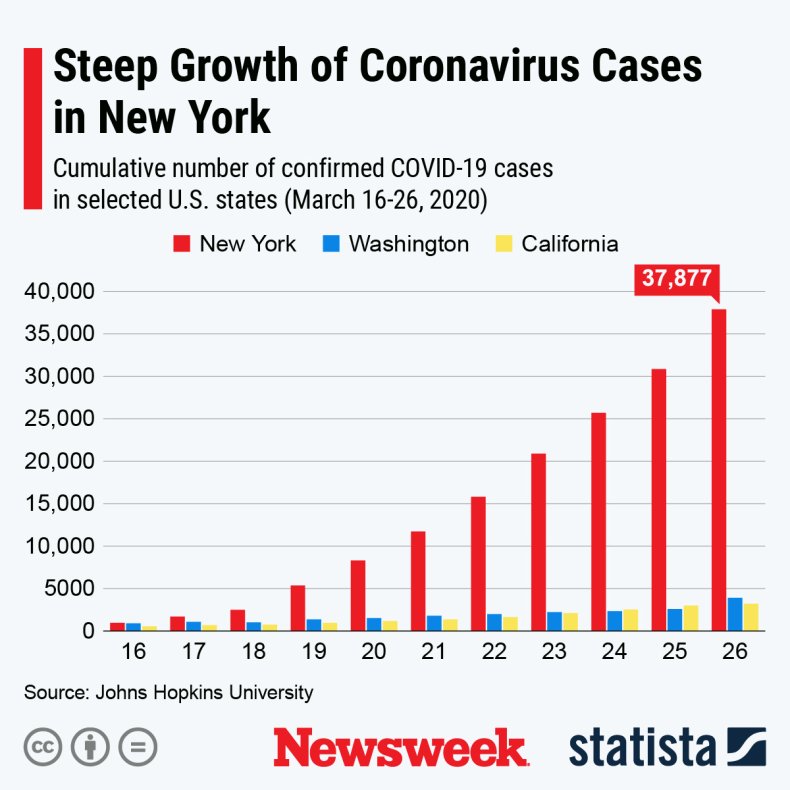 In France, where there have been at least 6,000 fewer cases than New York, the entire country is on lockdown. Non-essential businesses are closed and residents are required to carry a form stating the reason for their being outside if they leave their homes.
Those who want to leave the house to exercise or go for a walk may only do so within a one-kilometer radius of their home and for an hour, at most.
"I insist on these rules," French Prime Minister Edouard Philippe said in a national address Monday. "It means people will have to put a date and a time on the permission form they have to carry when they go out. It's essential that these rules must be strictly respected by everyone and I'm calling on everyone [to take] responsibility."
New York has also closed non-essential businesses, encouraged people to only leave their homes when necessary, and told them to only participate in solo exercise activities such as running or hiking. Unlike France, where police are enforcing the mitigation measures, there is no fine or penalty for civilians in New York found in breach of the social distancing policies.
Non-essential businesses in New York have been closed for less than a week, but some people have been working from home for weeks. People are already getting "tired" of the situation, according to Cuomo, who admitted he's tired of it, too. But in those moments of weariness, he thinks about the first responders, medical professionals, transportation workers and grocery store employees who are working long hours and don't have the "luxury of feeling tired."
"This is a marathon. We always said this is not going to be over quickly," Cuomo said. "I understand people are tired, but I also understand that people in this situation are really stepping up to the plate and are doing phenomenal work."
New York has nearly half of all the new coronavirus cases in the country, and Cuomo told residents that the outbreak hasn't peaked yet. Instead of distributing supplies across the countries, he advocated for a "rolling deployment," where New York would get supplies first and then pass them to the next place to experience a similar outbreak.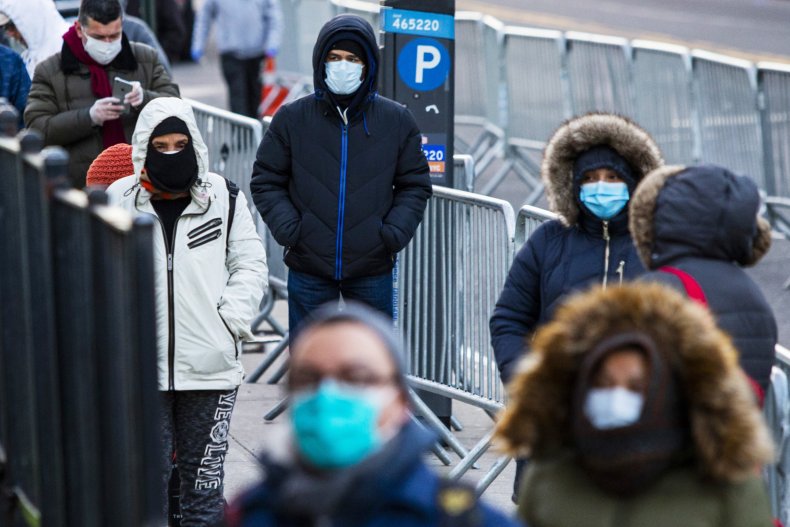 President Donald Trump said New York would receive help, but it may not be in the amount the governor requested. He told Fox News host Sean Hannity on Thursday that he didn't believe a state would need 30,000 ventilators, as Cuomo claimed.
Along with seeking out new ventilators, Cuomo said technology was approved to enable one ventilator to be used for two people and the state was converting anesthesia machines into ventilators to increase supplies. However, COVID-19 patients can be on ventilators for up to 30 days–10 times the average length for a non-COVID-19 patient–meaning ventilators can't be turned around as quickly as normal. The longer a person is on a ventilator, the less likely they'll be able to successfully come off it.
Approximately 365 people have died in New York City due to the coronavirus. Cuomo warned that it could be a while before life was back to normal.
"We're going to get through this," he said. "The only question is how we get through it and when we get through it. But let's make sure at the end of the day that we can say we are the better for it and our children are the better for it–and I believe they will be."
This article was updated to include an infographic.
New York Coronavirus Update: Only 5 Countries Have More COVID-19 Cases Than Empire State | U.S.