Over 66,000 People Have Recovered From Coronavirus Around the World, According to Johns Hopkins University
A new coronavirus continues to spread across the globe, but officials are urging the public not to succumb to fear because most people are expected to recover.
More than 4,300 people worldwide have died from COVID-19, the disease the virus causes, and without a vaccine, people are taking action to protect themselves, including unnecessarily stocking up on face masks. But, of the 121,000 cases across the globe, 66,216 people have recovered as of Wednesday morning, according to a case tracker that Johns Hopkins University manages.
About 80 percent of people in China, the epicenter of the outbreak, have recovered from the virus. Recovery percentages vary depending on the country and in the United States, where there have been 1,039 cases, the situation might appear bleak because only eight people have been reported as recovered and 29 have died.
This puts America's recovery rate below 1 percent, but Jennifer Nuzzo, a senior scholar at the Johns Hopkins Center for Health Security, told The Hill multiple factors can skew the data. In the U.S., the virus spread rapidly through a nursing and rehabilitation facility and many of the deaths in Washington involved people who were considered high-risk because they were over the age of 60 or had underlying conditions.
Another factor Nuzzo considers when looking at the numbers is the likelihood mild cases aren't being factored into the total. For many people, the virus will cause symptoms in line with a cold or the flu, so those people may not go to the doctor or ever get tested.
"We should be preparing for [the worst] cases, it's true, but also going out to see what the real number is," Nuzzo said.
To protect the entire population, especially those who are most vulnerable, officials urged the public to practice proper hand and respiratory hygiene, avoid areas where outbreaks are occurring and stay home if they're sick. The best way to reduce the risk of infection is to limit human-to-human interactions so some companies implemented work from home policies and large events, such as SXSW, have been canceled.
One recommendation that's not being made is for healthy people, at times referred to as the "worried well," to wear a face mask. It's normal for people to have fears about a new virus when it's killed more than 4,000 people and there are a lot of questions left unanswered. But, the World Health Organization Director-General Dr. Tedros Adhanom Ghebreyesus said wearing a mask is not the proper way to mitigate those fears and it's causing problems for the response.
"We are concerned that countries' abilities to respond are being compromised by the severe and increasing disruption to the global supply of personal protective equipment caused by rising demand, hoarding and misuse," Ghebreyesus said. "Shortages are leaving doctors, nurses and other front-line health workers dangerously ill-equipped to care for COVID-19 patients."
The White House's Coronavirus Task Force is leading America's response to the virus, and its members have sought to strike a balance between conveying the seriousness of the situation and inciting panic. They encouraged people who are at a higher risk of developing serious disease from the virus to rethink travel, especially cruises, where there have been large outbreaks, and practice social distancing.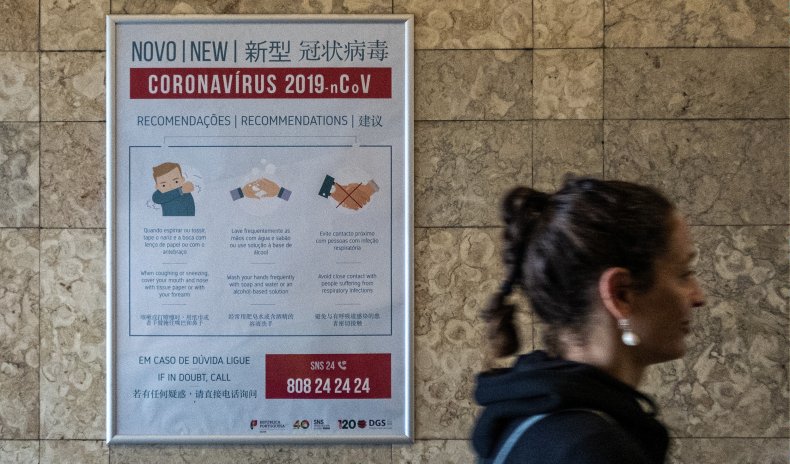 Those who aren't considered vulnerable but have family members who are should also be taking additional precautions to protect their loved ones. The message of everyone taking action to protect the broader community is one that Italian Prime Minister Giuseppe Conte pushed in his country. On Monday, Conte signed a decree that extended quarantine measures from a "red zone" to the entire country.
"Italy's future is in our hands. We all do our part, giving up something for the good of the community. At stake is the health of our loved ones, our parents, our children, our grandparents," Conte posted on Twitter.
Preventative measures in the U.S. haven't reached the severity of Italy's, but on Tuesday, Governor Andrew Cuomo announced a "containment area" in New Rochelle, New York, where there's been an outbreak. To curb further spreading, schools and places where large groups of people gather in the containment area will be closed from Thursday until March 25. Although admittedly a "dramatic action," Cuomo sought to ease concerns by providing context for case data.
"We have 173 cases, only 14 people are in the hospital…people are at home recovering from flu-like symptoms," Cuomo said. "If you look at the 14, most of the 14 are members of that vulnerable community."
Additional cases are expected to occur, and Dr. Anthony Fauci, director of the National Institute of Allergy and Infectious Disease, said there will likely be a young, seemingly healthy person who dies of COVID-19, just as is the case with the flu. That will be a "one-off," though and not the norm.
Based on the information available about the virus, the average person who becomes infected will be fine and won't need to be hospitalized, but Fauci stressed everyone in America needs to take action to limit the virus from spreading.
"What we're saying today is that although we keep coming in and saying appropriately that as a nation the risk is relatively low, there are parts of the country right now that are having community spread in which the risk there is clearly a bit more," Fauci said on Tuesday. "It doesn't matter if you're in a state that has no cases or one case, you have to start taking seriously what you can do now."