More Than 80,000 People Have Now Died From Coronavirus in United States
Deaths in the United States from the coronavirus surpassed 80,000 on Monday, about three months after the first loss of life was reported.
America has had the largest outbreak worldwide, with 1,344,512 cases, according to a Johns Hopkins University tracker. The U.S. is also leading in deaths, now at 80,087, and has had more than double the number of any other country.
The projection for total fatalities in the United States has fluctuated from the start of the outbreak, ranging from about 60,000 to 240,000. Current projections put the death toll at more than 130,000, and officials warn that number could increase as states ease mitigation measures.
In the United Kingdom, where there have been 31,140 fatalities, a lifting of the national lockdown is scheduled to start this week. Beginning Wednesday, people can spend time outdoors to exercise or meet up with up to one person from outside their home, if they maintain social distancing guidelines and remain 6 feet apart. The 50-page document also told schools to prepare to reopen for more children beginning on June 1.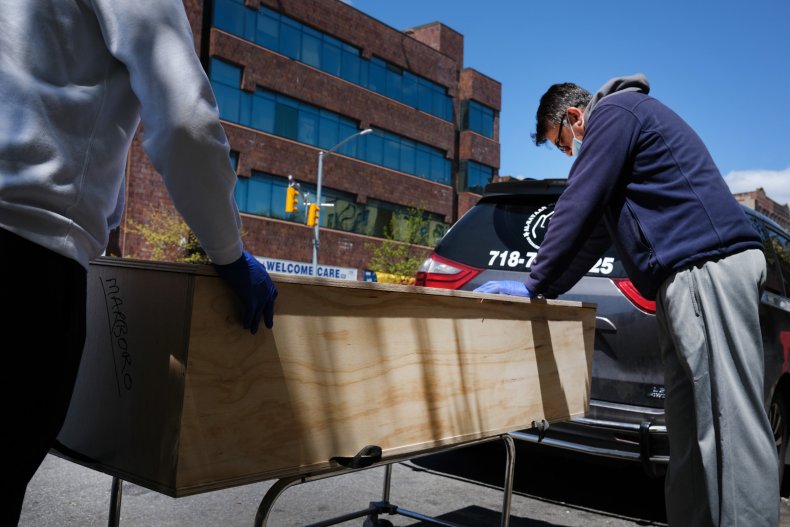 While the virus has been thought to present a fairly low risk to children, a series of deaths in New York state is raising concerns. On Sunday, Governor Andrew Cuomo said New York was investigating 85 cases of COVID-19-related illnesses in children. The symptoms are similar to toxic shock syndrome and cause inflammation of blood vessels and sometimes the heart.
At least three people in New York have died as a result, and two additional deaths are under investigation, according to Cuomo.
New York has had the highest number of deaths of any state and reported 26,682 on Monday. The death toll in the Empire State is nearly three times the figure for New Jersey, the state with the second-highest number of deaths.
Most of New York's deaths, about 85 percent, have involved people over 60, with about 40 percent involving people who were over 80, according to the State Health Department. As of Sunday, about 90 percent of cases involved people who had at least one underlying health condition, and men accounted for more deaths than women.
New York has seen positive downward trends in deaths, and newly reported fatalities fell to 207 on Sunday. However, Cuomo noted that the death tolls are still too high and encouraged New Yorkers to remain vigilant in following social distancing and mitigation protocols.
At least two states have been reporting no new deaths. Alaska hasn't reported a new death since May 5, and Montana's death toll has held steady at 16 since April 29. West Virginia also had several days of no new deaths, from May 2 to May 7, when deaths increased to 51 from 50. They've since gone up to 54.
As a whole, America has seen hopeful trends in the number of deaths. Despite a continuous rise in the number of fatalities, the country is in the midst of a four-day downward trend in newly reported deaths, according to The New York Times.