U.S. Coronavirus Update, Map, as Death Toll Passes 800, Nearly Half of Country's 55,000 Cases Are in New York
Cases of the coronavirus in the U.S. surged past 55,000 on Wednesday, while the death toll has climbed past 800, with 354 recoveries, according to the latest figures from Johns Hopkins University.
Nearly half of the total U.S. cases are in New York, which has reported more than 260 deaths, as of Wednesday. U.S. health experts from the COVID-19 virus task force led by Vice President Mike Pence, are "deeply concerned" about the outbreak in New York.
While cases in the U.S. continue to rise, it is unclear how many in the U.S. have officially recovered from infection. Speaking to Newsweek, a spokesperson for the U.S. Centers for Disease Control and Prevention said it does not "have the current numbers for recovered patients at this time, and CDC has not included this data in our ongoing case counts as of yet" but the CDC "may put it [the data on recoveries] together in the future."
The World Health Organization warned on Tuesday that the country has the potential to experience a widespread outbreak. When asked whether the U.S. could become the new epicenter of the virus, WHO spokeswoman Margaret Harris told reporters: "We are now seeing a very large acceleration in cases in the U.S. So it does have that potential," Reuters reports.
The virus, which was first reported in Wuhan, a city in China's Hubei province, has affected more than 435,000 people across 170 countries, while over 111,000 have recovered. More infections have been reported outside China than within.
The country has more than 81,600 cases, with around 3,200 fatalities and nearly 73,000 recoveries. China, which from today has lifted outbound travel restrictions in Hubei, claims the outbreak has been mostly contained.
America has over 55,000 cases, nearly half are in New York
The number of cases has reached over 55,200 confirmed cases to date, as of Wednesday.
New York has 25,665 cases, according to the office of New York Governor Andrew Cuomo.
New York City has around 14,094 cases, as of Tuesday, according to the office of New York Governor Andrew Cuomo.
About 56 percent of all U.S. cases are in the New York metropolitan area, Dr. Deborah Birx, a physician and health expert on the COVID-19 virus task force, confirmed at a White House press briefing on Tuesday.
About one per thousand people in New York are infected, which is "about 8 to 10 times more than in other areas," Dr. Anthony Fauci, the director of the National Institute of Allergy and Infectious Diseases (NIAID) and a member of the U.S. COVID-19 virus task force, said at the briefing.
Birx noted at the briefing: "We remain deeply concerned about New York City and the New York metro area. About 56 percent of all the cases in the United States are coming out of that metro area, and 60 percent of all the new cases are coming out of the metro New York area, and 31 percent of the people succumbing to this disease.
"It means, because they [New York] still are at 31 percent mortality compared to the other regions of the country, that we can have a huge impact if we unite together. This means, as in all places, they [New Yorkers] have to be following the presidential guidelines that were put out eight or nine days ago. And this will be critical," she added.
Fauci added: "It's a very serious situation [in New York]...what we're seeing now is that, understandably, people want to get out of New York. They're going to Florida. They're going to Long Island...when they go to another place, for their own safety, they've got to be careful, monitor themselves.
"Self-isolating for two weeks will be very important, because we don't want that to be another seeding point to the rest of the country, wherever they go."
370,000 virus tests completed in U.S.
The U.S. conducted 370,000 virus tests, the majority of which were done in the last eight days, Birx confirmed at the Tuesday White House press briefing.
"The majority of those—over 220,000 in the last eight days, which, those of you who have been tracking the South Korea numbers, put us equivalent to what they did in eight weeks that we did in eight days," she said at the briefing.
Birx also noted that the government is working on being able to allow people to take their own sample for testing. "That does not mean home testing. That means taking your own sample in the front of your nose with available swabs into normal saline that can be transported to the laboratories," she explained.
"That will allow and free up all of the drive-throughs to be very sparing on PPE [personal protective equipment], because you'll be able to do that with gloves rather than the full PPE outfits. This will allow for more of that PPE to be dedicated to our hospitals," she added.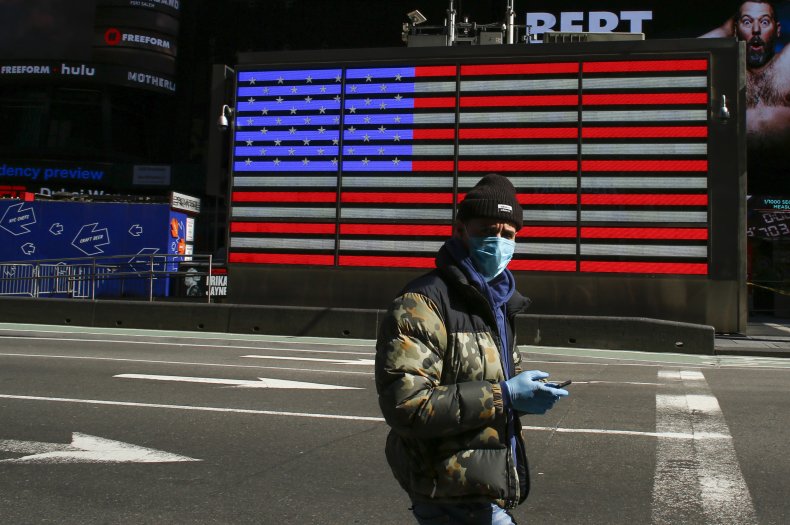 Death toll passes 800, cases rising in Louisiana and New Jersey
The death count in the country has soared past 800. New York, Washington state and California have dominated the death count, but Louisiana and New Jersey have also seen a surge.
Louisiana is reported to have the third highest rate of confirmed cases per capita, after New York and Washington state, Louisiana Governor John Bel Edwards confirmed in a letter to President Donald Trump requesting approval for a disaster declaration in the state.
"I have determined that this incident [the outbreak] is of such severity and magnitude that effective response is beyond the capabilities of state and local governments," the governor noted.
The cases were reported to be concentrated in the New Orleans region, which is expected to run out of hospital capacity for patients by April 4, the governor confirmed.
New Jersey has also seen a sharp rise in cases recently, with 800 new cases from Monday to Tuesday, bringing its total cases to 3,675, with 45 deaths, as of Wednesday, according to the state's department of health.
New Jersey has the second highest number of cases in the country and its cases increased tenfold last week, CNN reports.
The graphic below, provided by Statista, illustrates the spread of COVID-19 across the U.S.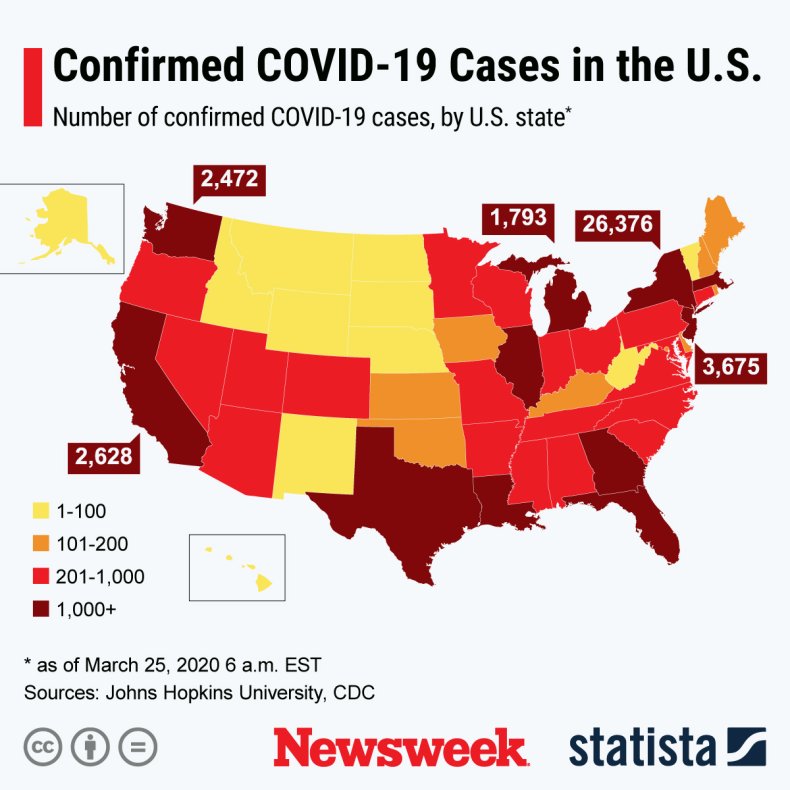 Latest COVID-19 death toll in the U.S.
New York - 265 (192 in New York City, 73 others)
Washington state - 134 (94 in King County, 40 others)
California - 48 (11 Los Angeles, 37 others)
Louisiana - 46
New Jersey - 45
Georgia - 38
Michigan - 23
Florida - 22
Illinois - 16
Connecticut - 12
Indiana - 12
Colorado - 11
Massachusetts - 9
Nevada - 6
Vermont - 6
Arizona - 5
Texas - 5
Kentucky - 4
Ohio - 4
Oregon - 4
Pennsylvania - 4
Virginia - 4
Kansas - 4
Missouri - 3
Wisconsin - 3
South Carolina - 2
Tennessee - 2
Maryland - 2
Washington, D.C. - 2
Arkansas - 2
Minnesota - 1
Mississippi - 1
New Hampshire - 1
Hawaii - 1
Iowa - 1
Data on COVID-19 cases is from Johns Hopkins University unless otherwise stated.
World Health Organization advice for avoiding spread of coronavirus disease (COVID-19)
Hygiene advice
Clean hands frequently with soap and water, or alcohol-based hand rub.
Wash hands after coughing or sneezing; when caring for the sick; before, during and after food preparation; before eating; after using the toilet; when hands are visibly dirty; and after handling animals or waste.
Maintain at least 1 meter (3 feet) distance from anyone who is coughing or sneezing.Avoid touching your hands, nose and mouth. Do not spit in public.
Cover your mouth and nose with a tissue or bent elbow when coughing or sneezing. Discard the tissue immediately and clean your hands.
Medical advice
If you feel unwell (fever, cough, difficulty breathing) seek medical care early and call local health authorities in advance.
Stay up to date on COVID-19 developments issued by health authorities and follow their guidance.
Mask usage
Healthy individuals only need to wear a mask if taking care of a sick person.
Wear a mask if you are coughing or sneezing. Masks are effective when used in combination with frequent hand cleaning.
Do not touch the mask while wearing it. Clean hands if you touch the mask.
Learn how to properly put on, remove and dispose of masks. Clean hands after disposing of the mask.
Do not reuse single-use masks.