Coronavirus U.S. Outbreak Update as Dozens of New Cases Confirmed in California, Florida, New York, Washington
The COVID-19 virus has seen dozens of new cases reported across the U.S. since last Friday, including the first two deaths in the U.S. in Washington state, the first cases in New York and Florida as well as more cases in California, Rhode Island, Illinois and Oregon.
The latest cases have raised the total number of cases in the country to around 89, a jump from around 60 cases last Friday. Both Washington and Florida have declared a state of emergency since the latest cases.
The two male patients who died in Washington were treated at a hospital in Kirkland and were reported to have had underlying health conditions. One of them was in his 50s, while the other was in his 70s. The state has reported at least 13 cases of the virus so far, according to the Washington State Department of Health.
The governor of Washington, Jay Inslee, declared a state of emergency on Saturday following the first reported death, instructing all "state agencies and departments to utilize state resources and do everything reasonably possible to assist affected communities responding to and recovering from COVID-19 cases," the governor's office said in a statement.
At least 89,197 cases of the virus, which was first identified in Wuhan city in the Hubei province of China, have been confirmed across more than 60 countries. More than 80,026 cases have been reported in China, followed by at least 4,335 cases in South Korea, 1,694 cases in Italy and 978 cases in Iran, which has reported the highest death toll outside China, with 54 deaths so far, according to the latest figures from Johns Hopkins University.
Nearly half of the cases in the U.S. have been in California, with at least 44 cases reported to be passengers from the Diamond Princess cruise ship, according to the CDC website. The cruise ship was quarantined in Japan after a passenger from Hong Kong was found to have been infected. American evacuees from the Diamond Princess who were infected were sent to hospitals in the areas surrounding the Travis Air Force Base in Fairfield, California.
California has reported at least 40 cases, the Los Angeles Times reports, and at least five new cases have been identified in Northern California as of Sunday, with three in Santa Clara County and two in Solano County, Times-Herald reports. Two of the cases were reported to have been travelers who returned from Egypt recently, while two others were reported to be health workers who were likely to have been exposed to an infected patient.
"Due to the aggressive measures that public health and hospital staff undertook, all potential exposures to the case were promptly identified and isolated so that patients are not placed at higher risk. Health care officials have immediately updated protocols and procedures to ensure patient safety is prioritized," said Solano County health officer, Dr. Bela Matyas, said in a statement on Sunday.
"This underscores the challenging environment that health care workers everywhere face to stem the spread of communicable diseases, including COVID-19," she added.
New York also reported its first case of the virus, which was reported by a woman in her late 30s who traveled to Iran. The patient was said to be in isolation in her home, New York State governor Andrew Cuomo confirmed in a statement.
"The patient has respiratory symptoms, but is not in serious condition and has been in a controlled situation since arriving to New York.
"There is no cause for surprise -- this was expected. As I said from the beginning, it was a matter of when, not if there would be a positive case of novel coronavirus in New York.
"There is no reason for undue anxiety -- the general risk remains low in New York. We are diligently managing this situation and will continue to provide information as it becomes available."
Last week, the governor was reported to have called for "the Legislature to pass a $40 million emergency management authorization "to confront this evolving situation," the statement said.
On Sunday, Florida reported its first two "presumptive positive" cases, which are cases that have been "tested positive by a public health laboratory and are pending confirmatory testing at CDC [U.S. Centers for Disease Control and Prevention]," the Florida Department of Health confirmed on its website.
A Florida resident from Hillsborough County and another from Manatee County were reported to have been isolated and being treated. The department is also monitoring at least 184 people, including any close contacts of the confirmed cases, people who have returned from China in the past 14 days and anyone else at risk of having been exposed to the virus, according to the department's website.
The patient from Hillsborough was reported to have traveled from Italy, while the Manatee resident did not report traveling to any of the restricted areas noted by the CDC, NBC 6 South Florida reports.
"Florida's public health system is well prepared to handle #COVID19. Our health care professionals throughout the state are implementing the appropriate protocols and are ready to respond," the department said in a post on its official Twitter account.
The governor of Florida, Ron DeSantis, declared a public health emergency in the state following the two reported cases.
"I have been working with federal partners and our Department of Health to ensure that communities are ready to handle the challenges presented by COVID-19," DeSantis said in the statement.
"The dedicated professionals at our county health departments, as well as those working at local medical providers, are well equipped to address these and future cases," he added.
Illinois has confirmed another positive case of the virus, with 76 "Persons Under Investigation [PUI]" for possible exposure to the virus, the Illinois Department of Public Health confirmed on its website.
One of the latest patients was reported to be from Cook County and was said to have been hospitalized in an undisclosed location, CBS Chicago reports.
A couple in Chicago was previously infected by the virus but both were reported to have made full recoveries, The Hill reports.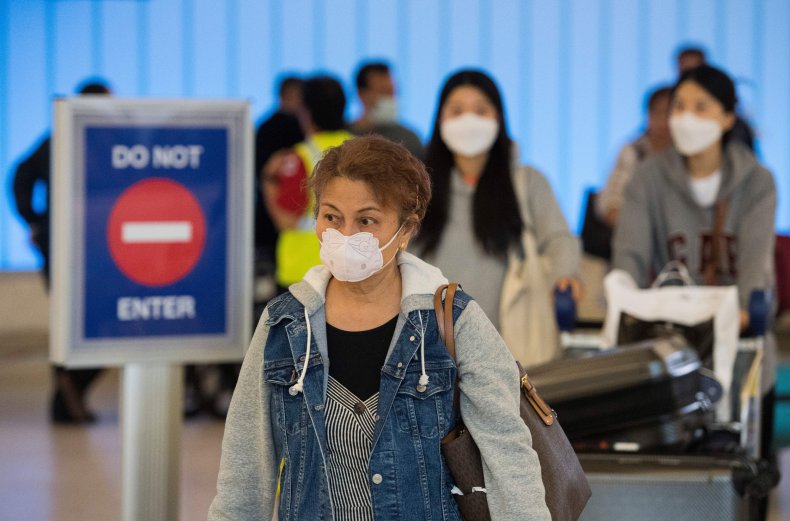 Oregon announced its second case on Sunday, which is reportedly linked to the first case which was identified on Friday, according to The Oregonian. The state is currently monitoring 86 others who may have been exposed to the virus, according to the Oregon Health Authority.
Rhode Island also reported two cases of the virus, while a third person was undergoing tests. All three were reported to have been linked to a school trip to Italy.
One those the infected people included a man in his 40s, while a teenager from the trip also tested positive and a woman in her 30s is being examined, Boston 25 News reports.
"All 38 of the people who went on this trip will be self-monitoring for symptoms at home for 14 days with public health supervision," the state department of health said in a statement.
"They have been instructed to not go to school or work and to remain at home for these 14 days," the department said.
"All three people went on the same trip to Italy," Dr. Nichole Alexander-Scott, Rhode Island's director of health, said in the statement.
"This is precisely why we are being so aggressive in identifying contacts, ensuring monitoring, and testing people who are symptomatic," she added.
The recent deaths and warnings from health bodies have caused a wave of panic across the country, with major retailers running out of supplies including face mask, water, toilet paper, hand sanitizers and disinfectants, as residents scramble to stock up following fears of an outbreak in their local area.
The CDC warned last week that the spread of the virus was inevitable, that "it's not so much a question of if this will happen anymore, but rather more a question of exactly when this will happen and how many people in this country will have severe illness," Dr. Nancy Messonnier, director of the CDC's National Center for Immunization and Respiratory Diseases, stated at a press briefing last week.
"We are asking the American public to work with us to prepare in the expectation that this could be bad," she added.
The graphic below, provided by Statista, illustrates the spread of the COVID-19 virus as of March 2.