Coronavirus U.S. Outbreak Update: Death Toll Reaches 17, With New Cases in New York and at Washington D.C. Conference Attended by Pence, Pompeo, Bloomberg
The COVID-19 virus death toll has reached 17 on Saturday, following another death in Washington state and two deaths in Florida as well as one reported in California earlier this week.
The U.S. has at least 338 confirmed cases of the virus, which was first reported in China's Wuhan city in the Hubei province. The virus has infected more than 100,000 people globally, most of whom (80,651 people) are in China, and just over 57,400 people have recovered from it, according to the latest figures from Johns Hopkins University.
More than half of all the states in the country have been affected, including several that reported their first cases on Friday. They include Pennsylvania, Utah, Indiana, Minnesota, Kentucky, Oklahoma, Nebraska, South Carolina, and Hawaii, Reuters reported.
New cases have also emerged in New Jersey and New York, where nearly 3,000 people have been quarantined in a bid to prevent the spread of the virus, as well as more cases from the Grand Princess cruise ship, which is currently being held off the coast of San Francisco while passengers are tested.
Other states with confirmed cases so far include Arizona, Colorado, Georgia, Illinois, Maryland, Massachusetts, Nevada, New Hampshire, North Carolina, Oregon, Rhode Island, Tennessee, Texas, and Wisconsin, according to ABC News.
President Donald Trump this week signed a bill to put $8.3 billion toward increasing the country's capacity to test for the virus and other efforts to fight the outbreak in the U.S.
The Secretary of Health and Human Services, Alex Azar, confirmed on Friday that "we [the government] have provided all the tests to the State of Washington and the State of California that they've asked for. The production and shipping of tests that we've talked about all week is completely on schedule," he said at a White House press briefing where Trump signed the latest bill.
"All of the CDC tests—the tests that are available to test up to 75,000 people—CDC has shipped to America's public health labs.
"Then, IDT, the private contractor working with CDC to ship to the private sector and hospitals, has already shipped enough tests for 700,000 tests.
"And then next week, we'll keep ramping up production. So as many as 4 million tests next week are going to be driving forward. So everything is on schedule for the tests," Azar said at the briefing.
Trump also said at the briefing, "You have to be calm. It'll [the virus outbreak] go away... we have very low numbers compared to major countries throughout the world.
"And in terms of cases, it's very, very few. When you look at other countries, it's a very tiny fraction because we've been very strong at the borders," he said.
Trump also visited the U.S. Centers for Disease Control and Prevention (CDC) in Atlanta, where he revealed he'd prefer to have infected individuals from the Grand Princess cruise ship remain on the vessel, which has reported 21 infections (19 crew members and two passengers), Vice President Mike Pence announced at a news conference on Friday.
The ship has been held off the coast of San Francisco while other passengers are being screened following the death of a California resident who was also journeyed on the ship on a cruise from San Francisco to Mexico last month.
"I'd rather have them [infected passengers] stay on [the Grand Princess cruise ship]..." Trump told reporters on Friday, Reuters reported.
"I don't need to have the numbers [cases of the virus] double because of one ship that wasn't our fault," he added.
Florida reports first fatality on the east coast
The deaths of two infected residents in Florida have marked the first two fatalities on the east coast.
One resident in Lee County and another in Santa Rosa County, both in their 70s, died after contracting the virus, raising the state's total number of confirmed cases to 12, according to the state's department of health.
Both people were linked to trips abroad, while the patient in Santa Rosa County also had underlying health conditions, according to state governor Ron DeSantis, Florida's News4JAX reported. The governor noted that the risk to the general public in Florida remains low.
Florida's Broward County also reported two "presumptive positive" cases, which means they have been tested in a public lab and are awaiting confirmation from testing by the CDC. The two male patients include a 75-year-old and a 65-year-old Both will remain in quarantine until being cleared by health authorities, News4Jax reported.
Washington state death toll climbs to 14
The majority of the deaths from the virus has been in Washington state, which now claims 14 of the 17 deaths in the U.S.
Another death was reported at the EvergreenHealth Medical Center in the city of Kirkland of King County, marking the twelfth fatality at EvergreenHealth, The Mercury News reports.
There are currently at least 79 confirmed cases across Washington state. Most of them (58 cases) are in King County, where at least six patients who have died were elderly residents of the LifeCare nursing home in Kirkland.
The state's Snohomish County has at least 19 cases, while Jefferson County and Grant County each have one. At least 159 people are under "public health supervision," which includes those at risk of exposure who are being monitored by public health officials and those who have returned from China in the past 14 days, the state's department of health confirmed.
Two test positive at Washington D.C. event attended by Pence, Pompeo
Two people tested positive after their attendance at the American Israel Public Affairs Committee (AIPAC), a conference held in Washington D.C., AIPAC confirmed in an email to attendees, the Agence France-Presse reports.
The conference was attended by Pence, Secretary of State Mike Pompeo, Senate Majority Leader Mitch McConnell, Mike Bloomberg and dozens of other officials. The infected patients were reported to have traveled from New York to attend the event held on March 1 to 3.
"We have confirmed that at least two Policy Conference attendees from New York have tested positive for the Coronavirus," AIPAC said in the message.
"We have continued to remain in constant communication with the Westchester County Health Department and the DC Health Department which is coordinating with the New York Health Department, and national health authorities," AIPAC added.
U.S. considering ways to discourage cruise travel to prevent outbreak
As more patients are diagnosed on the Grand Princess, the second cruise ship from the Princess cruises cruise line to have reported a string of infections, the government is reportedly considering ways to deter people from going on a cruise, in a bid to prevent the spread of the virus, Reuters reported.
At least 46 of the total confirmed cases in the U.S. were passengers on the Diamond Princess cruise ship, which was quarantined in Japan last month after a passenger tested positive in Hong Kong, according to the latest figures from the CDC. All infected American evacuees were treated at a hospital near the Travel Air Force Base in Fairfield, California.
Discussions are reportedly taking place between Pence and the cruise industry this weekend, which could see the government advise some or all U.S. travelers to temporarily avoid cruises or impose travel restrictions related to cruises amid the growing number of infections, Reuters reported.
"Cruise ships represent a unique challenge for health officials," Pence said at a White House press briefing on Friday.
"We're going to be working closely with some great American companies in the cruise line industry to enhance and strengthen the screening procedures," he said.
New York cases rise to 44
Eleven new infections have been reported in New York, bringing the state's total number of cases to 44, the state governor's office confirmed in a statement on Friday.
The cases so far include 34 in Westchester County as well as four in New York City, four in Nassau County, two in Rockland County.
"I've said every day the number of confirmed cases of novel coronavirus will keep going up, and as we expand our testing capacity we will only see that number continue to rise," state governor Andrew Cuomo said in the statement.
"We want to keep testing and finding more people who are testing positive because that's how you contain the outbreak - find the person who got infected, quarantine them and reduce the infection rate.
Cuomo also announced that travel insurers and agents will allow New York residents and businesses to purchase coverage that would permit them to cancel a trip for any reason, including any related to the COVID-19 virus.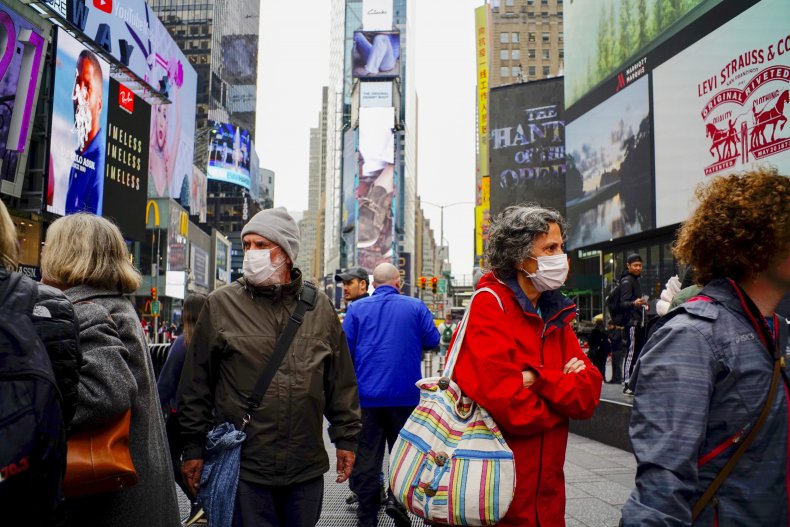 "We want New Yorkers to go about their daily lives including planning vacations and other travel, and this action will allow them to do that at a time when there is still uncertainty about the future geographic impact of coronavirus," he said.
As of Thursday, the city's department of health was said to be monitoring 2,773 people in New York who have been quarantined in "home isolation," and some of those who violate the quarantine and venture out of their homes may face fines or prison time, according to officials, the New York Post reported.
First cases in Pennsylvania prompts emergency disaster declaration
Two presumptive positive cases were confirmed in Pennsylvania on Friday and state governor Tom Wolf signed an emergency disaster declaration, which approves the use of up to $25,000,000 in unused appropriated funds to help fight the outbreak.
"It's imperative that we continue to respond quickly and accurately to the coronavirus and its introduction into Pennsylvania," Wolf said in a statement released by the governor's office.
"First and foremost, we want all Pennsylvanians to be safe and remain healthy and follow the practical advice of the Department of Health on ways to protect yourself from any virus and that's by washing hands, covering your mouth and nose when you sneeze or cough and staying home if you are sick," he added.
FBI reports first infection
The Federal Bureau of Investigation (FBI) also reported its first case of the virus from an employee at its San Francisco division, the bureau said in a statement, CBS SF Bay Area reported.
The FBI confirmed, "This employee works in a small satellite office. The other employees at the site have returned to their homes until further notice, and everyone known to have been in contact with the infected employee has been notified of possible exposure.
"At this time, we assess our operations have not been negatively impacted by COVID-19 and we will continue steadfast in our mission to protect the American people and uphold the Constitution," the FBI stated.
The bureau added it "will take all necessary remedial and precautionary measures to protect our employees, their families and our community."
The graphic below, provided by Statista, illustrates the spread of the COVID-19 virus in the U.S.as of March 6.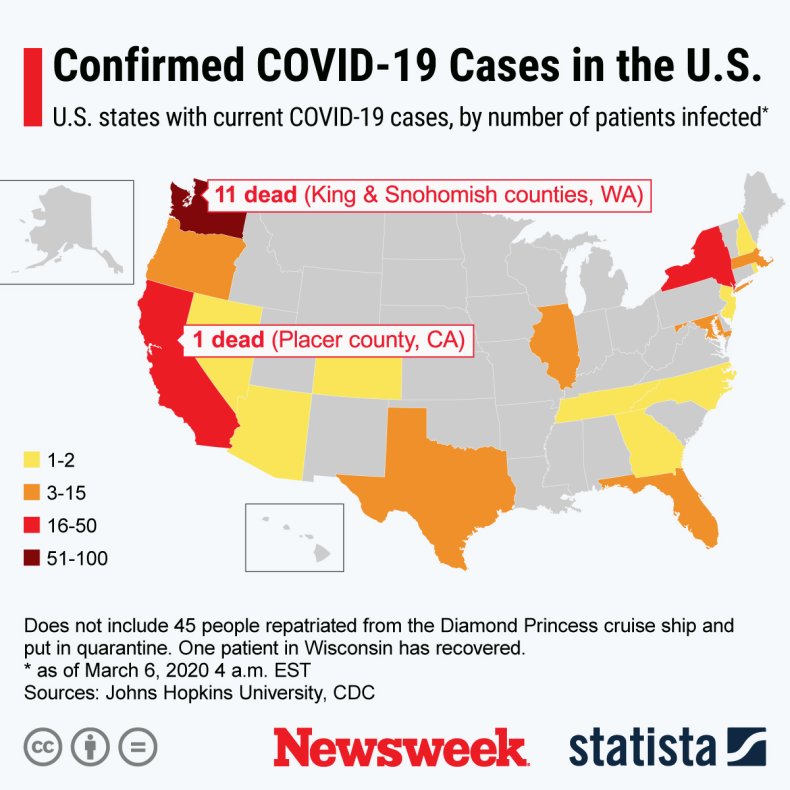 World Health Organization advice for avoiding spread of coronavirus disease (COVID-19)
Hygiene advice
Wash hands frequently with soap and water, or alcohol-based hand rub.
Wash hands: after coughing or sneezing; when caring for the sick; before; during and after food preparation; before eating; after using the toilet; when hands are visibly dirty; and after handling animals or waste.
Maintain at least one meter (three feet) distance from anyone who is coughing or sneezing.
Avoid touching your hands, nose and mouth. Do not spit in public.
Cover your mouth and nose with a tissue or bent elbow when coughing or sneezing. Discard the tissue immediately and clean your hands.
Medical advice
If you feel unwell (fever, cough, difficulty breathing) seek medical care early and call local health authorities in advance.
Stay up to date on COVID-19 developments issued by health authorities and follow their guidance.
Mask usage
Healthy individuals only need to wear a mask if taking care of a sick person.
Wear a mask if you are coughing or sneezing.
Masks are effective when used in combination with frequent hand cleaning.
Do not touch the mask while wearing it. Clean hands if you touch the mask.
Learn how to properly put on, remove and dispose of masks. Clean hands after disposing of mask.
Do not reuse single-use masks.