Washington Coronavirus Update: Pence Heads to State Amid Outbreak As Schools Close, Companies' Employees Told to Work Remotely and More
Ahead of Vice President Mike Pence's visit to Washington state, Seattle companies and schools limited human-to-human interactions to curb the spread of the new coronavirus.
Washington was the site of the United States' first case of the new coronavirus, SARS-CoV-2, and since it was confirmed January 21, at least 39 people have tested positive there and 10 have died, according to the state Department of Health. The virus is spreading in the King County community, and hundreds of people suspected of having had exposure remain under public health supervision.
The majority of Washington's deaths involved people who were elderly or had underlying conditions, two high-risk demographics, according to studies. Given the increased level of susceptibility, the King County Health Department advised those groups, as well as those who are pregnant, to stay home and avoid large groups of people as much as possible.
Despite the increase in cases and instances of community spread, health officials say the virus's threat to the general public remains low and stress that most people who get it will recover without significant medical intervention. But their assurances have done little to curb concerns in Seattle, where business owners have seen a drop-off in tourists and foot traffic.
"It's like a ghost town," Ruby Francisco, who owns a store at Pike Place Market, a popular tourist destination in Seattle, told NBC News.
The virus is known to be transmitted through close contact, and large gatherings of people can foster its rapid spread. Because of growing concerns about COVID-19, the disease caused by the virus, Microsoft canceled its MVP/Regional Director Summit. The annual event was set to be held at the Microsoft Redmond campus in King County between March 16 and 19 but will now have an online-only format.
Emerald City Comic Con will begin March 12, as planned, according to event producer Reedpop, but ticket-holders can receive a refund if they didn't want to attend.
In a statement, Reedpop said: "We recognize that not everyone will agree with our decision: it is our feeling that this community values coming together and building connections, even in difficult times; that artists depend on fan relations to keep their work and careers growing; and that the very vibrancy of what makes our community special is just the type of energy and optimism that can buoy us as a broader community through these challenging and anxious times."
Potential spreading of the virus in large gatherings also prompted state officials to debate closing schools. The Seattle and King County Public Health Department said it weighed the pros and cons, including disruptions to education and strains on working parents, and decided not to recommend closing schools at this time.
Based on the information experts now have on the virus, people under 18 are not a high-risk group, but several adults connected to the North Shore School District in Snohomish and King counties may have been exposed and one tested positive. Superintendent Michelle Reid announced on Wednesday night that all schools would be closed for 14 days beginning on Thursday.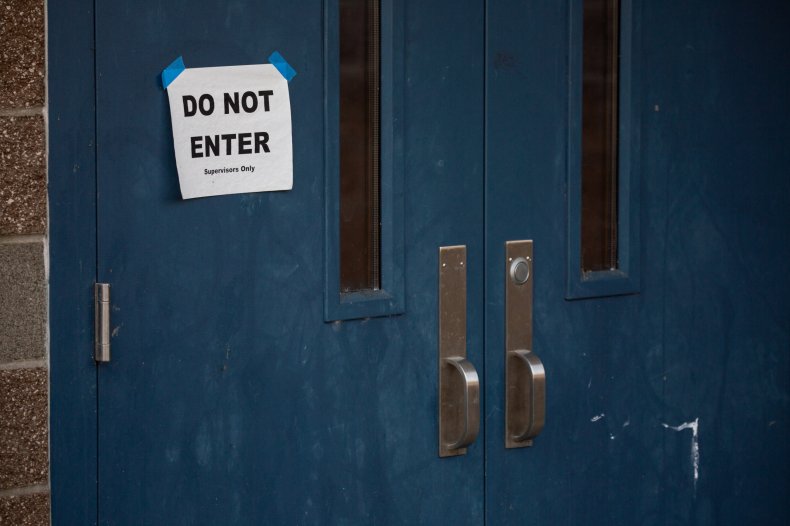 During the 14-day period that students will be out of school, they will be taught solely through online platforms, a "journey" Reid said the community will navigate together.
"We are taking this strategic approach not because we think by doing so we will stop an epidemic; we are simply trying to do our part to slow the spread of COVID-19," Reid said in a letter to families.
Most schools in the area are staying open, citing the health department's recommendations, but several, including all in the Monroe School District, closed for a day so professionals could come in and disinfect the building.
Although the Seattle and King County Public Health Department isn't advising education personnel to stay home, it encouraged companies to allow employees to work remotely. If more people work from home, the department said, it reduces the number of people who are coming into close contact with each other, thereby reducing the opportunity for the virus to spread.
In line with the Health Department's recommendations, on Wednesday Amazon sent a message to Seattle and Bellevue corporate employees telling them to work from home through the end of March if their role permitted it.
Amazon confirmed on Tuesday that a person who works at one of its Seattle offices tested positive for the virus. The employee, according to Amazon, was not feeling well and left work on February 25. The person has not returned to the office since then.
The Fred Hutchinson Cancer Research Center in Seattle enacted its mandatory work from home policy on Wednesday. Although no employees had tested positive, President and Director Tom Lynch and Executive Vice President and COO Steve Stadum said in a companywide email that the latest information and guidance showed the likelihood of employee exposure was "significantly greater than previously expected."
Except for those whose presence was essential, employees at the South Lake Union campus were required to work remotely from Thursday until March 31. The company also canceled all gatherings of more than five people, including in-person meetings, on-campus events and work-related domestic and international travel.
Pence, who is spearheading the White House's Coronavirus Task Force, will meet with Washington Governor Jay Inslee on Thursday. Their meeting will take place at the State Emergency Operations Center at Camp Murray, about 50 miles from King County. The vice president applauded Washington's health department and said the decision was made to pay it a visit after meeting with members of the House of Representatives and Senate.
"We understand the anxiety this is creating in the full community, and we're going to be going out just to make sure...they have everything they need," Pence said on Wednesday.