'Uncontrolled Spread' of COVID in Majority of U.S. States
More than half of U.S. states are seeing an "uncontrolled spread"of the novel coronavirus as of Monday, according to data compiled by the website Covidexitstrategy.org. Thirty states are reporting more than 150 new infections a day per one million people.
The website's contributors consist of public health and crisis experts with experience working at the White House, U.S. Department of Health and Human Services and on the Ebola epidemic in West Africa, including Ryan Panchadsaram, a former U.S. Deputy Chief Technology Officer at the White House.
Using the reopening criteria previously outlined by the White House, Covidexitstrategy.org tracked each state's progress towards "its reduction in symptoms and cases, health system readiness and increased testing."
Speaking to Newsweek, Panchadsaram said: "As of this morning [Monday], 30 states fall into the uncontrolled spread category. These are states with more than 150 new cases per [day for every] million people."
Seventeen of the 30 states in the "uncontrolled spread" category each reported more than 250 new cases per million, while eight of them reported above 300 new cases per million.
"The president will say that the [case] numbers are high because testing is high. What he is failing to share with the public is that the positivity rate [which is the percentage of positive cases over all the tests conducted] in those states are high [and rising] too," Panchadsaram said.
The positivity rates in South Dakota (36.4 percent), Idaho (29.6 percent), Iowa (25.5 percent), Wisconsin (24.3 percent) are "shockingly high," Panchadsaram told Newsweek.
"For almost every four people they are testing one is positive. Compare this to New York where the positivity rate is 1.2 percent. For every 100 people they are testing, there is only one positive case.
"What's disturbing in the states with the highest new cases per million is that the hospitalization rate is increasing too. In the past two weeks, the states with the top 10 cases have seen an increase in the number of people currently hospitalized," Panchadsaram added.
For each criteria scored, the website sourced "publicly available data that best represents where a state is at. Some sources are more 'real-time' like case data, but others can lag a week like influenza-like illness (ILI) data.
"Using this data, we assign a dark red, red, yellow, green score to each measure," the website explains.
A dark red score is labeled as "Uncontrolled Spread," a red score as "Trending Poorly," a yellow score as "Caution Warranted," while a green score is labeled as "Trending Better."
See the website for full details on each of the different criteria measured.
U.S. states with "uncontrolled spread" of COVID-19
Source: Covidexitstrategy.org (as of October 19)
Texas
Florida
Illinois
Oklahoma
Arkansas
Tennessee
Alabama
Mississippi
South Carolina
North Carolina
Montana
Idaho
Wyoming
North Dakota
South Dakota
Minnesota
Nebraska
Iowa
Wisconsin
Nevada
Utah
Colorado
Kansas
Missouri
Indiana
Ohio
West Virginia
Kentucky
New Mexico
Alaska
The latest figures come as confirmed cases in the U.S. approach nearly 8.2 million, with some 220,000 reported deaths, according to Johns Hopkins University (JHU).
As of Monday, new infections in every state, except for California, Hawaii, Oregon, Connecticut, Rhode Island, Wisconsin, Vermont, Kentucky, Oklahoma and Kansas, were reported to be on an upward trend in the latest two-week period from October 5 to 18.
"We are unfortunately not seeing large swaths of the country taking battling this virus seriously and, as a result, cases are rising. This is a virus. It can be beat. But if only 80 percent of us try, it won't be enough. We can only crush it if 100 percent of us do our part," Panchadsaram told Newsweek.
These interventions include "asking everyone to wear masks, encouraging people with symptoms and who test positive to isolate and quarantine, avoiding environments which encourage the rapid/easy spread of the virus, like crowded spaces with poor ventilation.
"Perhaps the easiest intervention of them all is to share data of where the spread is happening. Unfortunately much of the data being collected about the spread by the federal government [is] kept private. They produce weekly reports of how it is spreading, but do not share it with the public," Panchadsaram said.
Back in August, Panchadsaram filed a Freedom of Information Act request for these aforementioned weekly reports "I received an acknowledgment of my filing and when I asked for an estimated date of completion, I was told June 16, 2023," Panchadsaram wrote last month.
Newsweek has contacted the White House for comment.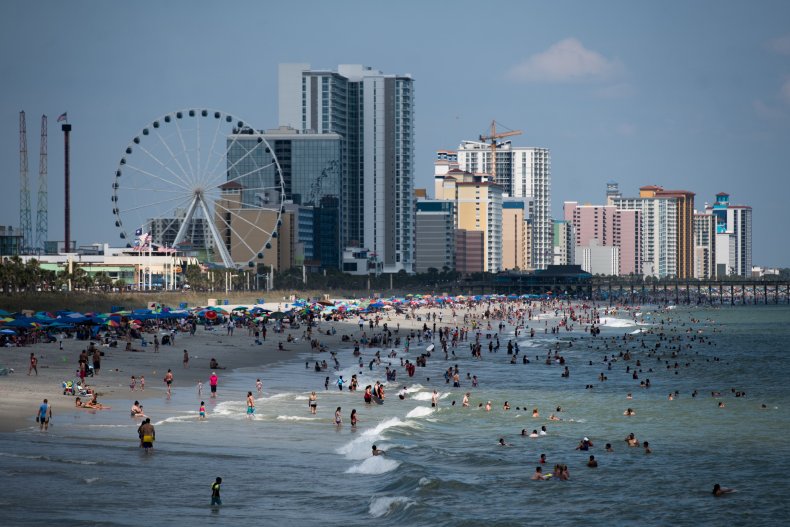 The wider picture
The novel coronavirus has infected more than 40.1 million people across the globe since it was first reported in Wuhan, China, including over 8.1 million in the U.S. Globally, more than 1.1 million have died following infection, while more than 27.5 million have reportedly recovered as of Monday, according to JHU.
The graphic below, produced by Statista, illustrates a survey of U.S. adults concerned about catching COVID-19.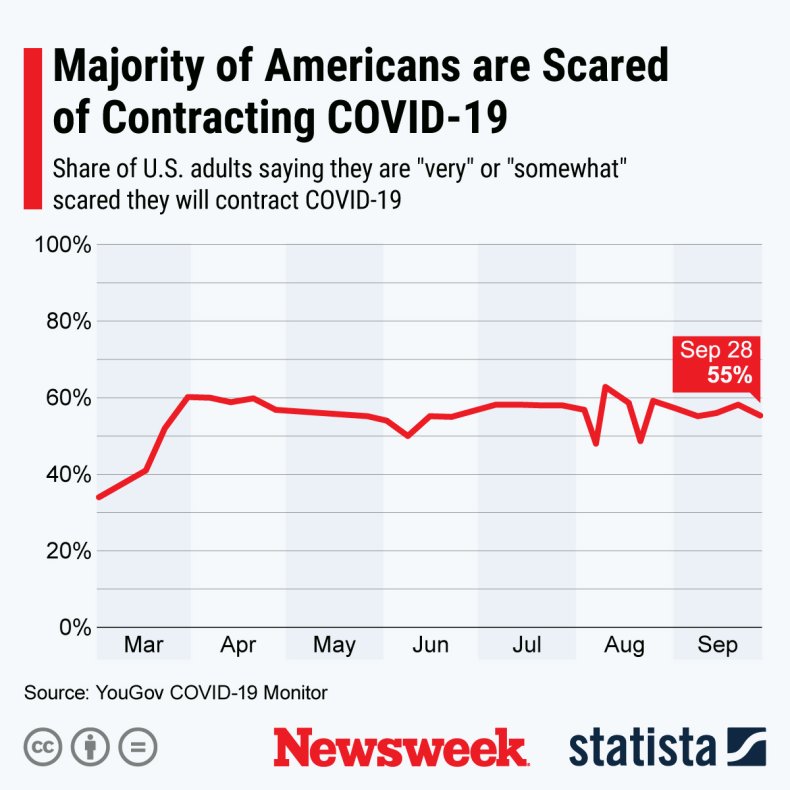 The graphic below, also produced by Statista, illustrates U.S. states with the most COVID-19 cases.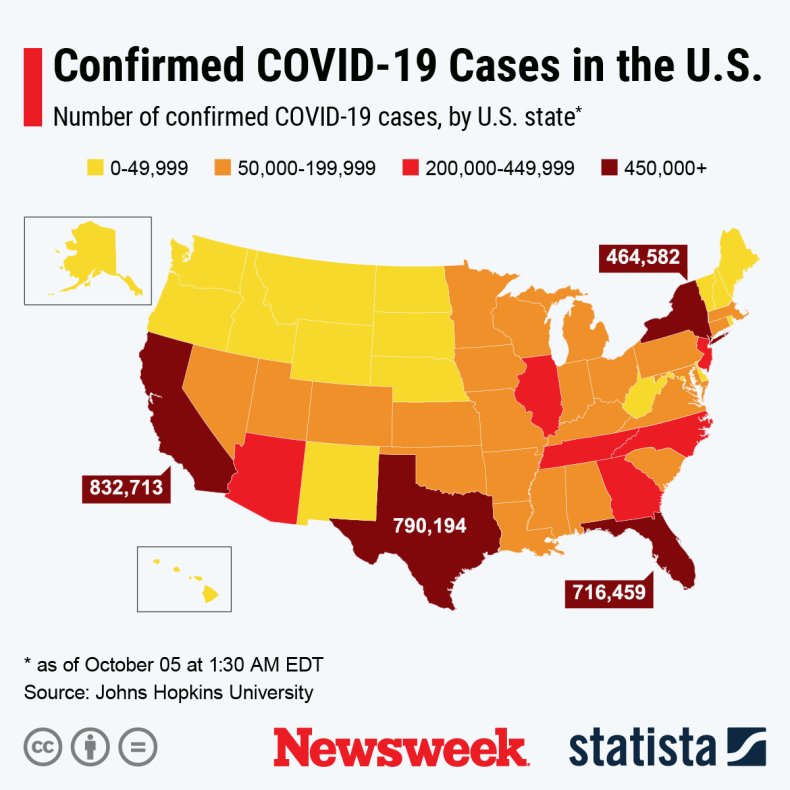 The graphic below, also provided by Statista, illustrates countries with the most COVID-19 cases.