U.S. Child COVID Cases Sees 'Highest Weekly Increase Since Pandemic Began'
New child COVID-19 cases have been rising sharply since early November. Coronavirus cases among children increased by 25 percent in the two weeks from December 3 to 17, according to the latest report from the American Academy of Pediatrics (AAP) and the Children's Hospital Association.
"Over 182,000 new child COVID-19 cases were reported last week, the highest weekly increase since the pandemic began," based on data available on December 17 from 49 states, New York City, Washington D.C., Puerto Rico and Guam that provided age distributions of cases, the AAP said.
More than 1.8 million children in the U.S. have tested positive for COVID-19 since the outbreak began, with an overall rate of 2,420 cases per 100,000 children in the population. Eight states reported more than 4,000 child COVID-19 cases per 100,000 children, according to the report.
Ten states provided the age distribution of those tested, while 24 states and New York City provided the age distribution of hospitalizations, and 42 states and New York City provided the age distribution of deaths.
Age ranges provided for children varied by state. The options included ages up to 14, 17, 18, 19 and 20, according to the report.
Eleven states reported more than 55,000 child cases, while another 11 states reported fewer than 10,000. Children represented 12.3 percent of all reported COVID-19 cases, while in 14 states they represented 15 percent or more of the total reported cases.
Children also formed between 6 percent and 17.9 percent of total state tests. Between 5.7 percent and 23.7 percent of children tested were COVID-19 positive, according to the report.
About 1.1 percent to 2.8 percent of all reported COVID-19 hospitalizations were children, while 0.2 to 4 percent of all COVID-19 cases resulted in hospitalizations.
Children represented up to 0.21 percent of all COVID-19 deaths, while 13 states reported no child COVID-19 deaths. In states reporting child deaths, up to 0.09 percent of all child cases resulted in death.
The report noted that the latest data represents "cumulative counts since states began reporting; all data reported by state/local health departments are preliminary and subject to change.
"At this time, it appears that severe illness due to COVID-19 is rare among children. However, there is an urgent need to collect more data on longer-term impacts of the pandemic on children, including ways the virus may harm the long-term physical health of infected children, as well as its emotional and mental health effects," the AAP said.
Children under the age of 18 form about 22 percent of the U.S. population, according to the U.S. Census Bureau.
The U.S. Centers for Disease Control and Prevention's notice for pediatric health care providers, which was updated in mid-December, warned: "The number and rate of cases in children in the United States have been steadily increasing since March 2020.
"The true incidence of SARS-CoV-2 infection in children is not known due to lack of widespread testing and the prioritization of testing for adults and those with severe illness."
The CDC added: "Hospitalization rates in children are significantly lower than hospitalization rates in adults with COVID-19, suggesting that children may have less severe illness from COVID-19."
Earlier this month, Los Angeles County reported its first death of a child from multisystem inflammatory syndrome (MIS-C), described by the CDC as "a rare but serious complication associated with COVID-19."
MIS-C is "a new syndrome, and many questions remain about why some children and adolescents develop it after a COVID-19 illness or contact with someone with COVID-19, while others do not," the CDC said.
Last month, a study conducted among nearly 2,500 children under the age of 18 found that headaches, loss of smell and loss of taste were most commonly associated with positive COVID test results. But unlike previous findings, about two-thirds of young people who tested positive were experiencing symptoms before the test.
In a study published in the Journal of Pediatrics in August, children infected with COVID-19 were found to carry high levels of the virus. The authors of the study warned that students could fuel the pandemic if the correct precautions were not taken.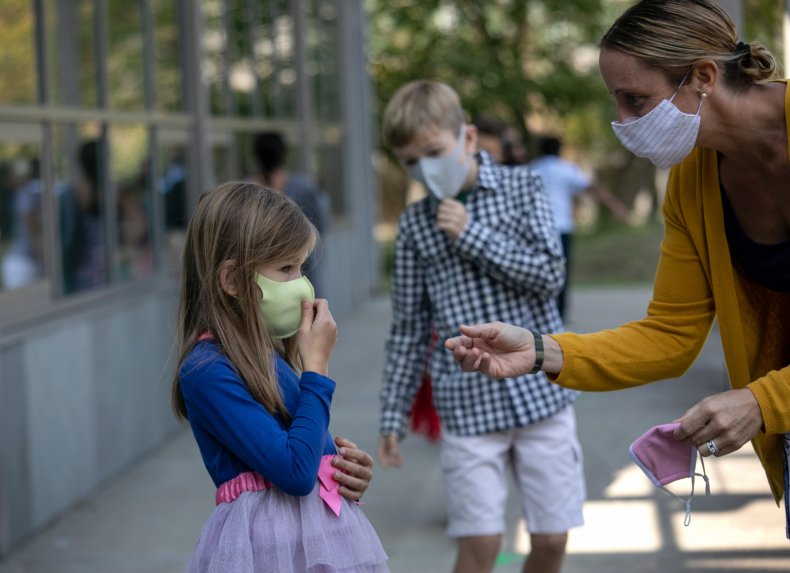 The wider picture
The novel coronavirus has infected more than 77.5 million people, including just over 18 million in the U.S., since it was first reported in Wuhan, China.
More than 1.7 million people have died worldwide and more than 43.7 million have recovered as of Tuesday, according to Johns Hopkins University.
The graphic below, provided by Statista, shows the countries with the highest death tolls.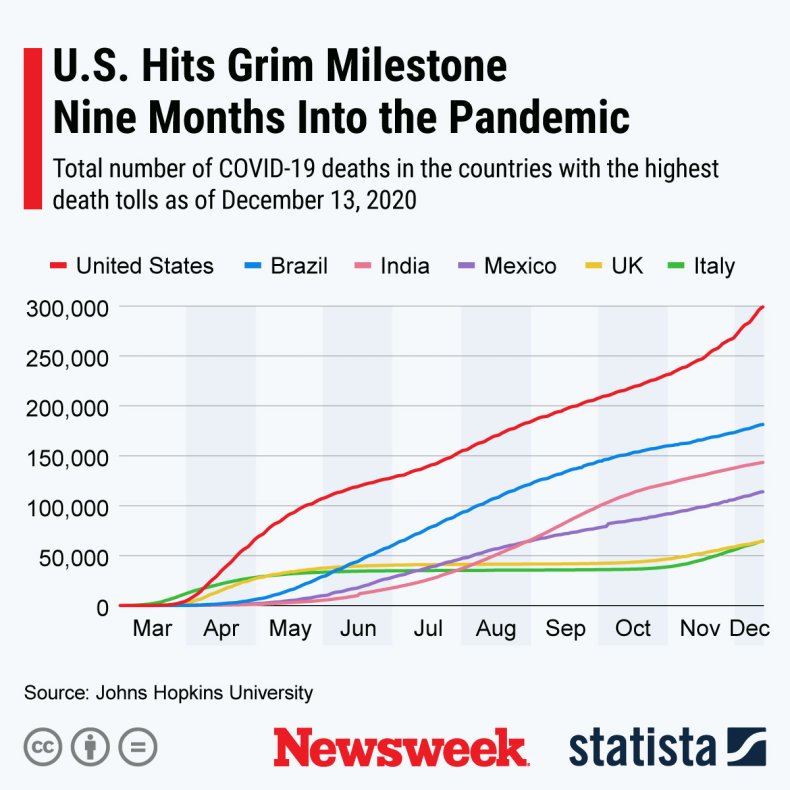 The graphic below, provided by Statista, shows the percentage of adults in the U.S. who would get a COVID-19 vaccine.