There Are Nearly 100,000 U.S. COVID Patients in Hospital Right Now—More Than Double One Month Ago
Current COVID-19 hospitalizations in the U.S. reached 96,039 on Monday, according to data compiled by The Atlantic's COVID Tracking Project.
The latest count is more than double the number recorded a month ago, when 46,738 COVID-19 patients were reported to be hospitalized on October 30.
Looking ahead, 12 forecasts cited by the U.S. Center for Disease Control and Prevention (CDC) estimate that there will be 6,700 to 30,000 new COVID-19 hospitalizations per day in the week beginning November 25.
"Five national forecasts predict a likely increase in the number of new hospitalizations per day over the next four weeks, one forecast predicts a likely decrease, and two forecasts are uncertain about the trend or predict stable numbers," the CDC said.
"State-level forecasts also show a high degree of variability, which results from multiple factors. Hospitalization forecasts use different sources of data for COVID-19 cases or deaths, with different limitations, and make different assumptions about social distancing."
According to the Institute for Health Metrics and Evaluation (IHME) at the University of Washington, by Christmas the country is projected to require nearly 150,000 hospital beds. The daily case count is expected to reach around 833,165 on the same day, with "continued easing of social distancing mandates" and if "mandates are not reimposed."
A CDC report published Monday revealed "1,100,000 to 2,500,000 new cases will likely be reported during the week ending December 19, 2020," according to forecasts of new reported cases over the next four weeks received by the CDC from 25 modeling groups.
"Over the last several weeks, more reported cases than expected have fallen outside of the forecasted prediction intervals," the CDC said.
"This suggests that current forecast prediction intervals may not reflect the full range of future reported case numbers. Forecasts for new cases should be interpreted accordingly."
As of Tuesday, the country's total number of confirmed cases has surpassed 13.5 million, with 268,103 total reported deaths, according to Johns Hopkins University.
The country's total number of active cases—those currently infected who are either in hospital or recovering at home—has been rising sharply since late October.
The seven-day average of cases has been increasing on a steep incline from early October, while the seven-day average of deaths has been rising sharply from early November, according to Worldometer.
Forecasts received by the CDC from 36 modeling groups in the week of November 25 indicated "the number of newly reported COVID-19 deaths will likely increase over the next four weeks, with 10,600 to 21,400 new deaths likely to be reported in the week ending December 19, 2020. The national ensemble predicts that a total of 294,000 to 321,000 COVID-19 deaths will be reported by this date."
"The state- and territory-level ensemble forecasts predict that over the next four weeks, the number of newly reported deaths per week will likely increase in 39 jurisdictions...trends in numbers of future reported deaths are uncertain or predicted to remain stable in the other states and territories," the CDC noted.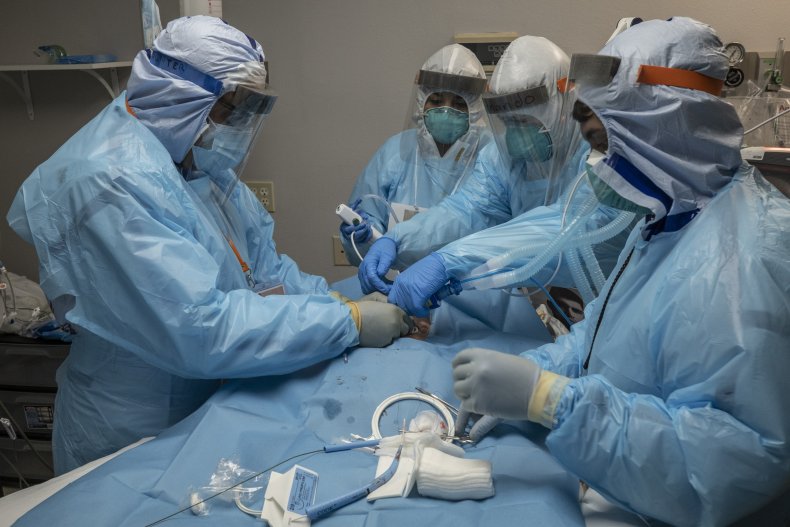 The wider picture
The novel coronavirus has infected more than 63.3 million people since it was first reported in Wuhan, China.
More than 1.4 million people have died worldwide and more than 40.6 million have recovered as of Tuesday, according to Johns Hopkins.
The graphic below, produced by Statista, shows the spread of COVID-19 cases across the U.S.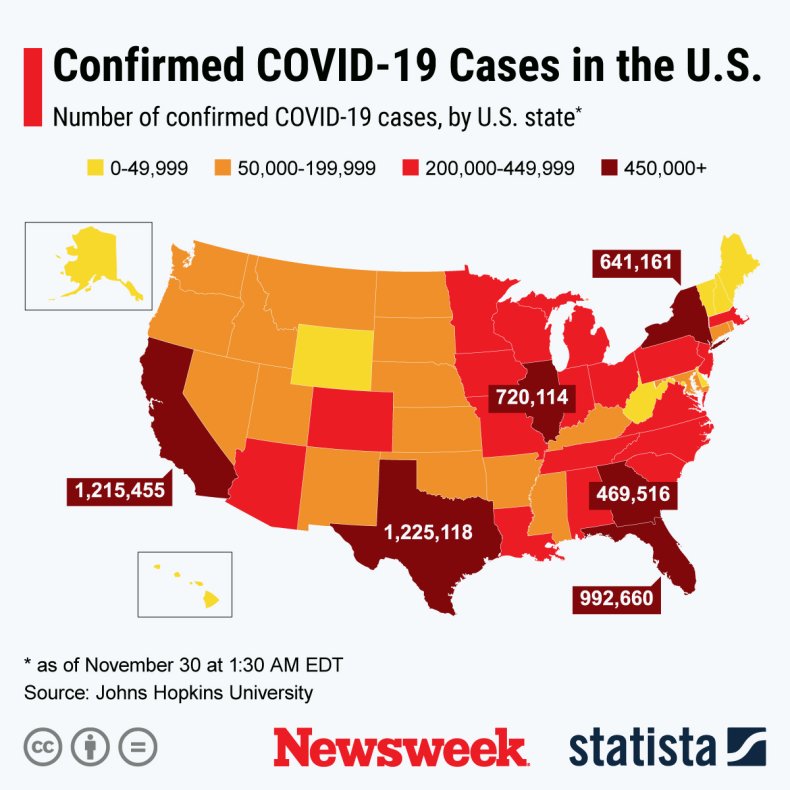 The graphic below, produced by Statista, shows the total number of COVID-19 vaccine doses secured by different countries.