U.S. COVID Cases Hit by Record-High Daily Increase Just 11 Days Before Election
The daily coronavirus case count in the U.S. surpassed 77,000 on Thursday, breaking the previous record of 75,723 daily new cases set on July 29, according to data compiled by NBC News.
The country reported 77,640 new infections on Thursday, according to the NBC News tally. The latest record comes 11 days before the upcoming U.S. presidential election scheduled to take place on November 3.
Total confirmed cases in the U.S. are approaching nearly 8.5 million, with 223,059 deaths, as of Friday, according to Johns Hopkins University (JHU).
The seven-day moving average of daily new cases in the country has been rising from mid-September, after declining since late July, according to the U.S. Centers for Disease Control and Prevention (CDC).
The average count increased from late March to early April and declined through late May, before it flattened out through mid-June and increasing through late July, according to the CDC.
The U.S. currently has the world's highest seven-day average of daily new cases, as of Friday, according to data compiled by Reuters.
Most states in the country are reported to be seeing an "uncontrolled spread" of the virus, according to Covidexitstrategy.org, based on the number of infections per day per one million people.
Earlier this week, the country was reported to be seeing a "distressing trend" of case numbers "increasing in nearly 75 percent of the country," Dr. Jay Butler, the deputy director for infectious diseases at the CDC, noted at a briefing on Wednesday.
"This past week, we've seen nearly 60,000 cases a day on average, as well as 700 deaths," Butler said Wednesday.
"Smaller, more intimate gatherings with family, friends and neighbors may be driving infections," Butler said Wednesday, noting "we get tired of wearing masks, but it continues to be as important as it's ever been."
According to Reuters/Ipsos online polls published Tuesday, more likely voters in Wisconsin, Pennsylvania, Michigan, North Carolina, Florida and Arizona feel Democratic presidential candidate Joe Biden would be better at handling the COVID-19 pandemic than President Donald Trump.
Biden had the greatest lead over Trump in Wisconsin and Michigan, with 52 percent of likely voters in each of those two states saying Biden would be better at dealing with the outbreak, while 38 to 40 percent in each state believed Trump would do better.
The polls in Michigan and North Carolina were conducted from October 14 to 20, while the ones in Wisconsin and Pennsylvania were done from October13 to 19. The polls in Florida and Arizona were conducted from October 7 to 14. Each poll had a credibility interval of four percentage points, Reuters noted.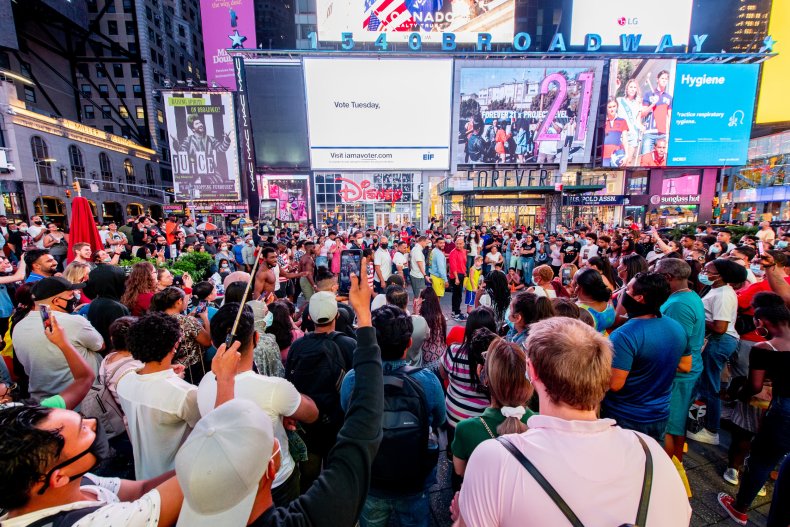 The wider picture
The novel coronavirus has infected more than 41.8 million people across the globe since it was first reported in Wuhan, China. Globally, more than 1.1 million have died following infection, while more than 28.4 million have reportedly recovered as of Friday, according to JHU.
The graphic below, produced by Statista, illustrates a survey of U.S. adults concerned about catching COVID-19.