U.S. Could Reach 1,000 New Daily Coronavirus Deaths in Next 3 Days
The coronavirus outbreak in the U.S., which has more confirmed cases than any other country in the world, has been picking up pace. The country could see around 1,000 new daily deaths in the next three days, according to a survey of the rate of increase in fatalities in recent weeks.
The virus, which was first reported in Wuhan, a city in China's Hubei province, has infected more than 732,000 people, nearly 82,200 of whom are in China. More than 152,300 have recovered from infection, while nearly 34,600 have died, according to the latest figures from Johns Hopkins University.
With more than 90 percent of its total infected population reported to have recovered, China claims the outbreak has largely been contained in the country. More cases have been reported outside China than within and the country began easing lockdown measures in Hubei last week.
But the outbreak continues in the U.S., which is the new epicenter of the outbreak, reporting a total of more than 143,000 cases, nearly 2,500 deaths and at least 4,865 recoveries on Monday.
The death toll in New York state alone has soared past 1,000 over the weekend, up from nearly 460 on Friday. The U.S. could potentially see nearly 1,000 new deaths in the next three days, according to a survey of death toll increases in the past couple of weeks, compiled by The Financial Times.
From around 10 days after the 10th death was reported, the latest survey shows the death count has been nearly doubling every three days. From around 15 days after the 10th fatality, the death toll has seen a steady daily increase of around 20 percent, according to the FT.
The U.S. saw around 70 fatalities 10 days after the 10th death was recorded and around 170 deaths by the 13th day. By the 16th day, the U.S. saw around 350 deaths, nearly doubling in three days, while on the 19th day, nearly 750 deaths were recorded, more than doubling in three days. By the 21st day since the 10th reported death, the death count was at nearly 1,250, another near doubling of fatalities in three days, according to the FT.
On the 24th day since the 10th recorded death, the death count reached nearly 2,500. According to the country's rate of increase in deaths over the past two weeks, that figure could reach nearly 5,000 over the next three days. With the death toll predicted to be nearly 3,000 (on the 25th day since the 10th reported death), 3,600 (on the 26th day) and 4,320 (on the 27th day), the daily increase in fatalities is slated to reach nearly 1,000 in the next three days.
Number of COVID-19 deaths in the U.S. over last two weeks
Source: The Financial Times
Nearly 70 deaths - 10 days (since 10th reported death)
Nearly 80 deaths - 11 days
Nearly 110 deaths - 12 days
Nearly 170 deaths - 13 days
Nearly 250 deaths - 14 days
Nearly 300 deaths - 15 days
Nearly 350 deaths - 16 days
Nearly 450 deaths - 17 days
Nearly 500 deaths - 18 days
Nearly 750 deaths - 19 days
Nearly 900 deaths - 20 days
Nearly 1,250 deaths - 21 days
Nearly 1,500 deaths - 22 days
Nearly 2,000 deaths - 23 days
Nearly 2,500 deaths - 24 days
The number of people killed by the COVID-19 virus in the U.S. has now exceeded the total number of U.S. casualties reported throughout the conflict in Afghanistan, the longest war in U.S. history.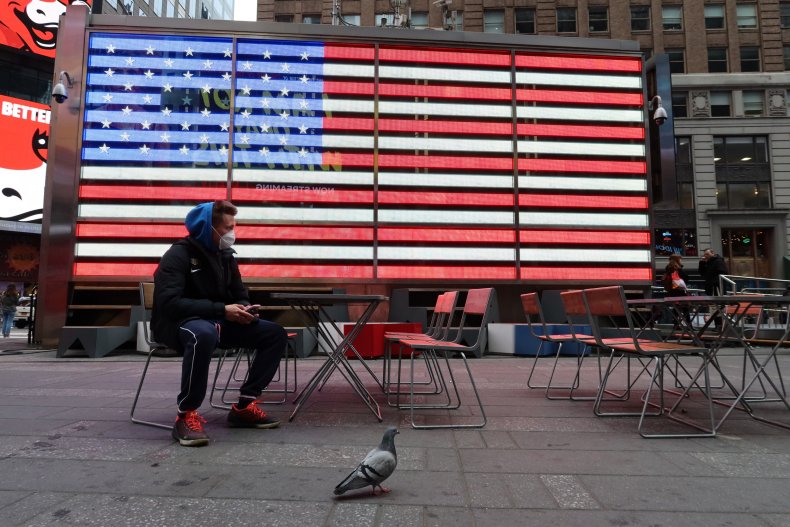 At least 2,479 deaths in the U.S. were reported on Sunday, surpassing the 2,445 fatalities recorded during the U.S.-led military intervention in Afghanistan and related missions between October 7, 2001 and March 23 of this year.
Last week, a new survey of Americans suggested that potentially several million people in the U.S. could be infected, based on a survey of whether they have been diagnosed with the virus, been in contact with an infected person or know someone in their social network who has been infected.
The study by Reuters and research firm Ipsos, which looked at 4,428 American adults between March 18 and 24 this year, reported 2.3 percent of those surveyed said they were infected.
The population of the U.S. is estimated to be about 332,630,000, which means the 2.3 percent in the latest poll would translate to more than 7.65 million people.
The graphic below, provided by Statista, shows the number of confirmed COVID-19 cases—the disease caused by the new strain of coronavirus—in a selection of states.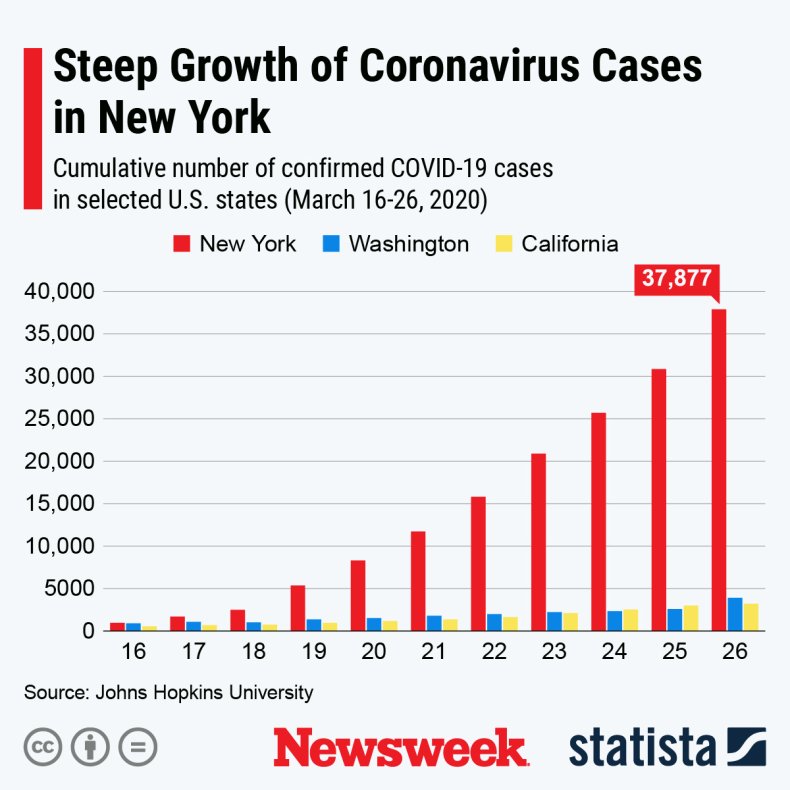 The graphic below, provided by Statista, illustrates the spread of COVID-19 across the U.S.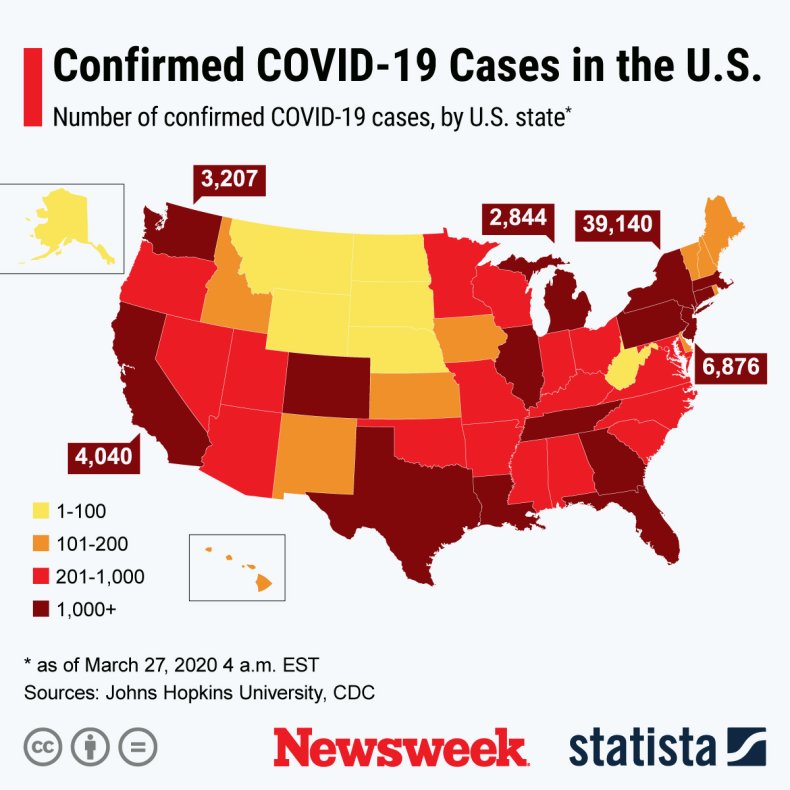 Data on COVID-19 cases is from Johns Hopkins University unless otherwise stated.
World Health Organization advice for avoiding spread of coronavirus disease (COVID-19)
Hygiene advice
Clean hands frequently with soap and water, or alcohol-based hand rub.
Wash hands after coughing or sneezing; when caring for the sick; before, during and after food preparation; before eating; after using the toilet; when hands are visibly dirty; and after handling animals or waste.
Maintain at least 1 meter (3 feet) distance from anyone who is coughing or sneezing.
Avoid touching your hands, nose and mouth. Do not spit in public.
Cover your mouth and nose with a tissue or bent elbow when coughing or sneezing. Discard the tissue immediately and clean your hands.
Medical advice
Avoid close contact with others if you have any symptoms.
Stay at home if you feel unwell, even with mild symptoms such as headache and runny nose, to avoid potential spread of the disease to medical facilities and other people.
If you develop serious symptoms (fever, cough, difficulty breathing) seek medical care early and contact local health authorities in advance.
Note any recent contact with others and travel details to provide to authorities who can trace and prevent spread of the disease.
Stay up to date on COVID-19 developments issued by health authorities and follow their guidance.
Mask and glove usage
Healthy individuals only need to wear a mask if taking care of a sick person.
Wear a mask if you are coughing or sneezing.
Masks are effective when used in combination with frequent hand cleaning.
Do not touch the mask while wearing it. Clean hands if you touch the mask.
Learn how to properly put on, remove and dispose of masks. Clean hands after disposing of the mask.
Do not reuse single-use masks.
Regularly washing bare hands is more effective against catching COVID-19 than wearing rubber gloves.
The COVID-19 virus can still be picked up on rubber gloves and transmitted by touching your face.