Coronavirus deaths in the U.S. have climbed past 200,000, as of Tuesday, according to the latest report by Johns Hopkins University.
New York has the highest number of COVID-19 deaths to date, with 33,092 fatalities, followed by New Jersey (16,069), Texas (15,132), California (15,073) and Florida (13,317), in the top five ranking of states with the most fatalities, according to JHU.
The U.S. was reported to have a death rate of 61.09 fatalities per 100,000 people—the 11th highest in the world—surpassing that reported in the U.K., Spain and Belgium, according to the latest report Tuesday by JHU.
The U.S. has the sixth highest death rate among the 20 countries "currently most affected by COVID-19 worldwide," according to JHU.
The seven-day moving average of daily new deaths in the country has been increasing since late March to April 17, when it peaked at 2,248. It then briefly flattened out until late April and mostly declined through early July, according to data compiled by Worldometer.
From around July 4, the seven-day average mostly increased through early August, but not at the higher levels seen in April and May. The figure then mostly decreased through early September before slightly flattening out through the rest of the month, according to Worldometer.
The U.S. death toll is expected to reach 378,321 by January 1 if "mandates are reimposed for six weeks whenever daily deaths reach eight per million (0.8 per 100,000 people)," according to the latest projection from the Institute for Health Metrics and Evaluation (IHME) at the University of Washington.
The death count is expected to climb to 445,605 by January 1 with "continued easing of social distancing mandates and mandates are not reimposed," the IHME noted.
The death toll is projected to rise to 263,484 with "95 percent mask usage in public in every location," and if mandates are reimposed for six weeks when daily deaths reach eight per million people, according to the IHME.
10 U.S. states with highest COVID-19 death toll
Source: Johns Hopkins University, as of September 22
New York: 33,092 total deaths
New Jersey: 16,069
Texas: 15,132
California: 15,073
Florida: 13,317
Massachusetts: 9,317
Illinois: 8,693
Pennsylvania: 7,985
Michigan: 6,981
Georgia: 6,604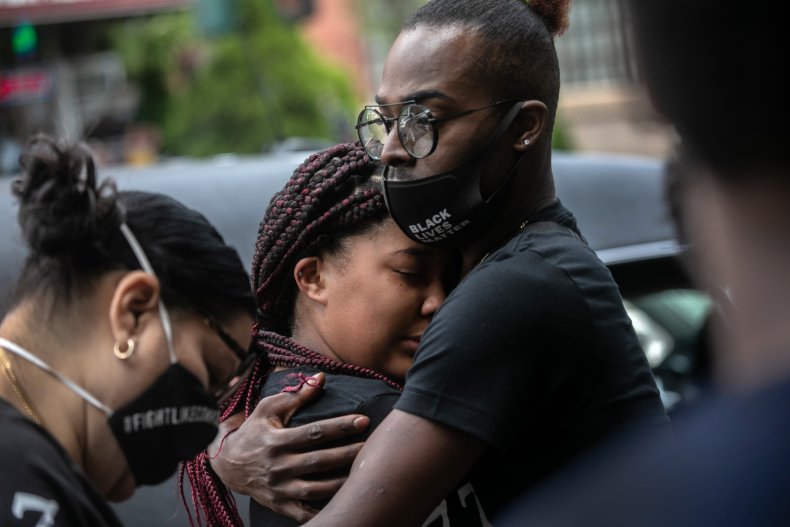 The wider picture
The novel coronavirus has infected over 31.3 million people across the globe, including more than 6.8 million in the U.S. Over 965,800 have died following infection, while more than 21.5 million have reportedly recovered, as of Tuesday, according to JHU.
The graphic below, provided by Statista, illustrates U.S. states with the most COVID-19 cases.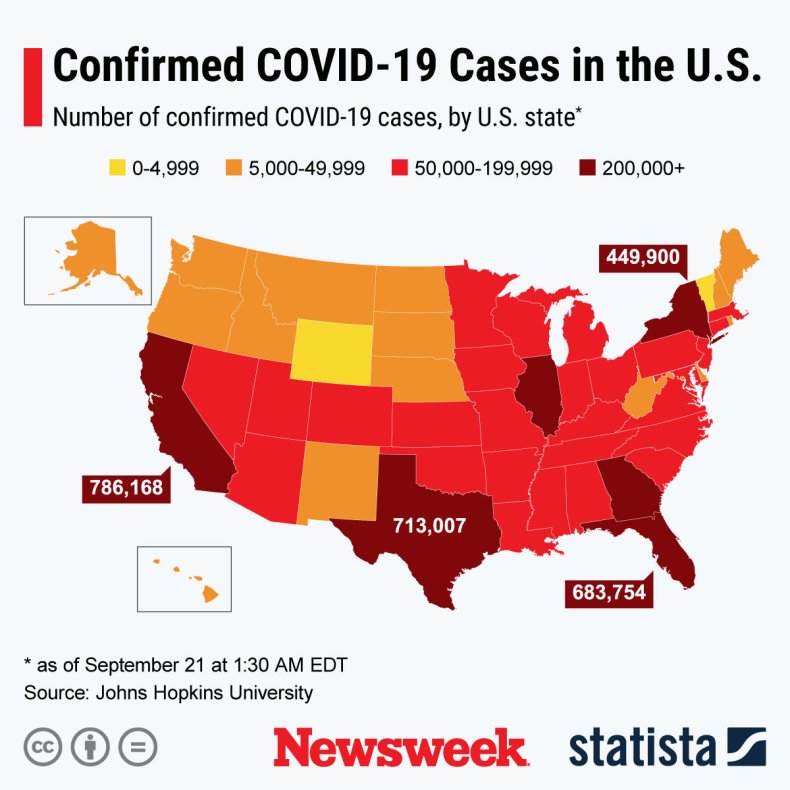 The below graphic, provided by Statista, illustrates the percentage of Americans who do or don't want COVID-19 restrictions to be relaxed in the country.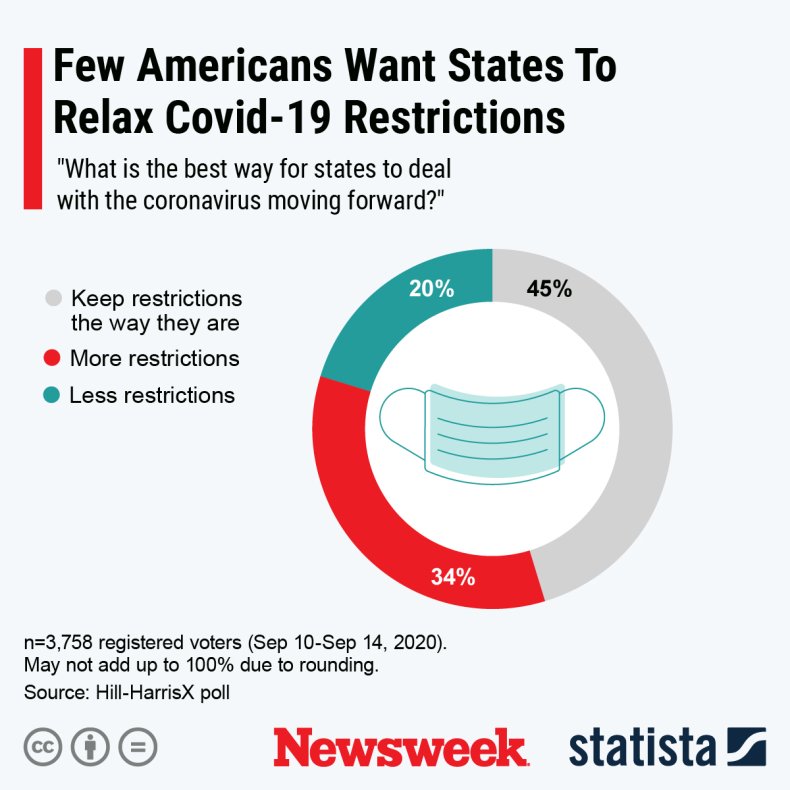 The graphics below, also provided by Statista, illustrate the spread of COVID-19 cases in counties across the globe.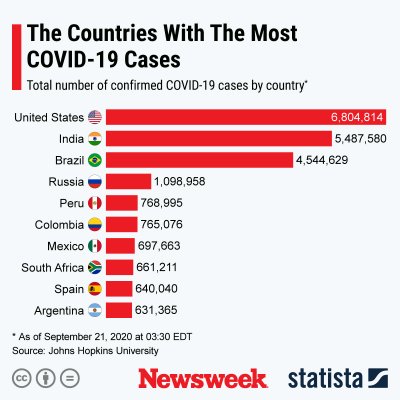 About the writer
Soo Kim is a Newsweek SEO Reporter is based in London, UK. She reports on various trends and lifestyle stories, from health, fitness and travel to psychology, relationships and family issues. She is also a South Korea expert who regularly covers Korean culture/entertainment for Newsweek, including the latest K-dramas, films and K-pop news, and is the author of the book How to Live Korean, which is available in eight languages. Soo also covered the COVID-19 pandemic extensively from 2020 through 2021 after joining the general news desk of Newsweek in 2019 from the Daily Telegraph (a U.K. national newspaper) where she was a travel reporter/editor from 2010. She is a graduate of Binghamton University in New York and the journalism school of City University in London, where she earned a Masters in international journalism. Languages spoken: English and Korean.
Follow her on Twitter at @MissSooKim or Instagram at @miss.soo.kim
You can get in touch with Soo by emailing s.kim@newsweek.com