1,311 People Died of COVID on Thanksgiving Day in the U.S.
Confirmed coronavirus deaths in the U.S. have reached 269,560, with 1,311 new deaths reported on Thanksgiving, according to Worldometer.
The seven-day rolling average of daily deaths in the U.S. has been rising sharply since early November, after declining from early August.
The country also reported a record number of COVID-19 hospitalizations on November 26. The figure was 90,481, according to The Atlantic's COVID Tracking Project.
Total confirmed cases in the country have passed 13.2 million, with at least 108,289 new infections reported Thursday.
The seven-day average of cases has risen sharply since early October. The average peaked on November 25, hitting 179,923 on the day before Thanksgiving, according to Worldometer.
As of Thursday, there were more than 5.1 million active cases of COVID-19 (infected people who are being treated in hospital or recovering at home), according to Worldometer.
The latest figures come amid growing fears over the impact that Thanksgiving travel will have on the spread of infection.
According to the Transportation Security Administration, 1,070,967 air passengers were screened at a TSA checkpoint on November 25. Millions more traveled for the holiday by road, despite warnings from the U.S. Centers for Disease Control and Prevention, as well as several state and local governments.
In a statement on November 19, the CDC said: "As cases continue to increase rapidly across the United States, the safest way to celebrate Thanksgiving is to celebrate at home with the people you live with.
"Gatherings with family and friends who do not live with you can increase the chances of getting or spreading COVID-19 or the flu.
"Celebrating virtually or with members of your own household, who are consistently taking measures to reduce the spread of COVID-19, poses the lowest risk for spread."
Thursday's death toll was just below the 1,554 figure projected for November 26 by the Institute for Health Metrics and Evaluation at the University of Washington.
However, the figure for total deaths surpassed the 260,436 projected for Thanksgiving by the IHME.
By Christmas Day, the daily death count is projected to reach 3,303 while the daily case count is forecast to hit 833,165 if there is "continued easing of social distancing mandates and mandates are not reimposed," according to the IHME.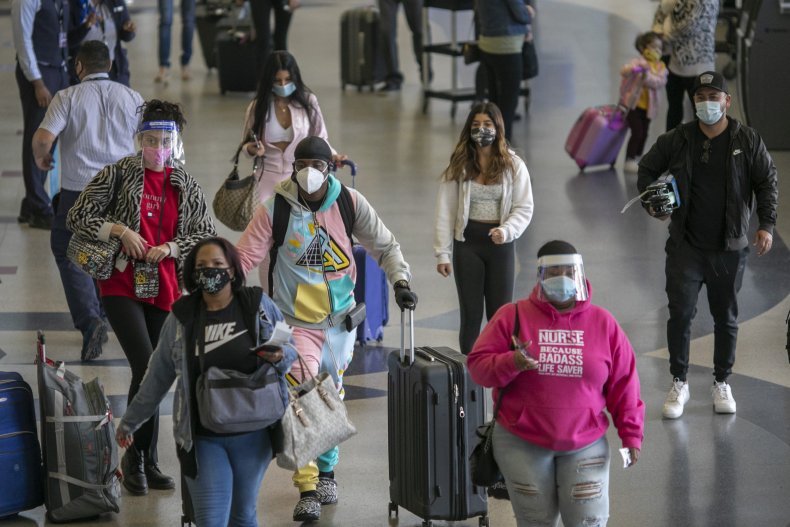 The wider picture
The novel coronavirus has infected more than 61.1 million people since it was first reported in Wuhan, China.
More than 1.4 million people have died worldwide and more than 39.1 million have recovered as of Friday, according to Johns Hopkins University.
The graphic below, produced by Statista, shows the spread of COVID-19 cases across the U.S.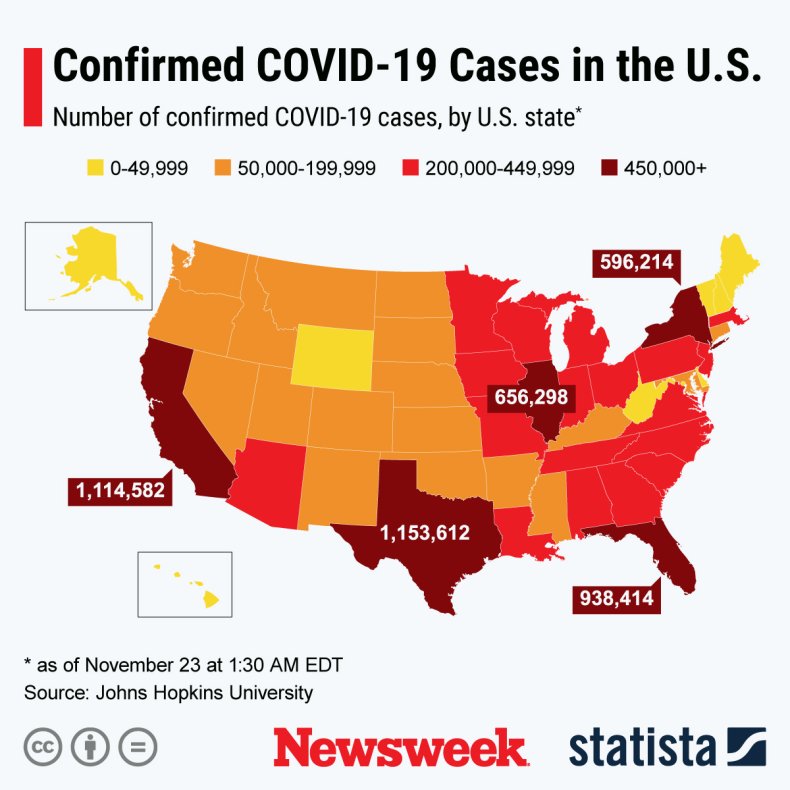 The graphic below, produced by Statista, shows the countries with the highest number of cases.