27 U.S. States Have Suffered 1,000 or More Coronavirus Deaths
The U.S. coronavirus death toll climbed to at least 160,104 on Friday, according to the latest report by Johns Hopkins University.
New York tops the death toll ranking, with 32,756 fatalities to date, followed by New Jersey (15,849), California (10,021) and Massachusetts (8,691) and Texas (8,569) in the top five slots for states with the most number of deaths.
New York City has a higher death rate than all 50 states, with 281 deaths per 100,000 people, according to the latest report Thursday by the U.S. Centers for Disease Control and Prevention (CDC).
New Jersey has the largest death rate among the states, reporting 178 deaths per 100,000 people, followed by Massachusetts (125), Connecticut (124), Rhode Island (96) and Louisiana (88), according to the CDC.
More than half of the states have each seen 1,000 or more total COVID-19 deaths to date, while five states have each seen less than 70 total fatalities. They include Montana (65 deaths), Vermont (58), Hawaii (29), Wyoming (27) and Alaska (25), which has the lowest death toll in the country.
While Hawaii has a low death count so far, new infections in the state have been rising on a sharp upward trend over roughly the past two weeks from July 22 to August 4, according to the latest report Thursday by Johns Hopkins University.
South Dakota, which also has a relatively low death count (141 fatalities) compared with that of most other states, has seen a growth in new cases over the same 14-day period.
The country's daily death toll rose on a sharp incline between mid-March and mid-April, peaking on April 17 when it recorded 2,666 deaths. From then, it went on a downward trend, mostly declining through late June. Daily new deaths have been mostly increasing through July and August, according to Johns Hopkins University.
The U.S. has the 10th highest death rate in the world, reporting 48.37 deaths per 100,000 people, overtaking that of Canada, Mexico and Brazil in the Americas as well as France and The Netherlands in Europe.
The graphics below, provided by Statista, illustrate the spread of COVID-19 cases in the U.S.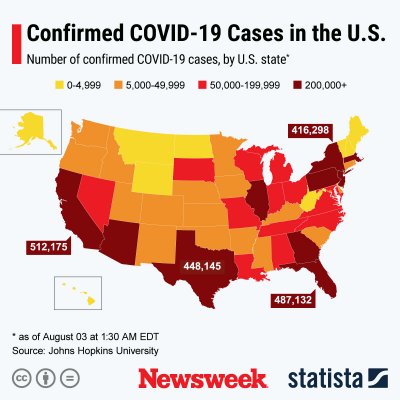 Total COVID-19 deaths per U.S. state
Source: Johns Hopkins University (as of August 7)
New York: 32,756
New Jersey: 15,849
California: 10,021
Massachusetts: 8,691
Texas: 8,569
Illinois: 7,791
Florida: 7,747
Pennsylvania: 7,282
Michigan: 6,506
Connecticut: 4,437
Louisiana: 4,146
Georgia: 4,026
Arizona: 4,002
Ohio: 3,618
Maryland: 3,551
Indiana: 3,013
Virginia: 2,299
North Carolina: 2,126
South Carolina: 1,942
Colorado: 1,852
Mississippi: 1,825
Alabama: 1,714
Minnesota: 1,677
Washington: 1,653
Missouri: 1,302
Tennessee: 1,186
Rhode Island: 1,014
Wisconsin: 978
Iowa: 912
Nevada: 900
Kentucky: 760
New Mexico: 669
Oklahoma: 593
Delaware: 587
Arkansas: 515
New Hampshire: 419
Kansas: 378
Nebraska: 340
Oregon: 339
Utah: 330
Idaho: 223
South Dakota: 141
Maine: 124
West Virginia: 124
North Dakota: 109
Montana: 65
Vermont: 58
Hawaii: 29
Wyoming: 27
Alaska: 25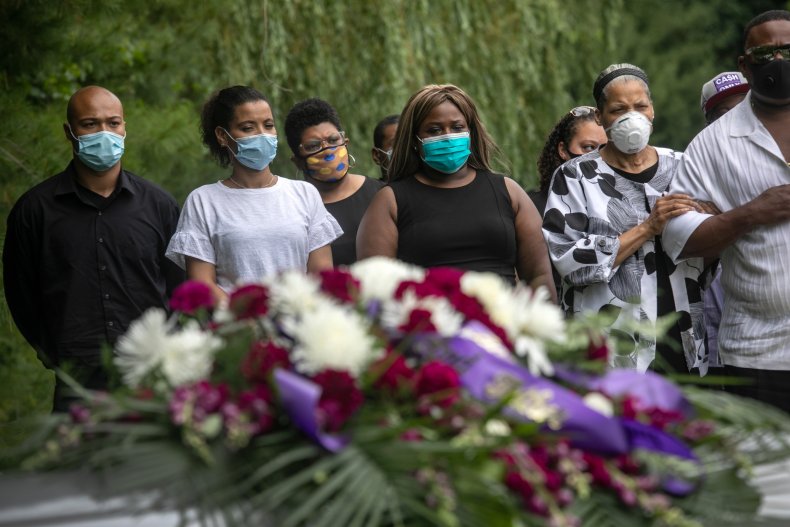 Over 19.1 million people globally have been infected since the virus was first reported in Wuhan, China, including more than 4.8 million in the U.S. Over 11.5 million globally have reportedly recovered from infection, while more than 715,000 have died, as of Friday.
The graphic below, provided by Statista, illustrates the countries with the most COVID-19 cases.