Coronavirus U.S. Map, Cases by State as Infections Surpass 1,000, First Deaths in New Jersey, South Dakota
Fears over the COVID-19 virus outbreak continues in the U.S., with at least five more deaths across the country, raising the U.S. death toll to 31. That includes 24 in Washington state, three in California, two in Florida, and one in New Jersey and South Dakota each.
The virus, which was first detected in China's Wuhan city in the Hubei province, has affected more than 121,000 people globally, the majority of whom (around 81,000) are in China, while more than 66,000 people have recovered from the virus.
The World Health Organization (WHO) declared the virus a pandemic on Wednesday.
"WHO has been assessing this outbreak around the clock and we are deeply concerned both by the alarming levels of spread and severity, and by the alarming levels of inaction"-@DrTedros #COVID19," WHO said in the post.
"We have therefore made the assessment that #COVID19 can be characterized as a pandemic"-@DrTedros #coronavirus," WHO added.
The outbreak has now spread across the U.S. to at least 36 states as well as Washington D.C. There are at least 170 cases, according to the latest report on Tuesday by the U.S. Centers for Disease Control and Prevention (CDC).
The death toll has climbed to 31, as of Wednesday, following two more deaths in Washington state, another death in California, as well as the first deaths in New Jersey and South Dakota.
"Things will get worse"
While the situation has already sparked panic across the country, it is expected to get worse, according to Dr. Anthony Fauci, the director of the National Institute of Allergy and Infectious Disease (NIAID) who is among the health officials on the country's coronavirus task force.
Speaking at a hearing for the Committee on Oversight and Reform on Wednesday, Dr. Fauci warned: "I can say we will see more cases [of the virus] and things will get worse than they are right now."
At Tuesday's White House press briefing, Dr. Fauci also noted that "as a nation, the risk is relatively low," but that "it doesn't matter if you're in a state that has no cases or one case, you have to start taking seriously what you can do now."
"In the United States, we continue to have new cases....and tomorrow, there'll be several more...the infections will come...Sorry to say, sad to say they will," he added.
Senate Minority Leader Chuck Schumer and other Democrat senators are reportedly preparing a letter to urge Trump to declare a national emergency over the virus.
The declaration would allow the country access to $40 billion in the Disaster Relief Fund of the Federal Emergency Management Agency (FEMA) to help local and state governments fight the outbreak.
Vice President Mike Pence continued to emphasize "we can't say often enough, the risks of contracting the coronavirus to the average American remains low," at the White House briefing.
More than four million virus tests to be available
Pence also confirmed on Tuesday that "as we continue to expand testing availability across the country — testing is now available at all state labs. By the end of this week, there will be more than 4 million more tests made available in jurisdictions around the country; 1 million are already in place."
"We're absolutely determined to give every American the tools and the information that they need to protect themselves, their families, their workplace, their schools," he said.
But New York Governor Andrew Cuomo critiqued the country's low rate of virus testing on the Today show.
"When they do the retrospective on this one, they are going to say, 'Why did it take the United States so long to bring up the testing capacity?'" he said.
"China did something like 200,000 tests per day. South Korea did about 15,000 tests per day. The United States has only done about 5,000 tests to date," he added.
First deaths in New Jersey and South Dakota
New Jersey reported its first death, which was that of a 69-year-old male with underlying health conditions, Governor Phil Murphy announced in a joint statement with the state's lieutenant governor, Sheila Oliver.
"We are sad to report the first death in a case of COVID-19 in New Jersey. Our prayers are with the family during this difficult time. We remain vigilant to doing all we can — across all levels of government — to protect the people of New Jersey," the statement said.
The patient was confirmed to be from Bergen County. The latest death comes just days after the state reported its first case earlier this month, that of a 32-year-old man from Bergen County.
New Jersey declared a state of emergency this week and currently has 15 presumptive positive cases, which are cases that have had positive results in a public lab but awaiting confirmation from testing by the CDC.
A man in his 60s from Pennington County in western South Dakota also died after contracting the virus, becoming the state's first fatality.
"Our team has been preparing for weeks, and I am confident we have the right people in place to address this fluid situation," Governor Kristi Noem said in a statement.
"Without panicking, I encourage all South Dakotans to take this seriously — now is the time to prepare and to stay informed."
Four other cases were confirmed in South Dakota on Tuesday across the state, including the counties of Beadle, Charles Mix, Davison, and Minnehaha. The cases were reported to be both male and female patients in their 30s, 40s and 50s. They are being treated in their homes, according to AP.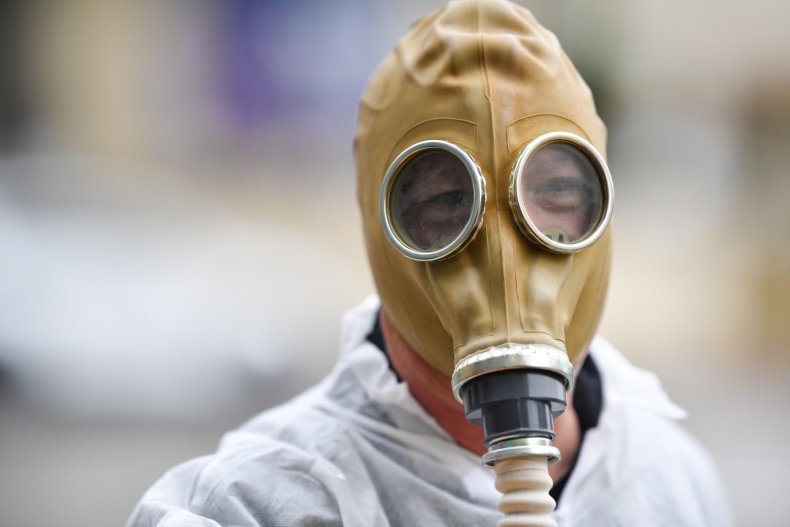 More fatalities in California and Washington state
An infected woman in her 90s from a nursing home in the city of Elk Grove in California's Sacramento County has died.
Infections in California, where passengers from the recently quarantined Grand Princess cruise ship disembarked this week, have been rising, with at least 157 infected people.
More cases are likely to be confirmed following more testing to be done in the coming days, the Los Angeles Times reported.
The death toll in Washington climbed to 24, following two more deaths and around 270 cases confirmed as of Tuesday.
State governor Jay Inslee is expected to ban gatherings of more than 250 people, such as sports and cultural events as well as concerts, in King, Snohomish and Pierce counties.
The governor has confirmed he will announce "new community strategies to combat the spread of COVID-19" later on Wednesday.
New York urged to close schools following more cases
New York saw nearly 30 new cases reported on Tuesday, bringing its total to 173;
The new cases include 10 in Westchester County, 17 in New York City, 2 in Nassau County and 2 in Rockland County.
The National Guard has been deployed to bring food to the homes within the state's containment zone in New Rochelle, which has seen around 108 infections so far.
The governor has been pressured by the student government of City University of New York (CUNY) schools to close its school buildings and "transition to online classes and provide any additional resources needed to combat this outbreak," CUNY's university student senate said in a statement.
"The students of CUNY are New Yorkers and deserve so much more support than they are receiving now," the statement said.
The graphic below, provided by Statista, illustrates the spread of the COVID-19 virus across the world as of March 11.