$600 Second Stimulus Checks Prompts Flurry of 'Stimmy' Memes, Jokes
Amid the ongoing COVID-19 pandemic, another round of stimulus checks was reported to be in the pipeline. The $908 billion economic stimulus package being negotiated in Congress was reported to include stimulus checks of $600, which is half the $1,200 dished out in the first round of checks.
News of the $600 stimulus checks has sparked a flurry of "Stimmy" memes and other stimulus check-themed jokes across Twitter, with many users expressing their disappointment with the amount of the latest check.
On Wednesday, Democratic New York Representative Alexandria Ocasio-Cortez shared a poll on Twitter asking her followers whether they considered a $600 stimulus check to be enough to help Americans financially impacted by the pandemic. She also encouraged them to call their congressional representatives to demand more funds.
The poll asked "Is $600 for a second COVID check enough?" and users could choose from either "yes," "no," or "hell no" as their answer.
As of 11:30 p.m. EST, 61.1 percent of respondents had chosen "hell no" and 33.9 percent had chosen "no." Only 5.1 percent had chosen "yes."
The poll, which was to remain open for the next 11 hours at the time of reporting, received at least 746,974 votes since it was first shared.
User @MrGoodBeard__ noted Thursday: "$600 stimmy isn't enough for rent and food," in a post that has received 748 likes and 211 retweets since it was first shared.
User @NTFxGreg posted an image of sports broadcaster Stephen A. Smith on Wednesday, noting: "The landlord when you give em that $600 stimmy for your $7000 balance due from the past 9 months."
User @brandonjamar_ shared a meme inspired by the Elf on the Shelf challenge, which recently took social media by storm.
"You've heard of elf on the shelf, get ready for," the post read with an image of a masked Statue of Liberty figure and cartoon character set against a stimulus check backdrop. The post has received at least 42,000 likes and 8,000 retweets since it was first shared on Tuesday.
User @taytay4lyfe2020 tweeted Wednesday: "After months of arguing, all they could come up with was a $600 stimulus check?! While so many people are getting evicted, starving, and are losing their jobs?...I wish the idea of supporting people during a PANDEMIC wasn't such taboo #StimulusChecksNOW." The post has received at least 6,800 likes and 2,100 retweets since it was first shared on Twitter.
User @greasyfootprint also tweeted Wednesday: "$600 direct check as a stimulus package while other countries have been providing monthly checks to their citizens? Guess were the s*** hole country. Pathetic. #StimulusCheckNOW." The tweet received 514 likes and 121 retweets since it was first posted.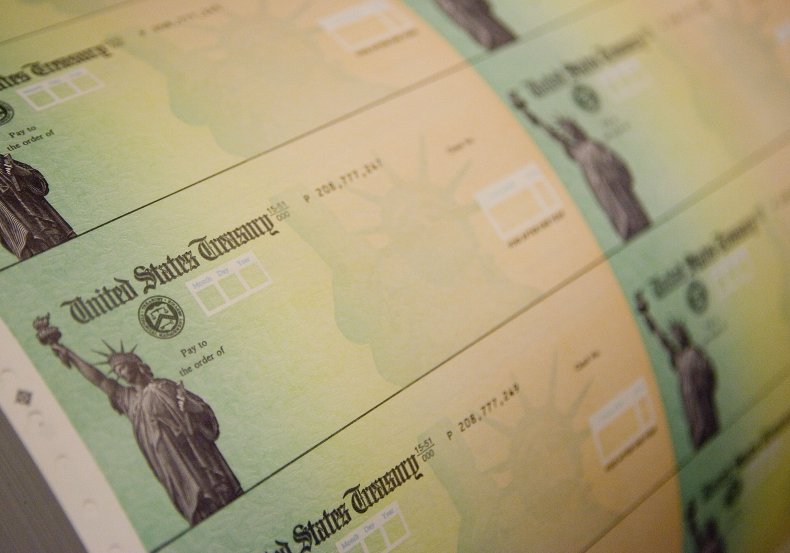 The wider picture
The novel coronavirus has infected more than 74.3 million people, including over 16.9 million in the U.S., since it was first reported in Wuhan, China.
More than 1.6 million people have died worldwide and over 42 million have recovered as of Thursday, according to John Hopkins University.
The graphic below, provided by Statista, shows the percentage of adults in the U.S. who would or would not get a COVID-19 vaccine.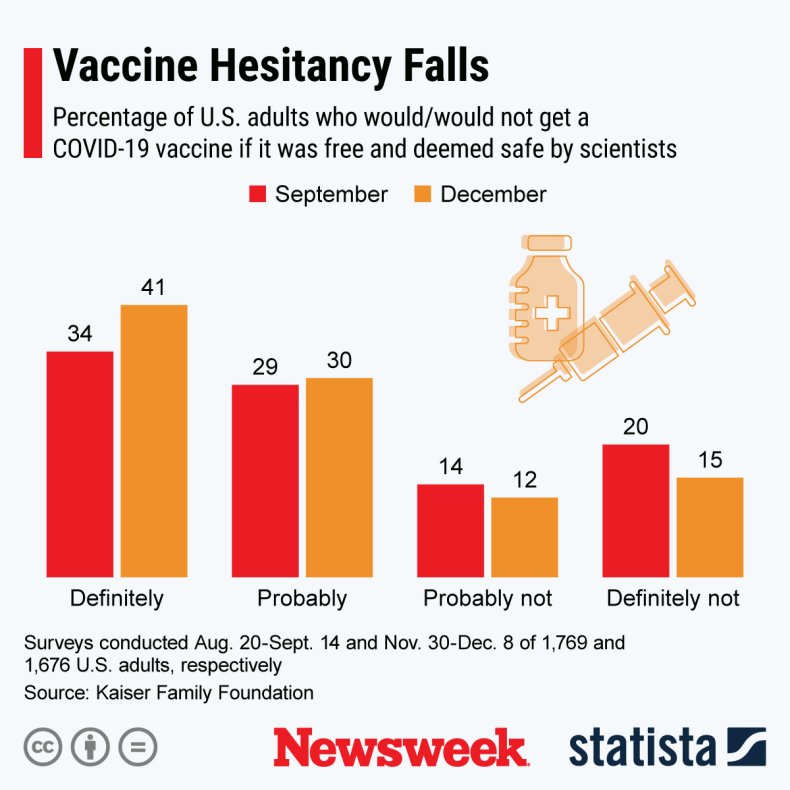 The graphic below, provided by Statista, shows the countries with the highest COVID-19 death tolls.