Coronavirus Fears Rise As U.S. Denies Entry to Foreign Nationals Who Have Traveled to China in Last 14 Days
The U.S. has temporarily banned the entry of any foreign nationals who have traveled to China within the last 14 days in a bid to "proactively and aggressively" contain the spread of the coronavirus. All U.S. citizens who have traveled to the Hubei province, where the virus was first identified, in the past two weeks will be subject to a mandatory quarantine of up to 14 days, the government's Department of Health and Human Services announced on Friday.
U.S. citizens who have been to mainland China within the same period of time will be subject to health screenings at a designated airport and up to 14 days of "monitored self-quarantine," the department said.
At least 11 cases of the virus have confirmed in the U.S. and around 14,557 cases reported globally. Of that number, 146 cases have been confirmed outside of China in 23 different countries, according to the latest report on Sunday by the World Health Organization (WHO), which declared the virus a global public health emergency on Thursday.
The U.S. State Department has raised its travel warning to Level 4, the highest possible, advising U.S. citizens not to travel to China, following WHO's recent declaration of a global public health emergency.
"More cases are likely to be identified in the coming days, including more cases in the United States. It's also likely that person-to-person spread will continue to occur, including in the United States," the U.S. Centers for Disease Control (CDC) warns.
The new travel restrictions came into effect at 5 p.m. (Eastern Standard Time) on February 2. Americans who have been to China in the past 14 days are being directed to one of 11 airports: John F. Kennedy International Airport in New York, Newark Liberty International Airport in New Jersey, Chicago O'Hare International Airport, San Francisco International Airport and Los Angeles International Airport in California, Seattle-Tacoma International Airport in Washington, Hartsfield-Jackson Atlanta International Airport in Georgia, Dallas-Fort Worth International Airport in Texas, Detroit Metropolitan Airport, Daniel K. Inouye International Airport in Honolulu, Hawaii and Washington-Dulles International Airport in Virginia.
"Any U.S. citizen returning to the U.S. who has been in Hubei Province in the previous 14 days will be subject to up to 14 days of mandatory quarantine, to ensure they're provided proper medical care and health screening. To be clear, this applies only to U.S. citizens who have been in Hubei Province in the past 14 days," Alex Azar, the Secretary of Health and Human Services, said at a press conference on Friday.
"The President has signed a Presidential Proclamation, using his authority pursuant to Section 212(f) of the Immigration and National Act, temporarily suspending the entry into the United States of foreign nationals who pose a risk of transmitting the 2019 novel coronavirus.
"As a result, foreign nationals, other than immediate family of U.S. citizens and permanent residents, who have traveled to China within the last 14 days will be denied entry into the U.S. for this time. Once again, these actions will become effective at 5 PM EST, Sunday, February 2.
All U.S. citizens returning to the U.S. from the rest of mainland China within the last 14 days will undergo "proactive entry health screening at a select number of ports of entry and up to 14 days of monitored self-quarantine to ensure they have not contracted the virus and do not pose a public health risk," he added.
Americans who have been to China but show no symptoms of the virus will be sent to their final destination and be asked to quarantine themselves for up to 14 days in their homes.
On Sunday, the U.S. Transportation Security Administration (TSA) also issued a new rule requiring airline staff to ask passengers on all flights from abroad heading to the U.S. before boarding whether they have traveled to mainland China within the last 14 days, CNBC reports.
The extra screening, which will entail checking passport stamps as well as recent flight reservations and will apply also to those who have traveled on an indirect flight from China, is likely to cause delays at check-in desks and gates. U.S.-bound travelers are advised to arrive at the airport earlier than usual.
The TSA will be working with U.S. Customs and Border Protection to screen passengers before they board, a spokesperson for the TSA confirmed to CNBC.
The latest travel restrictions were "temporary measures to increase our abilities to detect and contain the coronavirus proactively and aggressively," Azar said.
"These prudent and targeted actions will decrease the pressure on public health officials screening incoming travelers, expedite the processing of U.S. citizens returning from China, and ensure resources are focused on the health and safety of the American people," added Azar, who on Friday officially declared a public health emergency for the U.S. while noting that "the risk to the American public remains low at this time."
Dr. Anthony Fauci, director of the National Institute of Allergy and Infectious Diseases (NIH) also stressed that while the virus is a serious health situation in China, "currently the risk to the American public is low. Our goal is to do all we can do to keep it that way."
The CDC's latest response to the virus is focused on "early case recognition, isolation of those identified and contact tracing around those individuals" as well as "airport screening, heightened education and awareness of the American healthcare community to be vigilant in ascertaining the possibility of recent travel to China when they are evaluating patients with upper respiratory infections," Dr. Fauci noted.
As death tolls from the virus rise in China, the country's foreign ministry has blamed the U.S. for spreading fears about the virus and their recent "inappropriately overreacted" measures.
Chinese foreign ministry spokeswoman Hua Chunying pointed out the contrast in behavior between the U.S. and those countries that have recognized China's efforts to contain the virus.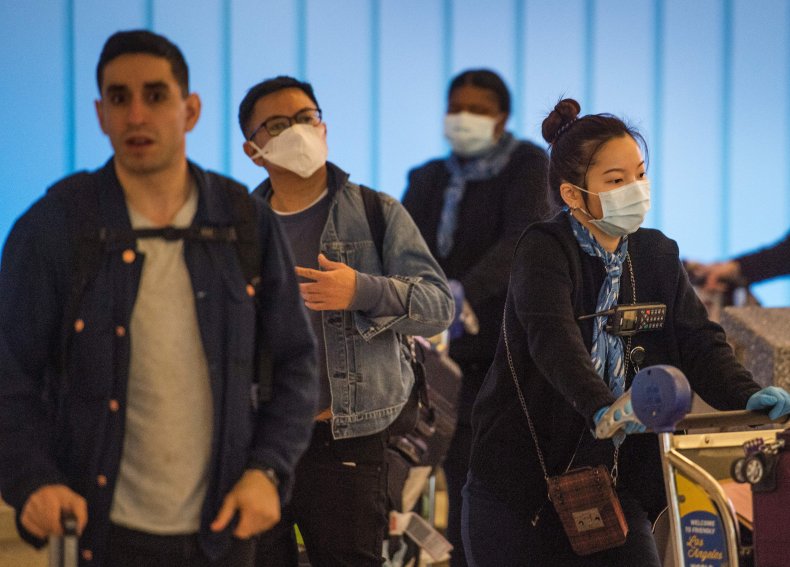 "But in the meantime, some countries, the US in particular, have inappropriately overreacted, which certainly runs counter to WHO advice," she said in a statement.
"The US government has not provided any substantial assistance to us, but it was the first to evacuate personnel from its consulate in Wuhan, the first to suggest partial withdrawal of its embassy staff, and the first to impose a travel ban on Chinese travelers. All it has done could only create and spread fear, which is a bad example.