Coronavirus U.S. Map, Update As Death Toll Nearly Doubles, White House Warns Rural Americans 'You Have to Prepare'
The coronavirus epidemic in the U.S., which has more cases than any other country, continues with more than 143,500 affected. Nearly 2,500 have died, while at least 4,865 have recovered from infection, according to the latest figures from Johns Hopkins University.
The death toll has nearly doubled since Friday, when around 1,300 fatalities were reported. More than half of the country (at least 22 states) has been under lockdown measures, which were due to end today, in a bid to help slow the spread. But President Donald Trump has extended the guidelines to April 30 as part of his 15 Days to Slow the Spread plan.
More disaster declarations have been made across the country, including in Washington, Connecticut, Georgia, Oregon and Colorado. Cases in New York continue to soar, with the death toll there surpassing 1,000.
The virus could potentially kill thousands of people and infect millions more, according to health experts from the COVID-19 virus task force led by Vice President Mike Pence.
The virus, which was first reported in Wuhan, a city in China's Hubei province, has spread to more than 741,000 people. More than 156,300 have recovered from infection, while nearly 35,100 have died. Around 82,200 people have been confirmed to be infected in China, nearly 76,000 of whom have recovered, while more than 3,200 have died.
Lockdown extended through April
"The peak of this virus' death rate is likely to hit in two weeks. We MUST stay the course and keep following the guidelines," the White House warned in a post on its official Twitter account on Sunday.
"We will be extending our guidelines to April 30 to slow the spread," Trump said at a White House press briefing on Sunday.
"On Tuesday, we will be finalizing these plans and providing a summary of our findings, supporting data and strategy to the American people," he added.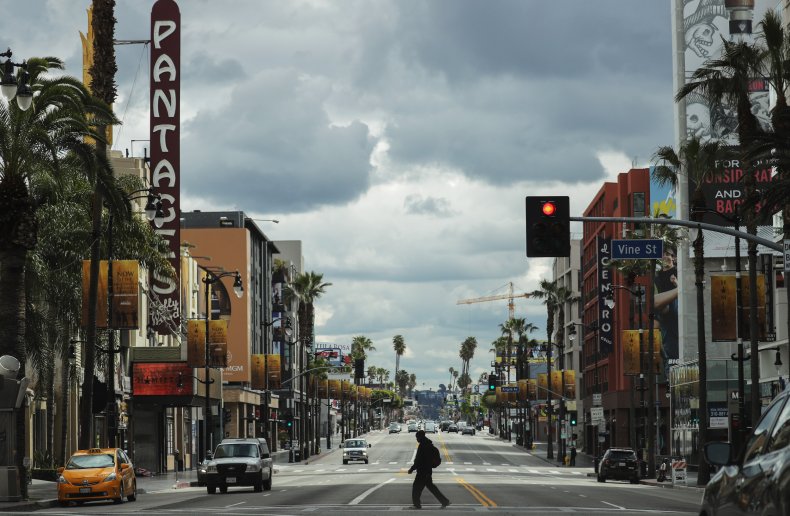 Trump said at a briefing he extended the lockdown measures upon being notified that "2.2 million people could have died if we didn't go through with all of this", adding that if the death toll could be restricted to less than 100,000 "we all together have done a very good job."
At least 22 states are currently under "stay at home" orders, which see all non-essential services, including bars and restaurants, entertainment venues and other places of public gatherings, shuttered. The states that have been issued with a stay at home order include:
California
Colorado
Connecticut
Delaware
Hawaii
Idaho
Illinois
Indiana
Louisiana
Massachusetts
Michigan
Minnesota
New Hampshire
New Jersey
New Mexico
New York
Ohio
Oregon
Vermont
Washington
West Virginia
Wisconsin
The graphic below, provided by Statista, illustrates the spread of COVID-19 across the U.S.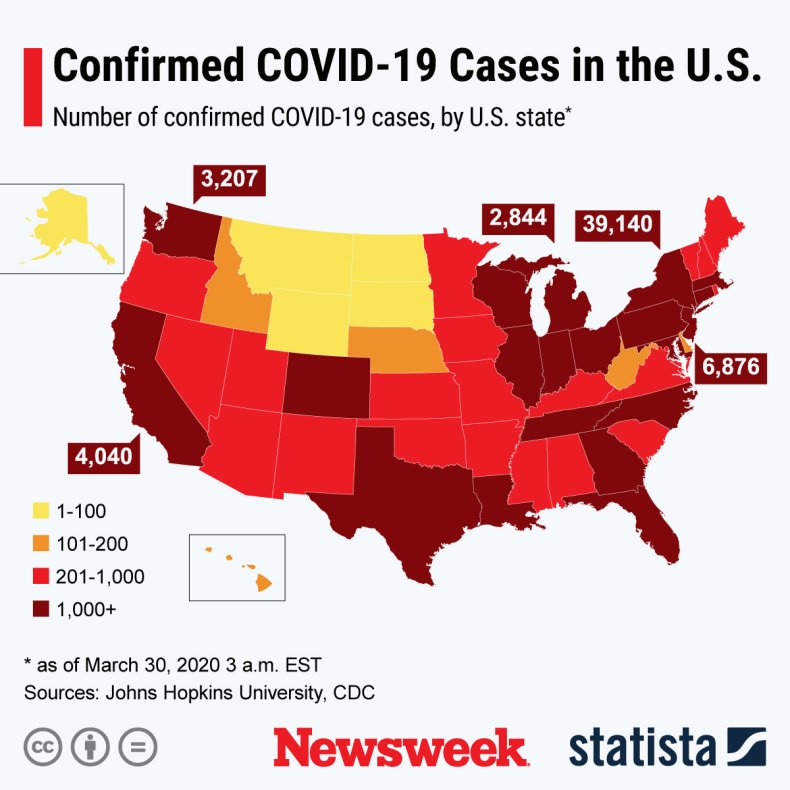 Up to 200,000 Americans could potentially die from virus
The U.S. could potentially see 200,000 deaths from the virus, the director of the National Institute of Allergy and Infectious Diseases (NIAID) who is on the COVID-19 virus task force, Dr. Anthony Fauci, warned on Sunday, if no measures are taken to curb the outbreak.
"Whenever the models come in, they give a worst-case scenario and a best-case scenario. Generally, the reality is somewhere in the middle. I've never seen a model of the diseases that I've dealt with where the worst case actually came out. They always overshoot," Fauci told CNN's Jake Tapper on the State of the Union.
He explained: "I mean, looking at what we're seeing now, you know, I would say between 100 and 200,000 [deaths.]"
He added that the country could have "millions of [COVID-19] cases," ranging from 1.6 million to 2.2 million if the country does nothing to mitigate the spread.
White House warns rural Americans to "prepare"
Dr. Deborah Birx, a medical expert on the COVID-19 virus task force, also warned that rural communities need to prepare for the outbreak.
She said on the Today show on NBC: "This virus, we think, can spread with a lot of asymptomatic and mild cases. It's not until it gets into the vulnerable groups that you start to see the hospitalizations."
"I think everyone understands now that you can go from five to 50 to 500 to 5,000 cases very quickly. I think in some of the metro areas we were late in getting people to follow the 15-day guidelines," she added.
"If you wait for that, if the metros and rural areas don't take care now, by the time you see it, it has penetrated your community pretty significantly. And that's what we're concerned about. And that's why you have to prepare, even though you think it's not there," she said.
Agreeing with the projections made by Fauci, Birx noted even "if we do things almost perfectly," there could be up to 200,000 U.S. deaths.
New York death toll passes 1,000, hospital being built in Central Park
Cases of the virus climbed to nearly 60,000 across 44 counties in New York, reporting at least 59,513 confirmed cases. There are at least 33,768 cases in New York City alone, the office of New York Governor Andrew Cuomo confirmed on Sunday. The city claims at least 776 of the state's total death toll of more than 1,000 fatalities.
"There is no state in the nation that is better prepared or better mobilized to combat this virus than New York. The number of cases is still going up towards the apex, and the development of new, faster tests will be critical in flattening this curve, getting people back to work and returning to normalcy," he said in a statement on Sunday.
"We will get through this because we are New Yorkers—we are strong, we have endurance and we have stability. We have a plan, we're executing that plan and we will manage any obstacle that we come across," he added.
New York City Mayor Bill de Blasio announced a 68-bed field hospital is being built in Central Park and is expected to be opened on Tuesday.
Launched in a partnership between Samaritan's Purse and Mount Sinai Health System and de Blasio, the hospital has been designed as a respiratory care unit with several medical tents, a spokesperson for Mount Sinai confirmed.
The USNS Comfort is also due to arrive in New York City with 1,000 additional medical beds, 12 operating rooms and a full medical staff.
As the outbreak continues to expand in the state, the Centers for Disease Control and Prevention (CDC) has issued a domestic travel advisory for the Tri-State Area of New York, New Jersey and Connecticut. The CDC "urges residents of New York, New Jersey, and Connecticut to refrain from non-essential domestic travel for 14 days effective immediately," in a bid to prevent the further spread of the virus.
The graphic below, provided by Statista, shows the number of confirmed COVID-19 cases—the disease caused by the new strain of coronavirus—in a selection of states.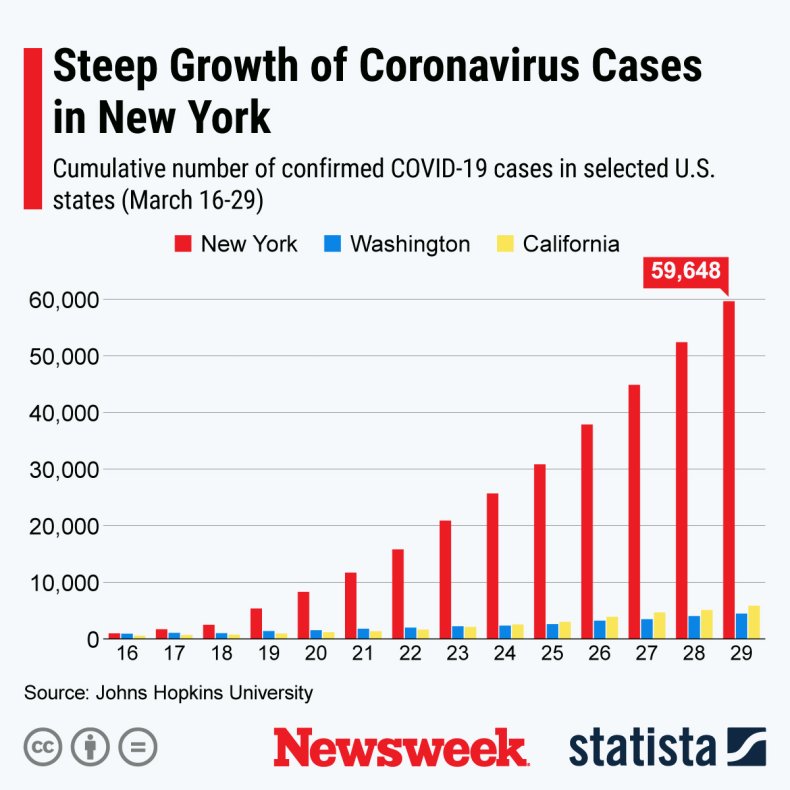 Data on COVID-19 cases is from Johns Hopkins University unless otherwise stated.
World Health Organization advice for avoiding spread of coronavirus disease (COVID-19)
Hygiene advice
Clean hands frequently with soap and water, or alcohol-based hand rub.
Wash hands after coughing or sneezing; when caring for the sick; before, during and after food preparation; before eating; after using the toilet; when hands are visibly dirty; and after handling animals or waste.
Maintain at least 1 meter (3 feet) distance from anyone who is coughing or sneezing.
Avoid touching your hands, nose and mouth. Do not spit in public.
Cover your mouth and nose with a tissue or bent elbow when coughing or sneezing. Discard the tissue immediately and clean your hands.
Medical advice
Avoid close contact with others if you have any symptoms.
Stay at home if you feel unwell, even with mild symptoms such as headache and runny nose, to avoid potential spread of the disease to medical facilities and other people.
If you develop serious symptoms (fever, cough, difficulty breathing) seek medical care early and contact local health authorities in advance.
Note any recent contact with others and travel details to provide to authorities who can trace and prevent spread of the disease.
Stay up to date on COVID-19 developments issued by health authorities and follow their guidance.
Mask and glove usage
Healthy individuals only need to wear a mask if taking care of a sick person.
Wear a mask if you are coughing or sneezing.
Masks are effective when used in combination with frequent hand cleaning.
Do not touch the mask while wearing it. Clean hands if you touch the mask.
Learn how to properly put on, remove and dispose of masks. Clean hands after disposing of the mask.
Do not reuse single-use masks.
Regularly washing bare hands is more effective against catching COVID-19 than wearing rubber gloves.
The COVID-19 virus can still be picked up on rubber gloves and transmitted by touching your face.