Coronavirus U.S. Update: Infections Surge in Virginia, Maryland, New York and California as Nearly 200 New Cases Reported
The COVID-19 virus outbreak in the U.S. has spread to at least 35 states in the country, according to the latest report from the U.S. Centers for Disease Control and Prevention (CDC) on Tuesday, with more deaths reported in Washington and California.
Nearly 200 new cases have been confirmed in the U.S., with around 750 reported as of Tuesday, according to the latest figures from Johns Hopkins University. New cases have been reported in several states including Virginia, Maryland and New York, which currently has the highest number of cases in the country.
Around 80 of the total infections in the country have been travel-related and around 30 cases have resulted from person-to-person spread, while around 500 cases are "under investigation," according to the latest figures from the CDC.
The virus, which was first reported in Wuhan in China's Hubei province, has spread to around 115 countries, with around 4,000 deaths (more than 3,000 of which have been in China). Nearly 64,000 people have recovered from the virus, according to the latest figures from Johns Hopkins University.
While the outbreak seems to be slowing down in China, it has been continuing outside the country, with at least 26 deaths reported in the U.S., including 22 in Washington, two in California and two in Florida, as of Tuesday.
But President Donald Trump on Monday urged that "life & the economy go on" amid the outbreak, noting the lower number of deaths compared with the "common flu."
"So last year 37,000 Americans died from the common Flu. It averages between 27,000 and 70,000 per year. Nothing is shut down, life & the economy go on. At this moment there are 546 confirmed cases of CoronaVirus, with 22 deaths. Think about that!," he said on his official Twitter account.
More deaths in Washington and California
Washington continues to report the highest number of deaths in the country. It saw three more fatalities on Monday, bring the state's total to 22, according to the latest figures from Johns Hopkins University.
King County health authorities confirmed in a statement the three deaths were of women, all over the age of 70.
The three women were reported to residents of LifeCare, the nursing home in the city Kirkland where the majority (at least 19) of those who died in Washington previously lived.
There are now at least 162 confirmed cases in the state, including 116 in King County, 37 in Snohomish County, four in Pierce County, and one each in the counties of Grant, Jefferson, Clark, Kitsap and Kittias, according to the latest figures from the state's department of health.
California saw its second virus death, which was reported in Santa Clara County. The patient, a woman in her 60s, died at El Camino Hospital and had no known history of travel or contact with an infected individual, the Santa Clara Public Health Department confirmed in a statement.
"She was the first person in the county confirmed to be infected with COVID-19 without any known history of international travel or contact with a traveler or infected person, suggesting she contracted COVID-19 in our community," the state's health department said.
Dr. Sara Cody, the health officer for Santa Clara County, said in the statement: "We are facing a historic public health challenge and know this is a very difficult time. Our top priority continues to be protecting the health of our community."
"The [Santa Clara] Public Health Department is taking necessary, carefully considered steps to slow down the spread of the disease and to protect those at greatest risk," she said.
More cases in Virginia, Maryland and Florida
The Virginia Health Department confirmed two new presumptive positive cases—cases that have been confirmed in a public lab but are awaiting confirmation from testing by the CDC.
One patient is a resident of the City of Fairfax. She traveled on a Nile River cruise with her husband, who tested positive. The other patient is in their 50s and is a resident of Spotsylvania County.
"Based on the results of our contact investigation to date, the individual had limited contact with others outside the home while ill so the risk to the general Fairfax community remains low," the Fairfax health director, Dr. Gloria Addo-Ayensu, said in a statement.
The health director of Virginia's Rappahannock area, Brooke Rossheim, said: "We are working closely with our health care partners and the state to monitor the patient [from Spotsylvania County] and identify and work with their close contacts."
Maryland governor Larry Hogan confirmed the state's sixth case on Monday. The patient, a woman in her 50s, was reported to be a resident of Prince George's County and had been infected while traveling to Massachusetts, according to a post by Hogan on his official Twitter account. She was said to be at home and in "good condition."
Florida health officials also reported another case in the state. The new patient is a woman in her 60s from Broward County, bringing the state's total number of cases to at least around 21, including two previously reported deaths, according to the latest report by the state's department of health.
New York launches own hand sanitizer
The state will produce up to 100,000 gallons of NYS Clean, its own hand sanitizer, each week, Governor Andrew Cuomo confirmed in a statement.
The product will be available in 1.7 oz., 7 oz. and gallon bottles and distributed to residents for free. The most highly impacted groups and high-risk communities, including the New Rochelle community and state agencies such as the MTA, will be prioritized in terms of allocation, the statement said.
"As the number of confirmed cases of the coronavirus continues to rise, unscrupulous retailers are exploiting New Yorkers' anxieties about the virus and charging exorbitant prices for hand sanitizer and other similar products," Cuomo said.
"To solve this problem, the state is producing and deploying hand sanitizer to high impact areas as well as schools, the MTA and other government agencies because you can't get it on the market and the product that is available is very expensive.
He added: "The biggest problem we have in this situation is fear, not the virus itself, and I'm once again reminding everyone to focus on the facts because the facts do not warrant the level of anxiety we are seeing."
New York currently has the highest number of cases in the country, with a total of 142. Most of the infections are in Westchester County, which has reported 98 cases, followed by 19 in New York City, as well as four in Rockland County and one case each in Saratoga County, Suffolk County and Ulster County, according to the latest statement from the governor's office.
New Jersey declares state of emergency
New Jersey declared a state of emergency across all 21 counties to "ramp up" its efforts to prevent the spread of the virus. The state currently has at least 10 presumptive positive cases and 24 people are under investigation, the state's department of health confirmed.
"The State of New Jersey is committed to deploying every available resource, across all levels of government, to help respond to the spread of COVID-19 and keep our residents informed," Governor Phil Murphy said in a statement.
"My Administration will continue to work closely with our federal partners to ensure that local health agencies on the front lines of the state's response are equipped with the resources needed to further prepare our health care system for a broader spread of COVID-19."
St Patrick's Day parade canceled in Boston but not in NYC
Boston has canceled its St. Patrick's Day parade "out of an abundance of caution" amid fears over the outbreak, the city's mayor, Martin Walsh, said in a statement.
"While the risk in Boston remains low, this situation is changing very quickly and we are closely monitoring any local cases. Our top priority is preventing any new cases, to the best of our ability, and we are paying close attention to guidance from public health officials."
As of Monday, Boston reported one confirmed case and eight presumptive cases of the virus. "There is no evidence of community transmission in Boston right now. The risk remains low, but this situation is evolving rapidly and changes day to day," a statement on the City of Boston government website read.
"We are confident the City of Boston will be ready for a safe and effective response as the situation develops."
New York City, however, will still hold its St. Patrick's Day parade, Mayor Bill de Blasio confirmed.
"No, we do not have a plan to cancel the [St. Patrick's Day] parade at this point," he said at a press conference on Monday.
"[The St. Patrick's Day parade is] Going to be day to day, hour to hour, it's a lot of factors," he noted, discussing the decision to hold the parade.
"Clearly we're going to watch the progression, how quickly this disease progresses," he said.
The graphic below, provided by Statista, illustrates the spread of the COVID-19 virus in the U.S, as of March 10.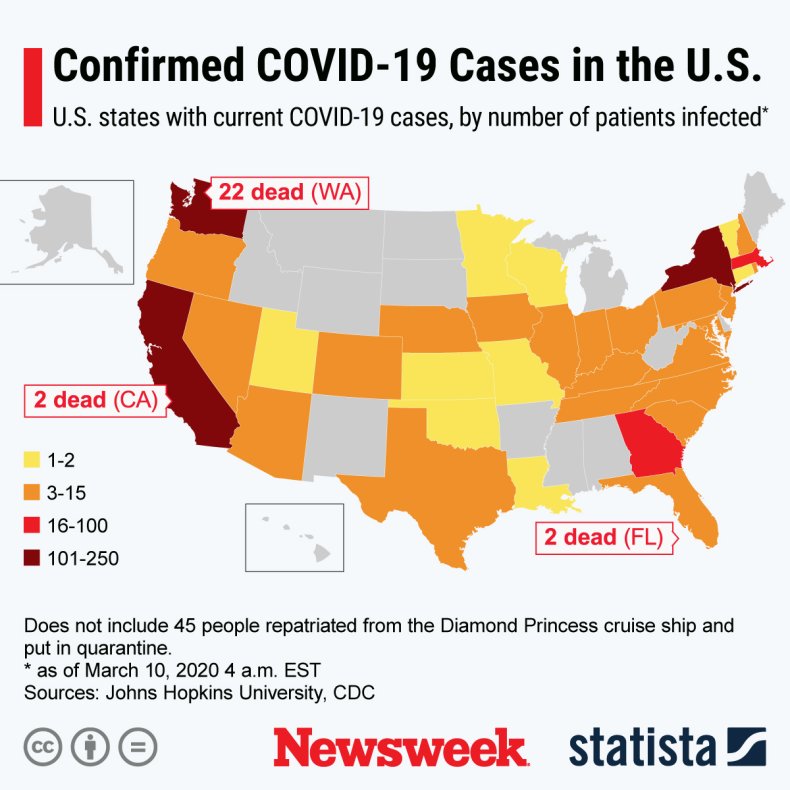 World Health Organization advice for avoiding spread of coronavirus disease (COVID-19)
Hygiene advice
Clean hands frequently with soap and water, or alcohol-based hand rub.
Wash hands after coughing or sneezing; when caring for the sick; before; during and after food preparation; before eating; after using the toilet; when hands are visibly dirty; and after handling animals or waste.
Maintain at least 1 meter (3 feet) distance from anyone who is coughing or sneezing.
Avoid touching your hands, nose and mouth. Do not spit in public.
Cover your mouth and nose with a tissue or bent elbow when coughing or sneezing. Discard the tissue immediately and clean your hands.
Medical advice
If you feel unwell (fever, cough, difficulty breathing) seek medical care early and call local health authorities in advance.
Stay up to date on COVID-19 developments issued by health authorities and follow their guidance.
Mask usage
Healthy individuals only need to wear a mask if taking care of a sick person.
Wear a mask if you are coughing or sneezing.
Masks are effective when used in combination with frequent hand cleaning.
Do not touch the mask while wearing it. Clean hands if you touch the mask.
Learn how to properly put on, remove and dispose of masks. Clean hands after disposing of mask.
Do not reuse single-use masks.