Coronavirus U.S. Outbreak Update as New Cases Confirmed in New York, California, North Carolina, New Hampshire and Washington
The COVID-19 virus death toll in the U.S. has climbed to nine, following three more deaths in Washington state since Tuesday.
The deadly virus, which was first reported in Wuhan city in the Hubei province of China, has affected at least 93,160 people across the globe, 80,270 of whom are in China, according to the latest figures from Johns Hopkins University.
The U.S. has reported 127 cases across at least 15 states, the Associated Press (AP) reported, including California, New York, Illinois, Florida, Georgia, Rhode Island, Oregon, New Hampshire, Texas, and Wisconsin, in addition to Washington state.
According to the latest figures from the U.S. Centers for Disease Control (CDC), at least 45 of the infected cases in the country are passengers from the Diamond Princess cruise ship. The Princess Cruises ship was quarantined in Japan for two weeks last month after a passenger from Hong Kong was diagnosed. All infected American evacuees of the ship were taken to a hospital near the Travis Air Force Base in Fairfield, California.
"What is happening now in the United States may be the beginning of what is happening abroad," said the director of the CDC's National Center for Immunization and Respiratory Diseases (NCIRD), Dr. Nancy Messonnier, noting the pattern seen in China, where older people with existing health conditions are nearly twice as more likely to become seriously ill than younger, healthier individuals, the AP reported.
Concerns have been raised over whether the government will be able to supply the country with nearly a million virus testing kits within days, as previously promised by health officials, the AP reported.
"I am hearing from people personally across our state who are frustrated," Washington state senator Patty Murray said at a meeting with senior government officials, adding that the situation was "unacceptable" and that "families deserve to know when testing is going to scale up," according to the AP.
"The failure to develop and distribute working test kits to public health agencies has really cost us valuable time," she said.
The U.S. Food and Drug Administration (FDA) has been working to get as many as 2,500 test kits out to labs by the end of the week, according to the head of the FDA, Dr. Stephen Hahn. He said that each kit should allow a lab to run about 500 tests and that would work out to 1.25 million tests, according to the AP.
"I am optimistic but I want to remain humble," said Dr. Anne Schuchat, the principal deputy director of the CDC.
Washington see three more deaths
Eight of the deaths in Washington state were reported to be in King County, while one of them was in the neighboring Snohomish County. The state now has at least 27 confirmed cases, with 21 in King County, while the remaining six are in Snohomish County, according to the Washington State Department of Health.
Around 231 people have been placed under "public health supervision," which includes those at risk of having been exposed to the virus "who are monitoring their health under the supervision of public health officials" as well as those who have returned from China in the past 14 days, the Washington State Department of Health confirmed.
"This is a very fluid, fast-moving situation as we aggressively respond to this outbreak," said Dr. Jeff Duchin, a health officer for Seattle and King County, in a news release.
One of the recent deaths was reported to be a patient who was transferred from LifeCare, a nursing facility which had several confirmed cases and one previous death, according to Duchin.
Concern for "vulnerable populations such as people over 60, those with underlying health conditions or who are immune compromised," have been raised following the recent outbreak and more cases are expected in the coming days, King County's health officials noted in a statement.
Health authorities in King County are also planning to purchase a local motel and set up modular units in public parking lots where infected patients can be isolated, NBC News reports.
On Tuesday, the U.S. Department of Homeland Security (DHS) shut down one of its offices just outside Seattle in Washington state, after a department employee was reported to have been infected following a visit to a nursing home in Washington state, acting DHS Secretary Chad Wolf confirmed at a congressional meeting.
The decision to close the DHS office for 14 days was made "out of an abundance of caution," amid the outbreak, Reuters reported.
North Carolina sees first case
North Carolina reported its first "presumptively positive" case of the virus, meaning the case has been confirmed as positive by a public health lab and is pending confirmation from testing by a CDC lab.
"The North Carolina person from Wake County traveled to the state of Washington and was exposed at a long-term care facility where there is currently a COVID-19 outbreak. Local health department officials are identifying close contacts to monitor symptoms and contain spread. To protect individual privacy, no further information will be released," North Carolina's department of health said in a statement.
The department added that the virus is "currently not widespread in North Carolina" and officials are in the process of identifying close contacts to monitor symptoms and contain the spread.
"I know that people are worried about this virus, and I want to assure North Carolinians our state is prepared," said state governor Roy Cooper in the statement.
"Our task force and state agencies are working closely with local health departments, health care providers and others to quickly identify and respond to cases that might occur," he added.
New York City raises precautionary measures
A second case has tested positive in New York and is reported to be in "serious" condition, according to The New York Times.
The patient is a man from Westchester County who commutes to work in Manhattan and lives with school-age children, the governor told Long Island radio station 103.9.
There are currently 41 persons under investigation (PUI) in the state, as of March 3, the state's department of health confirms. The first case in New York, reported earlier this week, was a woman who had returned from a trip to Iran.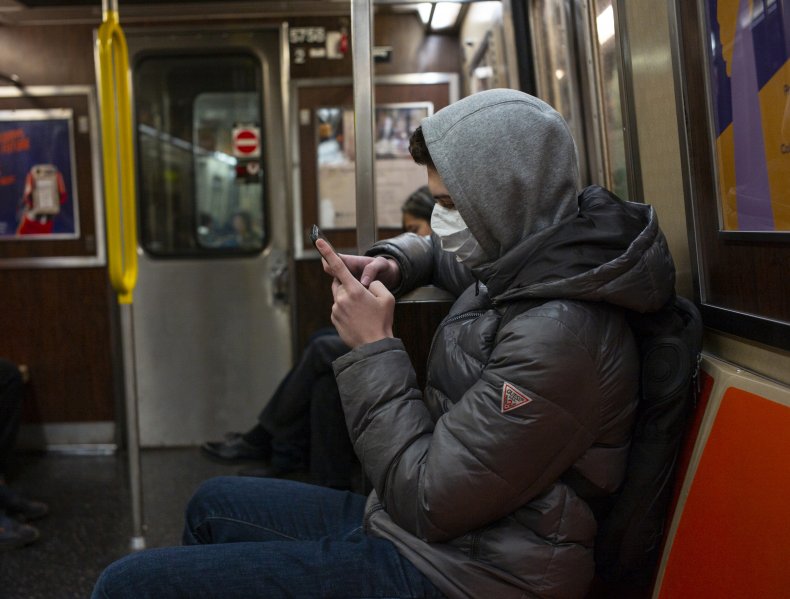 New York City's transit system is also introducing heightened precautionary measures in a bid to prevent the spread of the virus.
New York's Metropolitan Transportation Authority (MTA) announced that all trains, vehicles and buses will be sanitized every 72 hours, while turnstiles, ticket machines, handrails and other frequently used surfaces will be cleaned daily, Business Insider reports.
MTA will also implement "health guidance PSAs in stations and on train cars and buses" and the agency "has stockpiles of hygienic supplies on hand and continues to procure cleaning materials," it confirmed in a statement.
More cases in California
The city of Berkeley in California also reported its first case. The infected patient had traveled to Italy, which has been the epicenter of the outbreak in Europe.
"The City of Berkeley has its own public health jurisdiction, and Berkeley Public Health is investigating whether the individual had contact with others. Individuals potentially exposed will be identified, notified and evaluated," the website of the City of Berkeley noted in a statement.
"While the risk of infection remains low, the expanded presence of the virus in our community is a reality we should all prepare for," said Dr. Lisa Hernandez, the health officer for the City of Berkeley.
"There are steps that all of us in the community can take now to improve basic hygiene and also prepare for a wider spread in the future," she added.
Contra Costa County also reported its first case of the virus. The patient, who is being treated at a hospital in the county, was reported to have no known travel history and contact with an infected person.
"Our County's public health lab conducted the test, which is expected to be confirmed by the Centers for Disease Control & Prevention in the coming days," the county's department of health confirmed in a statement.
Santa Clara County also reported two additional cases on Tuesday, bringing its total count of cases to 11, the county's department of health said in a statement.
"At this time, of the total confirmed cases in the county, only two have been determined to be community transmission; four are travel related; three are close contacts to known cases; and the two new cases remain under investigation," the department said.
Santa Clara County is expected to see more cases, especially among those aged above 80, facing the greatest risk of developing serious conditions from infection.
New Hampshire patient defies quarantine mandate
The New Hampshire Department of Health and Human Services (DHHS) has been tracing the contacts of the state's first reported presumptive positive case, which means the case has tested positive at local lab but is awaiting confirmation from testing by the CDC.
The individual, an employee of Dartmouth-Hitchcock Medical Center (DHMC), has reportedly defied the department's instruction for isolation.
"Through the course of the investigation, DHHS has determined that the first patient, despite having been directed to self-isolate, attended an invitation-only private event on Friday, February 28. DHHS has issued an official order of isolation to the first patient under RSA-141-C:11," the department said in the statement.
"DHHS is managing the investigation into individuals in the community who may have been exposed to the virus," it added.
New Hampshire also announced its second presumptive positive case on Tuesday. The individual is an adult male from Grafton County who was in close contact with an infected person.
He is in isolation at his home while the DHHS awaits the result of the CDC testing. The department has begun tracing the contacts of this individual. "We expect additional cases may be identified that are related to this investigation," the department said in the statement.
Texas and Wisconsin patients cleared
Nearly 120 people who were quarantined for two week in Texas at the Lackland Air Force Base, after being aboard the Diamond Princess cruise ship, were released from yesterday. Around 15 others were reported to be "locally in medical care or quarantine because of their close contact with a confirmed case," according to a CDC statement, CNN reported.
People who have tested positive or are suspected of being infected have been transferred to the Texas Center for Infectious Disease. There are reportedly 11 confirmed cases in Texas, according to the Texas Tribune.
Two people in Wisconsin are also being tested and the results are expected to be back by Wednesday, according to the state's department of health services, CBS 58 WDJT-Milwaukee reported.
"The level of risk to individuals who become infected seems to be a little lower than initially reported," an infectious disease specialist in UW-Madison's Department of Medicine, Dr. Ryan Westergaard, told CBS 58 WDJT-Milwaukee.
The first person who tested positive in the state has reportedly recovered and is no longer in isolation.
The graphic below, provided by Statista, illustrates the spread of the COVID-19 virus in the U.S. as of March 4.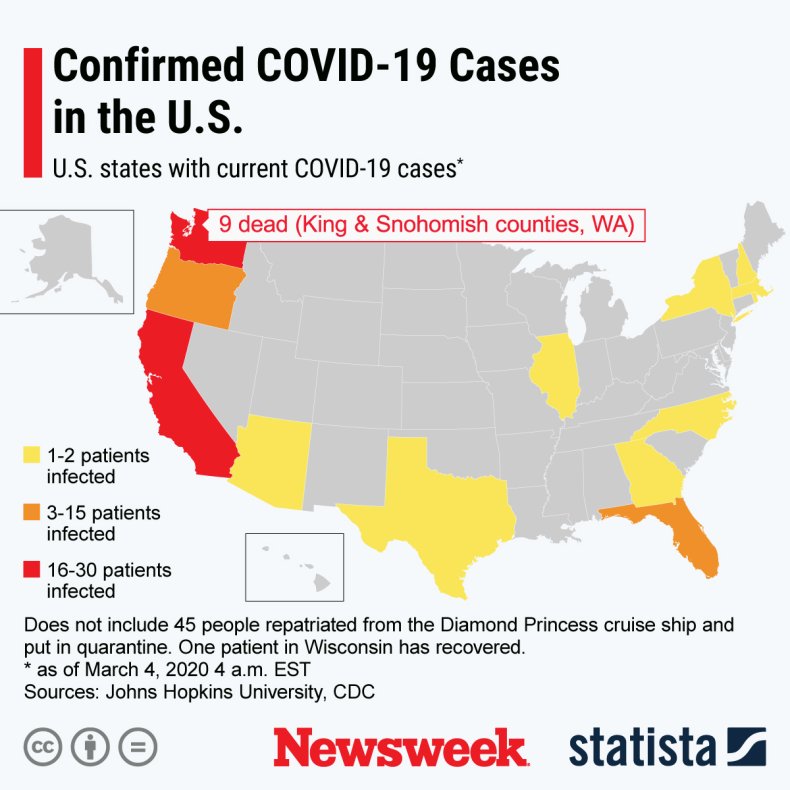 Coronavirus U.S. Outbreak Update as New Cases Confirmed in New York, California, North Carolina, New Hampshire and Washington | News