Half of the 20 Metro Areas Worst-Hit by COVID Are All in One State
Ten of the 20 metropolitan areas in the U.S. worst-hit by the ongoing COVID-19 outbreak are within Wisconsin, according to data compiled by The New York Times.
The 10 worst-affected areas in Wisconsin include the Oshkosh-Neenah, Appleton, Green Bay, Sheboygan, Manitowoc, Wausau-Weston, Beaver Dam, Fond du Lac, Marinette and Platteville.
The 20 areas listed were reported to have "the greatest number of new cases, relative to their population, in the last two weeks," and were ranked according to their average daily cases per 100,000 people.
The listing was "limited to areas with at least 50,000 people. Recent cases are those announced in the last two weeks, but in some cases may have taken place earlier because of delays in reporting," The Times said.
The other 10 areas in the listing were Rexburg in Idaho, which topped the ranking, as well as the Iowa cities of Dubuque and Sioux City, Bismarck and Minot (both in North Dakota), Sioux Falls in South Dakota, Amarillo and Lubbock (both in Texas), Kalispell in Montana and Seneca in South Carolina.
Average daily new cases in Wisconsin were reported to be on an upward trend in the two-week period from September 29 to October 12, according to the latest report Tuesday by Johns Hopkins University.
The average count increased sharply from late August through October, peaking at 2,699 on October 11. The figure remained flat from mid-July to late August, after increasing from March.
Hospitals in Wisconsin are at near full capacity, with 82 percent of total beds currently reported to be unavailable, according to the Wisconsin Department of Health Services.
Last month, four local hospitals in the Green Bay area were reported to have been at nearly full capacity amid a "remarkable surge" in COVID-19 patients, a local doctor warned.
Dr. Paul Casey, the medical director of the emergency department at Green Bay's Bellin Hospital of the Bellin Health System, noted: "The second wave is here, and it is here with a vengeance," in a post to his Facebook page on September 25.
Confirmed cases in Wisconsin have surpassed 152,100, with 1,474 reported deaths, as of Tuesday.
Of the state's total infections, 29,514 are reported to be active cases (those currently infected who are being treated in hospital or recovering at home).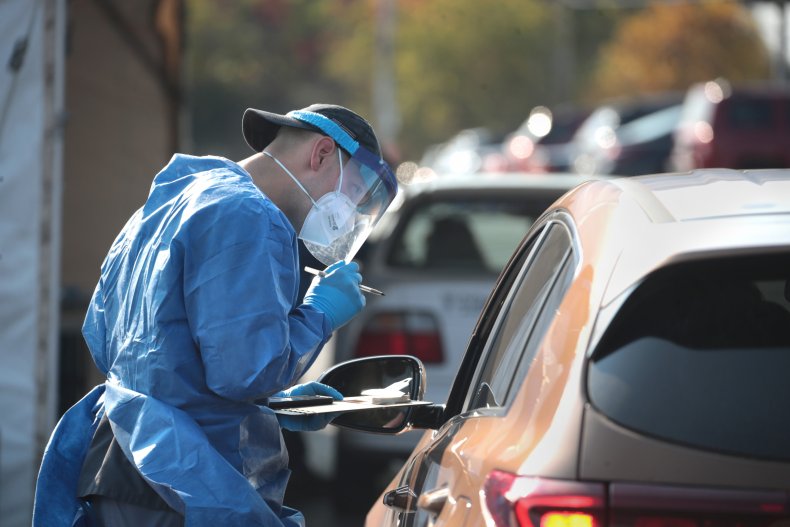 Top 20 metro areas worst-hit by COVID-19
Source: The New York Times, as of October 13
Rexburg, Idaho
Oshkosh-Neenah, Wisconsin
Appleton, Wisconsin
Green Bay, Wisconsin
Bismarck, North Dakota
Sheboygan, Wisconsin
Amarillo, Texas
Kalispell, Montana
Manitowoc, Wisconsin
Seneca, South Carolina
Wausau-Weston, Wisconsin
Beaver Dam, Wisconsin
Fond du Lac, Wisconsin
Dubuque, Iowa
Sioux City, Iowa
Marinette, Wisconsin
Lubbock, Texas
Platteville, Wisconsin
Minot, North Dakota
Sioux Falls, South Dakota
The wider picture
The novel coronavirus has infected over 33.3 million people across the globe, including 7.1 million in the U.S. Over a million people have died globally, while more than 23.1 million people have reportedly recovered from infection, as of Tuesday, according to the latest figures from JHU.
The graphic below, provided by Statista, illustrates the spread of COVID-19 across U.S. states.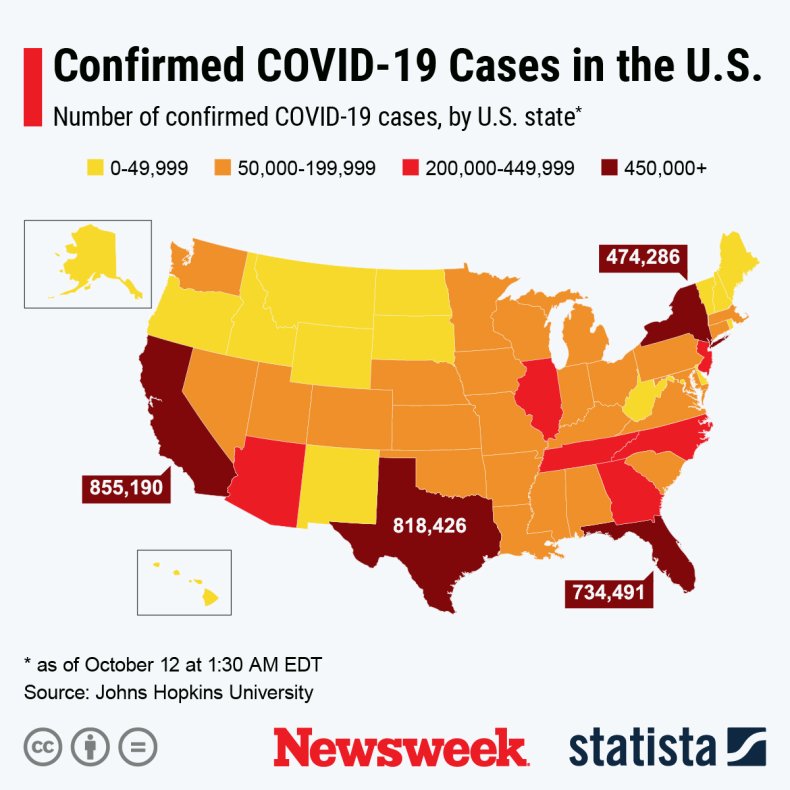 The graphic below, produced by Statista, illustrates a survey of U.S. adults concerned about catching COVID-19.