Coronavirus U.S. Map, Updates as Infections Surpass 1,300, New Cases in New York, California, Washington, Louisiana
The COVID-19 virus outbreak in the U.S. has seen nearly 1,300 cases, with more deaths in Washington state and California, including the first in Los Angeles County. The death toll has now reached 39, with 31 deaths in Washington state, five in California, two in Florida, one in New Jersey and one in South Dakota.
The virus, which was first detected in China's Wuhan city in the Hubei province, has now affected more than 127,000 people globally, more than 80,900 of whom are in China. More than 68,000 have also recovered from the virus and the global death toll is around 4,700, nearly 3,000 of which are in China, according to Johns Hopkins University.
While the virus has spread to nearly 40 states, with new cases in California, New York and Louisiana. But a handful of states, including Maine, Alaska, Idaho and Alabama, have yet to report any cases, according to the latest report by the U.S. Centers for Disease Control and Prevention (CDC).
At least 19 states have declared a state of emergency in different parts of the country, including New York, New Jersey, Washington state, California, Maryland, Illinois, Florida, Oregon, Utah, Kentucky and Iowa, Business Insider reports.
But heightened fears over the outbreak have seen President Donald Trump issue a Europe 30-day travel ban, which restricts foreign nationals "who have been in the Schengen Area, 26 countries in Europe with open borders agreements, in the last 14 days," from entering the U.S., The White House notes in a statement.
Trump said at a televised briefing on Wednesday: "The European Union failed to take the same precautions and restrict travel from China and other hotspots. As a result, a large number of new clusters in the United States were seeded by travelers from Europe," he added.
The U.S. Department of State is advising U.S. citizens to "reconsider travel abroad due to the global impact of COVID-19," it announced on its official website, raising its global travel advisory to Level 3 on Wednesday.
The department noted: "Many areas throughout the world are now experiencing COVID-19 outbreaks and taking action that may limit traveler mobility, including quarantines and border restrictions. Even countries, jurisdictions, or areas where cases have not been reported may restrict travel without notice."
More deaths in Washington and California
Four new fatalities were announced by Seattle & King County officials, all of which were residents of senior care facilities, KIRO7 reports.
The latest deaths bring the state-wide total to 31, most of which has been in King County, which has seen 26 fatalities, according to the state's department of health.
The state currently has the highest number of confirmed cases in the U.S., with at least 366 infections, according to the latest figures from the state's department of health.
Los Angeles County also announced its first death, along with nine new cases. The recent death was that of a woman in her 60s who had underlying health conditions, the director of the county's health department confirmed, The Los Angeles Times reports. The woman was reported to have died shortly after she was hospitalized.
In Southern California, Pasadena confirmed its first case of the virus, while more cases were reported in Ventura County, Orange County and Riverside County. The rector of a church in Beverly Hills was also reported to have tested positive for the virus, LA Times reports.
COVID-19 virus 10 times more deadly than flu
A medical expert, who is among the health officials on the country's coronavirus task force, has warned that the virus is 10 times more lethal than the flu.
Speaking at a hearing for the Committee on Oversight and Reform on Wednesday, Dr. Anthony Fauci, the director of the National Institute of Allergy and Infectious Disease (NIAID), said: "I mean people always say, 'Well, the flu does this, the flu does that," The Hill reports.
"The flu has a mortality rate of 0.1 percent. This has a mortality rate of 10 times that. That's the reason I want to emphasize we have to stay ahead of the game in preventing this.
"If we don't do very serious mitigation now, what's going to happen is we're going to be weeks behind," in containing the spread of the virus, he said.
The latest warning follows Trump's message on Twitter earlier this week where he highlighted the higher number of deaths among those who had the "common flu" compared to those who have COVID-19.
"So last year 37,000 Americans died from the common Flu. It averages between 27,000 and 70,000 per year. Nothing is shut down, life & the economy go on," Trump said on Twitter.
"At this moment there are 546 confirmed cases of CoronaVirus, with 22 deaths. Think about that!"
New York's St Patrick's Day parade postponed, more restrictions to come
New York City's popular St. Patrick's Day parade, which draws around one to two million spectators and features nearly 250,000 marchers, has been postponed, "due to the high density and the large volume of marchers and spectators who attend...public health experts agree that one of the most effective ways to contain the spread of the virus is to limit large gatherings and close contacts," the state governor Andrew Cuomo announced in a statement on Wednesday. The latest measure marks the first time the historic event has been postponed in its nearly 250 year history.
"While the risk to New Yorkers remains low and we want to avoid social and economic disruptions, we have an obligation to take action to contain the spread of this virus," he added.
Residents can expect to see additional restrictions and containment measures be introduced as the state battles the outbreak which may last six months or longer, New York City mayor Bill de Blasio warned on Thursday, NBC New York reports.
The state confirmed 43 new cases on Wednesday, bringing the state total to around 216. New infections were reported in Westchester County (13), New York City (16), Nassau County, which had nine new cases, while five others were infected in Suffolk County, according to the latest statement from the governor's office.
Cuomo also revealed that State University of New York and the City University of New York (CUNY) will be introducing ways to "maximize distance learning and reduce in-person classes," from March 19th for the remainder of the spring semester in view of the outbreak.
The latest measure follows pressure from the CUNY student government, which this week reportedly urged the governor to close its school buildings and "transition to online classes and provide any additional resources needed to combat this outbreak," in a statement.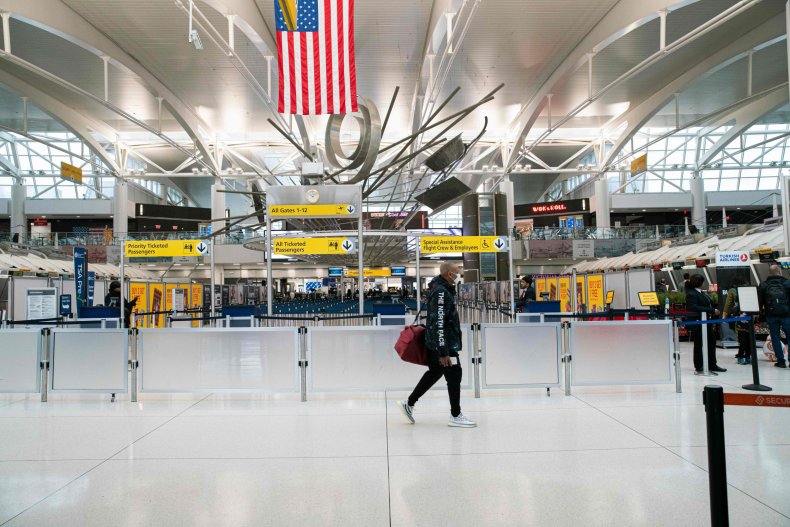 The governor's office confirmed in a statement: "All campuses will develop plans catered to the campus and curriculum-specific needs while reducing density in the campus environment to help slow possibility for exposures to novel coronavirus. Distance learning and other options will be developed by campuses."
Two schools in the Bronx have also been closed after a student was said to have been infected. The two schools ( Laboratory School of Finance and Technology and South Bronx Preparatory) will be closed for at least 24 hours while the buildings are disinfected and authorities trace the contacts of the infected student, NBC New York reports.
Washington D.C. declares state of emergency and public health emergency
The capital Washington D.C., the residence of Trump and Vice President Mike Pence and where hundreds of governmental officials work, also declared its state of emergency, as well as a public health emergency on Wednesday.
"The DC Homeland Security and Emergency Management Agency (HSEMA) will activate the District's Emergency Operations Center (EOC) and Joint Information Center (JIC) to provide additional coordination for the District's COVID-19 response," the mayor's office said in a statement.
The capital's health department also issued an advisory on Wednesday, recommending all non-essential mass gatherings, including any conference and conventions, be postponed or canceled. Mass gatherings are defined as events where 1,000 or more people congregate in one location.
The department also recommends all event organizers to reconsider any social, cultural or entertainment events that are expected to draw large crowds.
Despite the latest recommendations and emergency declarations across the city, Pence said on Thursday that he is "still shaking hands here at the White House," adding that "I'm also washing my hands very regularly through the day," CNN reports.
"Wash your hands regularly. Clean those often-used surfaces," he said. "We're all in this together."
Louisiana cases more than double
Louisiana reported 14 presumptive positive cases on Wednesday, up from six cases earlier in the day, state officials confirmed.
Presumptive positive cases are ones that have been confirmed in a public lab and are awaiting confirmation from testing by the CDC.
Among the latest infected individuals was reported to be an Iberia parish resident who lives in Lafourche parish, where they are hospitalized, according to the state's department of health.
The first six cases confirmed on Wednesday were reported to be residents of the metro New Orleans, where they were being treated, The Advocate reports.
The other cases are residents of the parishes including Orleans, Caddo, Lafourche and Jefferson, according to the state's department of health.
The graphic below, provided by Statista, illustrates the spread of the COVID-19 virus across the world as of March 12.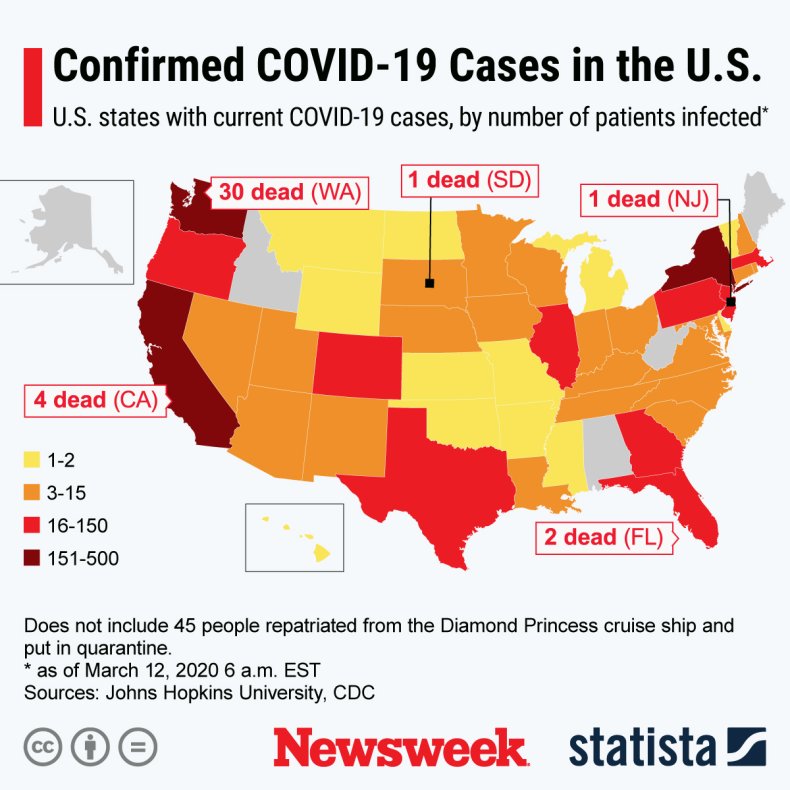 World Health Organization advice for avoiding spread of coronavirus disease (COVID-19)
Hygiene advice
Clean hands frequently with soap and water, or alcohol-based hand rub.
Wash hands after coughing or sneezing; when caring for the sick; before; during and after food preparation; before eating; after using the toilet; when hands are visibly dirty; and after handling animals or waste.
Maintain at least 1 meter (3 feet) distance from anyone who is coughing or sneezing.
Avoid touching your hands, nose and mouth. Do not spit in public.
Cover your mouth and nose with a tissue or bent elbow when coughing or sneezing. Discard the tissue immediately and clean your hands.
Medical advice
If you feel unwell (fever, cough, difficulty breathing) seek medical care early and call local health authorities in advance.
Stay up to date on COVID-19 developments issued by health authorities and follow their guidance.
Mask usage
Healthy individuals only need to wear a mask if taking care of a sick person.
Wear a mask if you are coughing or sneezing.
Masks are effective when used in combination with frequent hand cleaning.
Do not touch the mask while wearing it. Clean hands if you touch the mask.
Learn how to properly put on, remove and dispose of masks. Clean hands after disposing of mask.
Do not reuse single-use masks.