Giant Eagle COVID Vaccine Registration Details and How To Book an Appointment
Giant Eagle, the supermarket chain, is offering COVID-19 vaccinations at a selection of its stores. Those eligible for vaccination at this time must register to receive it by booking an appointment at the Giant Eagle website.
Giant Eagle stores are located in Pennsylvania, Ohio, West Virginia, Maryland and Indiana. Currently, its COVID-19 vaccination appointments are offered only in Pennsylvania and Ohio, according to the website.
In Pennsylvania, "the COVID-19 vaccine is now approved to be administered to patients 65 years and older plus those 16-64-years old with high risk conditions," while in Ohio it has been approved for "patients in Phase 1B including patients 70 years and older," the website states.
"Phases vary by state and/or county. We recommend you refer to your local health department for the latest information on phases and eligibility. However, as we receive specific COVID-19 vaccine release dates and phase details for your state, we will post updated information from the state and local health officials.
"Appointments are limited and based on vaccine supply we receive from state and local health officials. As we receive vaccines, we will open more appointments," the company advises.
How to book COVID-19 vaccinations at Giant Eagle
All COVID-19 vaccinations are by appointment only and "eligibility is determined by the vaccine distribution phase as defined by state and local health departments. Valid photo ID is required at the time of vaccination," the website notes.
Those eligible can book their appointment by clicking on the "Schedule Now" icon at the Giant Eagle website. This will open a new page that confirms: "You are in line for Giant Eagle COVID-19 Vaccine Scheduling System. When it is your turn, you will have 10 minutes to enter the website."
Those unable to use the online booking system due to lack of technology or physical impairment can call their local Giant Eagle pharmacy to check appointment availability.
Residents can also opt-in to receive text message updates by texting VACCINE to 737587.
"Please arrive at your scheduled vaccine appointment on time. Arriving late could result in the need to reschedule your appointment. COVID-19 vaccine supply is limited and determined by state and local health officials. We are only able to make appointments available based on the vaccines provided," the company advises.
Vaccines will be administered free of charge for most patients "depending on insurance coverage," while "some patients will have a copay. Please provide your insurance information at the time of vaccination," the company notes.
Those booked for vaccination are advised to bring proof of their date of birth (such as a driver's license or government ID) or occupation (such as a company-issued badge or state/professional license) as well as "insurance cards including Medicare Part B, Pharmacy and Medical Coverage" to their appointment, the website says.
Once you have received your first dose, the pharmacy team will provide you with a date and time for your second dose appointment before you leave the venue.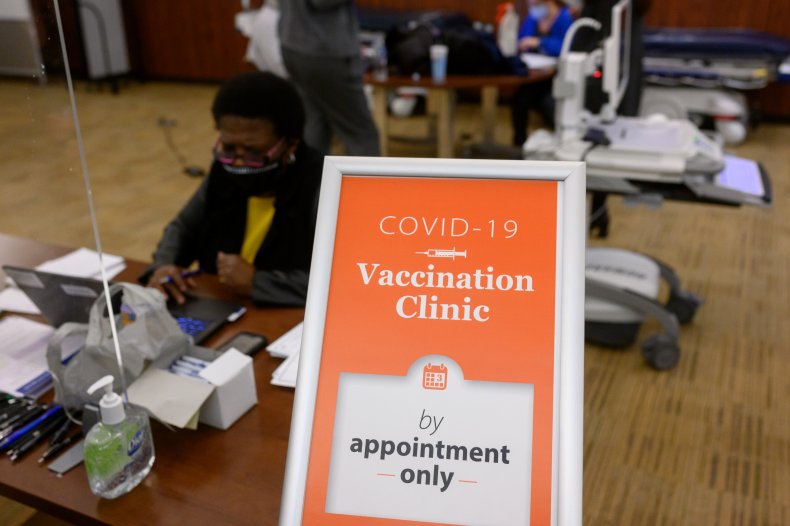 The wider picture
The novel coronavirus has infected more than 103.5 million people, including just over 26.3 million in the U.S., since it was first reported in Wuhan, China.
More than 2.2 million people have died worldwide and more than 57.4 million have recovered as of Tuesday, according to Johns Hopkins University.
The graphic below, produced by Statista, illustrates a timeline of when countries are expected to have 60 to 70 percent of their adult population vaccinated.