H-E-B COVID Vaccine Registration Details and How To Book an Appointment
H-E-B, the supermarket chain with stores across Texas, is offering COVID-19 vaccinations at select locations. Those eligible for the vaccine at this time can register to receive it by booking an appointment at the H-E-B website.
Those who don't have access to a computer can call 1-800-811-8620 from 8 a.m. to 4 p.m. local time to schedule an appointment to receive the COVID-19 vaccine. Walk-in vaccination services are not available.
"​​Texans in phase 1a and phase 1b are eligible to receive the COVID-19 vaccine. Due to a limited supply of vaccines, appointments may fill up quickly. If you can't find a time that works, check back later for additional openings," the website notes.
Those currently eligible for vaccination that fall within the phase 1a category include healthcare workers and residents of long-term care facilities. Those eligible within the phase 1b category include residents aged 65 and older as well as those aged 18 and older with "chronic medical conditions," the H-E-B website advises.
How to book COVID-19 vaccinations at H-E-B
At the H-E-B website, users can click on the "check availability" icon under the appropriate eligibility category. This will open up a new page with a listing of locations and the number of slots available at that address.
At the time of publishing, the website advised: "There are no appointments available, but we add new spots as we receive more vaccines. Please check back for updates."
H-E-B also notes: "Two shots are needed to complete the Moderna COVID-19 vaccine, and you must schedule your second dose at least 28 days after your first dose and at the same location.
"We'll reach out to help you schedule your second dose after you've received your first dose, so be sure to provide an accurate email address and phone number," the website adds.
Those arriving for their first dose of the COVID-19 vaccine should bring a form of photo identification to the appointment. Those receiving their second dose will need to bring their photo ID as well as the shot card they were given for their first dose, H-E-B advises.
"Healthcare providers must show their work ID or badge, or have a letter from their employer verifying employment with a healthcare provider at the time of vaccination," H-E-B notes.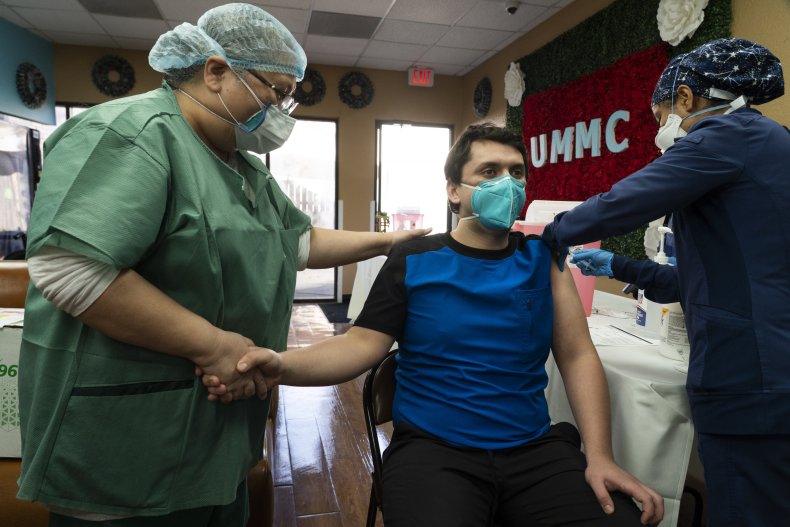 The wider picture
The novel coronavirus has infected more than 106.2 million people, including just over 27 million in the U.S., since it was first reported in Wuhan, China.
More than 2.3 million people have died worldwide and more than 59.2 million have recovered as of Monday, according to Johns Hopkins University.
The graphic below, produced by Statista, illustrates countries with the highest number of COVID-19 vaccine doses administered per 100 people.