California COVID Vaccine Sign-Up Details and How to Book an Appointment
As the COVID-19 vaccine rollout continues across the U.S., we outline the latest progress on vaccinations in California and how to sign up to receive the vaccine.
This page was updated on February 18, 2021, 4:39 a.m. ET.
California vaccine tracker and schedule
Total doses administered: 6,435,184, as of February 17, according to the California Department of Public Health.
People who have received one or more doses: 4,766,592, as of February 17, according to the U.S. Centers for Disease Control and Prevention.
People who have received two doses: 1,507,829, as of February 17, according to the CDC.
Five counties with most doses administered
(Source: California Department of Public Health, as of February 17)
Los Angeles: 1,585,958
San Diego: 631,837
Orange: 557,707
Santa Clara: 327,251
Riverside: 325,016
Millions more Californians are due to become eligible for COVID-19 vaccination in the coming weeks and Barbara Ferrer, the public health director of Los Angeles County (the most populous in the country), predicts that March will be "a difficult month" as demand continues to exceed supply.
On March 1, the county is expected to expand eligibility to several more essential workers including teachers and school staff as well as emergency service and law enforcement personnel.
Ferrer said on Wednesday: "We are going to have a difficult month, probably, in March. But I really do think the situation will change in April. So yes, very big constraints right now with vaccine supply."
She added that manufacturers Pfizer and Moderna have said they "have been able to cut their production times down, which just means they'll have more doses out quicker." Ferrer also said Johnson & Johnson's single-dose vaccine may receive federal approval by the end of this month.
Ferrer said: "So I think it is safe to say, barring some unforeseen calamity, we will have much more vaccine available by April."
On Wednesday, California Gov. Gavin Newsom tweeted that the state had begun to vaccinate agricultural workers. "In Coachella they're using innovative 'pop-up' sites on fields & work sites. This innovative model has allowed for 2,300 farmworkers in Riverside County alone to be vaccinated—and we're just getting started."
The state launched the country's first mass community COVID-19 vaccination sites on Tuesday, in partnership with the Federal Emergency Management Agency.
The two new sites were opened at Oakland-Alameda Coliseum in Oakland and California State University, Los Angeles. They will provide an "additional 84,000 doses" each week, Newsom tweeted on Tuesday.
Each has the capacity to vaccinate up to 6,000 people a day, according to officials.
The new sites aim to expand the state's rate of vaccinations in an "efficient, effective and equitable manner," with a focus on "communities with a high risk of COVID-19 exposure," the governor's office said in a statement on Tuesday.
Later this week the state will launch four mobile COVID-19 vaccination clinics (two paired with each of the two new community sites) "which can be deployed to multiple locations within the community to amplify and provide distribution to areas that otherwise lack sufficient support."
The mobile clinics do "not affect existing allocation of vaccine supplies to other cities or counties," the statement added.
Also on Tuesday, the city of San Francisco announced the launch of its third "high-volume vaccination site," which opened at the SF Market in the Bayview Hunters Point neighborhood at 901 Rankin Street. The two other high-volume vaccination sites are located at the Moscone Center and the City College of San Francisco.
"As with other vaccination sites in San Francisco, the SF Market location will initially offer vaccinations to people 65 and older and healthcare workers. Due to current supply constraints, the initial doses given per day will be limited, but the site is ready to expand rapidly once supply increases," the office of San Francisco Mayor London Breed said in a statement.
Last week, a handful of vaccination sites in the city of Los Angeles were temporarily closed from Friday due to a vaccine supply shortage for first dose appointments. The five closed locations include Dodger Stadium, Crenshaw Christian Center, San Fernando, Lincoln Park and Hansen Dam.
These sites were scheduled to be open this week through Saturday. "Mobile vaccination clinics are scheduled to operate from Tuesday through Friday in Council districts 8, 9, and 14," the LA government website stated Monday.
The city is expected to receive 54,000 doses of Moderna vaccine and 4,000 doses of Pfizer vaccine this week. But the new batch will be prioritized for admininstering second doses.
The office of Los Angeles Mayor Eric Garcetti noted in a statement Monday: "In accordance with guidelines issued by the Centers for Disease Control and the County Department of Public Health, the City will prioritize individuals whose second doses are due in the days ahead.
"If the City receives additional supply this week, more first dose appointments will become available online at Coronavirus.LACity.org/VaxAppointment," the statement added.
The state is aiming to administer three million doses per week by March 1 and four million doses per week by April 30 under a new contract between the California Government Operations Agency and Blue Shield of California, which was made public on Monday.
The non-profit health plan is expected to recommend a "vaccine allocation algorithm" to help "guide the prioritization of appointments," according to the contract.
The contract states: "Blue Shield will recommend for adoption by the Agency, a vaccine Allocation Algorithm, with a focus on equity, to be used in operationalizing the distribution of vaccines across the state."
The algorithm aims to "guide the prioritization of appointments at State Vaccine Network vaccine sites, taking into account factors such as demographic characteristics, and geographic needs. The factors may be adjusted as the circumstances of the pandemic change and federal and state vaccine prioritization criteria evolve.
"The Allocation Algorithm will be updated as needed based on changing conditions, such as vaccine availability, COVID-19 incidence, and feedback from relevant stakeholders," the contract adds.
Marta Green from the California Government Operations Agency noted in early February that the state will "determine and approve all vaccine distribution criteria" and Blue Shield will operate under a "cost-basis contract," meaning it will not make a profit.
The health plan may bill the agency a maximum of $15 million for "third-party costs and expenses actually incurred by Blue Shield in its performance of this Agreement," according to the contract.
The governor's office tweeted Saturday: "Supply remains limited, but we are continuing to work with the federal government to get more vaccines for Californians. #EndThePandemic."
Also on Saturday, the CDPH announced an upcoming extension of COVID-19 vaccine eligibility to individuals at high risk among those aged from 16 to 64.
"Beginning March 15, healthcare providers may use their clinical judgement to vaccinate individuals age 16-64 who are deemed to be at the very highest risk for morbidity and mortality from COVID-19 as a direct result of one or more of the severe health conditions included in this provider bulletin," the CDPH noted in a statement.
Who is eligible for a vaccine in California?
People in the following group are "now vaccinating," according to the CDPH:
Phase 1A
Healthcare workers
Long-term care residents
People in this group are "now vaccinating as supplies allow:"
Phase 1B
Those aged 65 and older
Those within the following sectors: education and childcare, emergency services, food and agriculture.
"Beginning March 15, healthcare providers may use their clinical judgement to vaccinate individuals age 16-64 who are deemed to be at the very highest risk for morbidity and mortality from COVID-19 as a direct result of one or more of the following severe health conditions," the CDPH advised:
Cancer, current with debilitated or immunocompromised state
Chronic kidney disease, stage 4 or above
Chronic pulmonary disease, oxygen dependent
Down syndrome
Immunocompromised state (weakened immune system) from solid organ transplant
Pregnancy
Sickle cell disease
Heart conditions, such as heart failure, coronary artery disease, or cardiomyopathies (excludes hypertension)
Severe obesity (Body Mass Index ≥ 40 kg/m2)
Type 2 diabetes mellitus with hemoglobin A1c level greater than 7.5 percent.
Also from March 15, the aforementioned at-risk individuals aged 16 to 64 can be vaccinated "if as a result of a developmental or other severe high-risk disability one or more of the following applies," the CDPH advised:
The individual is likely to develop severe life-threatening illness or death from COVID-19 infection
Acquiring COVID-19 will limit the individual's ability to receive ongoing care or services vital to their well-being and survival
Providing adequate and timely COVID care will be particularly challenging as a result of the individual's disability.
The department said: "California is allocating COVID-19 vaccines as they become available to ensure equitable distribution. Initially vaccination was limited to healthcare workers and long-term care residents.
"Vaccinations are prioritized according to age and risk. A portion of the California population can get vaccinated now, and the rest should have access by spring 2021."
People who are currently not eligible can sign up to be notified when it's their turn to be vaccinated at myturn.ca.gov or by calling 1-833-422-4255.
How to book a vaccine in California
COVID-19 vaccines are being administered at the following sites:
Community vaccination sites
Doctor's offices
Clinics
Pharmacies
The CDPH advises: "Healthcare workers and individuals 65+ near San Francisco, Los Angeles or San Diego counties can book appointments immediately through the myturn.ca.gov site or by calling (833) 422-4255. Online appointment scheduling for other groups and residents of other counties will be available soon.
"Some local health jurisdictions are also providing appointments, registration and notification services."
Registration for appointments at the two new mass vaccination sites in Los Angeles and Oakland is available at the myturn.ca.gov website or by calling 1-833-422-4255.
The sites are co-run by FEMA and the California Governor's Office of Emergency Services (Cal OES). "FEMA and the Department of Defense are providing resources and federal staffing support to establish these new community vaccination centers as well as operational support," the governor's office stated.
San Francisco's new SF Market COVID-19 vaccination site will initially operate Monday through Friday from 8:00 a.m. to 5:00 p.m. local time and bookings are available by appointment only.
"Due to the limited vaccine supply at this time, appointments for the first week of operations will be by invitation only. Once vaccine supply becomes more available, appointments and hours at SF Market will expand," the mayor's office noted.
Those aged 65 and older and health workers can make an appointment regardless of their health coverage status or provider at SF.gov/getvaccinated or through the Sutter's My Health Online portal. Those who do not have access to a computer can schedule an appointment through Sutter's call center at 1-844-987-6115, the mayor's office advised.
The LA government website states: "This week's second dose appointments were automatically scheduled for Angelenos who received their first dose from January 18-23 at Hansen Dam, San Fernando Park, Crenshaw Christian Center, Lincoln Park, and Dodger Stadium.
"Patients who qualify should have received a text message and/or an email with their second appointment details.
"A small number of first doses will be available throughout the week at some City sites," the website notes.
From last Friday, those eligible have been able to receive the COVID-19 vaccine from 6,500 CVS, Walmart, Walgreens and Rite Aid locations across the state.
For most pharmacy and retail chains, residents will need to register for the vaccine at the company's website.
California's CVS branches were expected to receive around 81,900 doses, which will be administered from at least 100 stores. The online booking system for CVS opened on February 11.
"Individuals eligible for COVID-19 vaccinations are asked to use the appropriate digital channels or contact customer service to check for appointment availability, as opposed to contacting individual CVS Pharmacy locations. Because active stores will change regularly based on vaccine supply, CVS Health will not provide a full list of participating locations," the company said.
Below are some locations in central California where CVS offering vaccinations:
Atwater
Fresno
Hanford
Madera
Porterville
Tulare
Below are some locations in southern California where CVS offering vaccinations:
Agoura Hills
Carlsbad
Chula Vista
Huntington Beach
Irvine
Los Angeles
Newport Beach
San Diego
Below are links to registration details and information for other major retail and pharmacy chains. Check the company website for the latest appointment availability.
Vaccine rollout across the U.S.
Across the country, 56,281,827 doses have been administered, while 72,423,125 have been delivered, according to the CDC.
A total of 40,268,009 people have received one or more doses and 15,471,536 have received two doses.
Alaska has administered the most doses per 100,000 people, followed by West Virginia, New Mexico, Connecticut and North Dakota.
Alabama, Georgia, Kansas, Rhode Island and Missouri have administered the lowest number of doses per 100,000 people, as of Wednesday.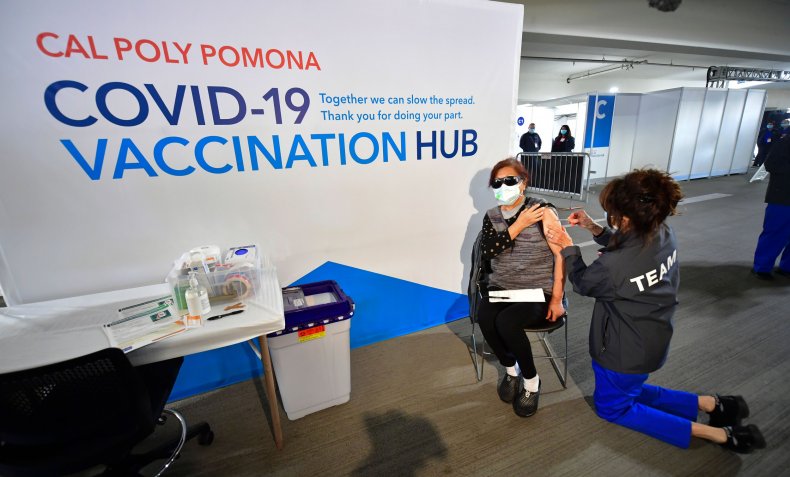 The wider picture
The novel coronavirus has infected more than 109.9 million people, including over 27.8 million in the U.S., since it was first reported in Wuhan, China.
More than 2.4 million people have died worldwide and more than 61.9 million have recovered as of Thursday, according to Johns Hopkins University.
The graphic below, produced by Statista, illustrates countries with the highest number of COVID-19 vaccine doses administered per 100 people.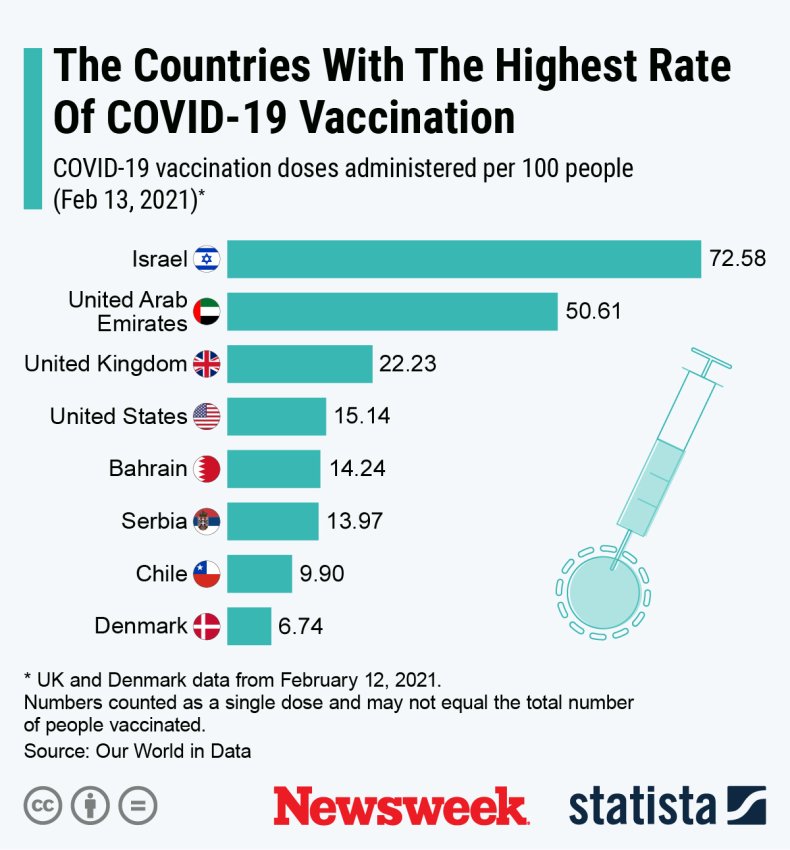 Newsweek, in partnership with NewsGuard, is dedicated to providing accurate and verifiable vaccine and health information. With NewsGuard's HealthGuard browser extension, users can verify if a website is a trustworthy source of health information. Visit the Newsweek VaxFacts website to learn more and to download the HealthGuard browser extension.