ShopRite COVID Vaccine Registration Details and How To Book an Appointment
ShopRite, the supermarket chain with stores in New York, New Jersey, Connecticut, Pennsylvania, Maryland and Delaware, is offering COVID-19 vaccinations at select locations. Those eligible for the vaccine at this time can register to receive it by booking an appointment at the ShopRite website.
At this time, COVID-19 vaccinations are being offered at select venues in New Jersey, New York and Pennsylvania. However, currently there are no new slots available to book, according to the website.
"Due to overwhelming demand, our COVID-19 Vaccine appointment schedule is FULL — there are currently no new appointments available. Please check back at a later date. We are working hard to secure additional vaccine and open appointment availability. We are sorry for the inconvenience and appreciate your patience," the ShopRite website advises.
Eligibility criteria for the vaccine varies by state, including in New York state, where only individuals who are 65 and older are being vaccinated.
"As of February 2, 2021, retail pharmacies in Philadelphia have been authorized to administer the COVID-19 vaccine only to individuals who are 75 and older.
"ShopRite has expressed a desire to participate in these vital [COVID-19 vaccination] programs in all states in which we trade. To date, only New Jersey and New York have authorized us to do so. We eagerly await authorization from additional states and will update our Pharmacies accordingly," ShopRite says.
How to book COVID-19 vaccinations at ShopRite
Once more slots become available, to schedule an appointment users can hit a hyperlink that reads "click here" to check availability at the ShopRite website.
Clicking that link opens a new page that indicates: "You are in line for ShopRite scheduler. When it is your turn, you will have 10 minutes to enter the website."
Once it is their turn to book, users are then brought to another page to schedule their appointment. At the time of reporting, that page read: "There are currently no COVID-19 vaccine appointments available. Please check back later. We appreciate your patience as we open as many appointments as possible."
Monitor the ShopRite website for the latest information on appointment availability.
A full list of venues where the COVID-19 vaccine is currently being offered in New York, New Jersey and Pennsylvania can be viewed at the ShopRite website.
Residents will not be charged a fee to receive the COVID-19 vaccine. However, "the provider will receive an administration fee either through billing the patient's insurance or through a government-paid plan yet to be defined. Healthcare coverage can vary by plan. We will update stores as more information becomes available," ShopRite advises.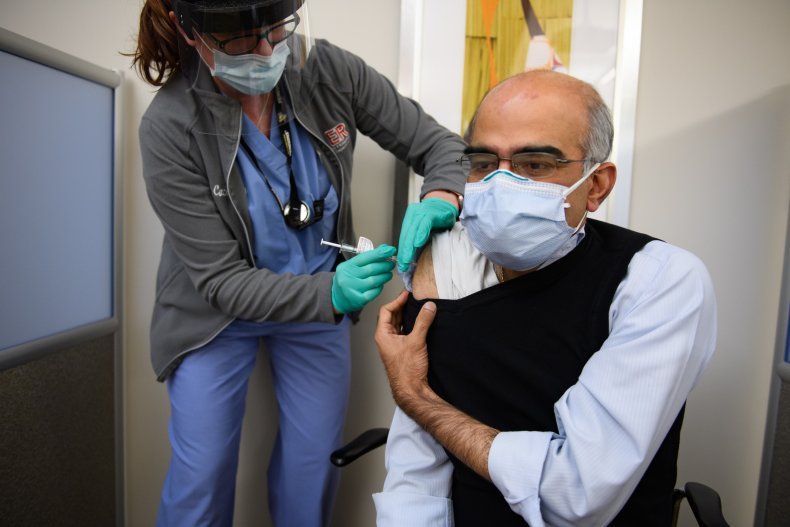 The wider picture
The novel coronavirus has infected more than 106.2 million people, including just over 27 million in the U.S., since it was first reported in Wuhan, China.
More than 2.3 million people have died worldwide and more than 59.2 million have recovered as of Monday, according to Johns Hopkins University.
The graphic below, produced by Statista, illustrates the highest number of COVID-19 vaccine doses administered per 100 people across the globe.