There are currently nearly 200 potential COVID-19 vaccine candidates in development, including 42 under clinical evaluation and 151 under pre-clinical evaluation, according to a report by the World Health Organization published on October 2.
On Monday, U.S.-based Johnson & Johnson announced a pause on all of its COVID-19 vaccine candidate clinical trials due to an "unexplained illness" in one of its study participants.
French pharmaceutical company Sanofi is hoping to have its vaccine candidate rolled out by mid-next year, according to Olivier Bogillot, the president of Sanofi France.
"We are in a very concrete environment at the regulatory level. We ourselves have signed a charter with various laboratories so as not to compromise on the safety of the vaccine. If the vaccine is effective and it is safe, yes, the next year, in mid-year, the French will be able to be vaccinated," Bogillot said Tuesday.
Last week, U.S. Secretary of Health and Human Services Alex Azar said: "Pending FDA [Food and Drug Administration] authorizations, we believe we may have up to 100 million doses by the end of the year—enough to cover especially vulnerable populations—and we project having enough for every American who wants a vaccine by March to April 2021."
Here we take a closer look at some of the latest COVID-19 vaccine developments.
France
Last month, Sanofi and U.K.-based GlaxoSmithKline (GSK) announced they has begun a clinical trial of their COVID-19 vaccine candidate, aiming to reach a phase-three trial by December.
"The companies initiated a Phase 1/2 study on September 3 with a total of 440 subjects being enrolled, and anticipate first results in early December 2020, to support the initiation of a pivotal Phase 3 study before the end of the year," Sanofi confirmed in a statement last month.
"If these data are sufficient for licensure application, it is planned to request regulatory approval in the first half of 2021. In parallel, Sanofi and GSK are scaling up manufacturing of the antigen and adjuvant respectively with the target of producing up to one billion doses in total per year, globally."
U.S.
Johnson & Johnson
Johnson & Johnson, whose vaccine candidate JNJ-78436735 is being developed by Belgium's Janssen Pharmaceutical Companies, announced: "We have temporarily paused further dosing in all our COVID-19 vaccine candidate clinical trials, including the Phase 3 ENSEMBLE trial, due to an unexplained illness in a study participant.
"Following our guidelines, the participant's illness is being reviewed and evaluated by the ENSEMBLE independent Data Safety Monitoring Board (DSMB) as well as our internal clinical and safety physicians.
"Adverse events—illnesses, accidents, etc.—even those that are serious, are an expected part of any clinical study, especially large studies.
"SAEs [serious adverse events] are not uncommon in clinical trials, and the number of SAEs can reasonably be expected to increase in trials involving large numbers of participants."
Moderna
Co-developed with the National Institute of Allergy and Infectious Diseases (NIAID), Massachusetts-based biotechnology firm Moderna is currently in the third phase of its clinical trial of the mRNA-1273 vaccine candidate, which began in late July.
As of September 16, the study has enrolled 25,296 participants, while 10,025 participants have received their second vaccination.
The protocol for phase three was also made available online "to provide additional transparency in [the] context of pandemic," Moderna said in a statement.
Novavax
In late September, Maryland-based biotechnology firm Novavax began phase three of its NVX-CoV2373 vaccine trial, which is being conducted in the U.K., in partnership with the British government's Vaccines Taskforce.
The study expects to "enroll and immunize up to 10,000 individuals between 18-84 (inclusive) years of age, with and without relevant comorbidities, over the next four to six weeks," the company noted in a statement published on September 24.
"Novavax has continued to scale-up its manufacturing capacity, currently at up to 2 billion annualized doses, once all capacity has been brought online by mid-2021," the statement noted.
U.K.
Imperial College London
Participants in the COVID-19 vaccine study being developed at Imperial College London were reported to be 'responding well,' according to an update by Professor Robin Shattock, the head of the vaccine development team at the university
The university is hoping to begin a larger trial of 20,000 volunteers soon year and global trials are expected to begin later this year, with potential approval for the vaccine by mid-2021, according to Shattock.
AstraZeneca
In early September, British-Swedish pharmaceutical company AstraZeneca announced the development of its AZD1222 vaccine candidate was expanded into a phase-three clinical trial in the U.S., enrolling up to 30,000 participants, the company said in a statement last month.
The trial is funded by the U.S. Biomedical Advanced Research and Development Authority (BARDA) and the NIAID.
"Clinical development of the potential vaccine is progressing globally with late-stage Phase II/III trials ongoing in the UK and Brazil, a Phase I/II trial in South Africa and planned trials in Japan and Russia. These, together with the U.S. Phase III clinical trial will enroll up to 50,000 participants globally," the company said in the statement.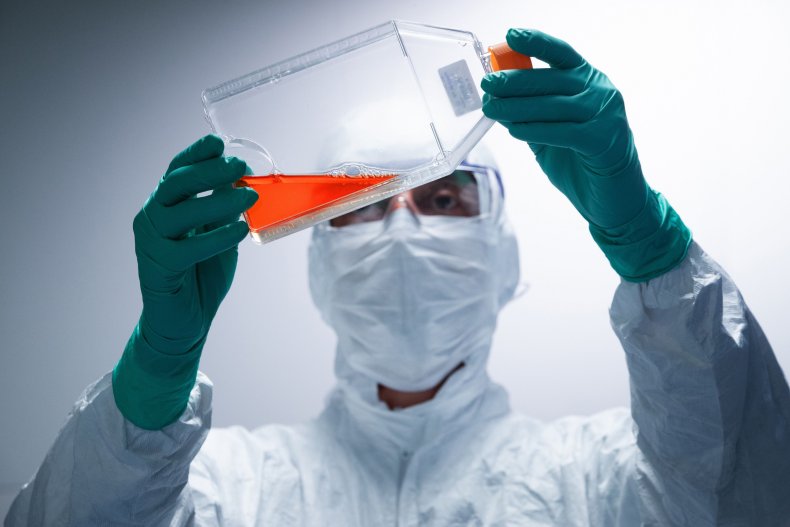 Russia
Human trials of Russia's Sputnik V vaccine are being conducted in the United Arab Emirates , according to a statement Monday from the Kremlin, which also said Russian President Vladimir Putin "had a telephone conversation with Crown Prince of Abu Dhabi Mohammad Al Nahyan.
"The importance of joint efforts to combat the spread of coronavirus was noted, including cooperation on the Russian Sputnik V vaccine, which is currently being clinically tested in the UAE," the statement said.
Additional data and research on the vaccine, which is being developed by Russia's Gamaleya Research Institute of Epidemiology and Microbiology, has yet to be disclosed.
The results of its clinical trial published in The Lancet last month raised concern among dozens of scientists from 12 countries who signed an open letter questioning the published results.
"While the research described in this study is potentially significant, the presentation of the data raises several concerns which require access to the original data to fully investigate," the letter said.
China
CanSino Biologics
The Ad5-nCoV vaccine, developed by Chinese biopharmaceutical company CanSino Biologics, is in its final-stage trials and has been approved for use in the Chinese military.
The first participants in the Phase III clinical trial were vaccinated in Moscow in late September, according to a statement last month from Russia's Petrovax Pharm, the pharmaceutical company conducting the trial.
The participants were reported to be "doing well" and "none of them have shown any side effects. "According to expert forecasts, during this period, the vaccinated subjects will develop an antibody and cellular immune response to COVID-19. The volunteers will also have to undergo a control examination after six months," the statement said.
Sinovac Biotech
CoronaVac, being developed by China's Sinovac Biotech, was reported to appear to be safe for use on older people, Reuters reported last month.
The vaccine did not cause severe side effects in its phase one and phase two trials in May, which included 421 volunteers aged at least 60, a spokesperson for Sinovac Biotech told Reuters last month. The complete results of the trials are yet to be published.
The wider picture
The novel coronavirus has infected more than 37.8 million people across the globe since it was first reported in Wuhan, China, including over 7.8 million in the U.S. Globally, more than a million have died following infection, while more than 26.2 million have reportedly recovered as of Tuesday, according to Johns Hopkins University.
The graphic below, also provided by Statista, illustrates countries with the COVID-19 cases.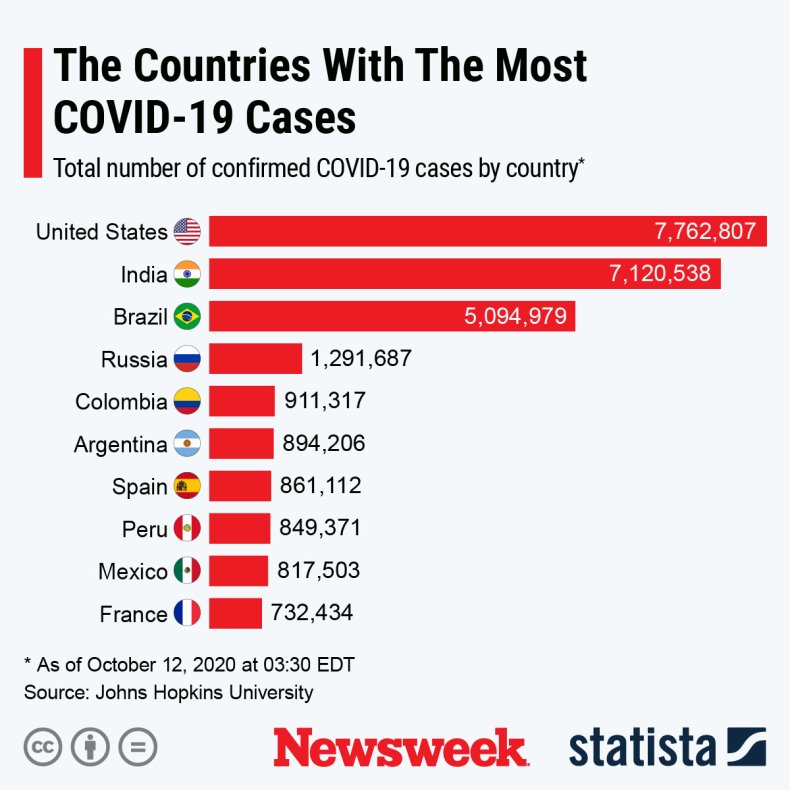 Correction: This article originally referred to Olivier Bogillot as CEO of Sanofi. He is President of Sanofi France. Newsweek regrets the error.