Coronavirus Vaccine 'Weeks' Away From Being Developed, Says Head of Israeli Science Research Institute
The head of a research institute in Israel has said its scientists are "weeks" away from developing a vaccine against the deadly new coronavirus which causes COVID-19.
The new virus that has killed over 2,800 people is a member of the large coronavirus family of pathogens, which also includes SARS and MERS. On Thursday, the MIGAL Galilee Research Institute said in a statement a new vaccine against a coronavirus which infects chickens has brought them a step closer to developing a preparation to protect against COVID-19.
According to the statement, a multi-disciplinary team created an Infectious Bronchitis Virus (IBV) vaccine which has been shown to be effective in pre-clinical trials. The scientists found the bird virus has a similar genetic code to and infects individuals in the same way as the deadly new coronavirus in humans, of which there are over 83,000 cases as shown by the Statista map below. This "increases the likelihood of achieving an effective human vaccine in a very short period of time," the institute said.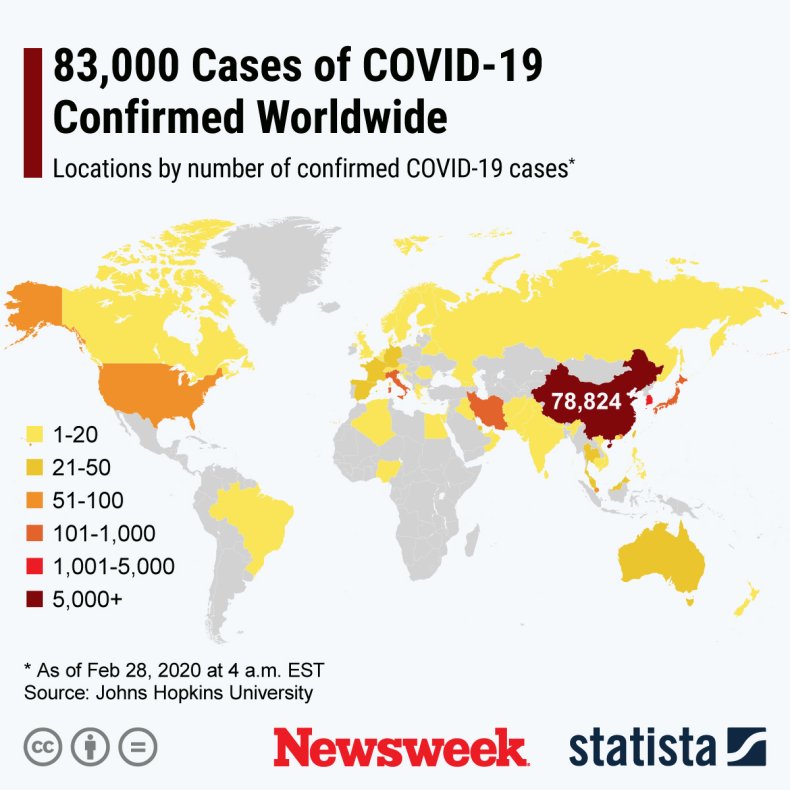 The scientists adjusted the IBV vaccine to the virus which causes COVID-19, and are working on meeting safety standards which will enable them to test it "in-vivo," or in living organisms. They hope these steps will "enable the initiation of production of a vaccine to counter the Coronavirus epidemic currently spreading throughout the world," the statement read.
Commenting on the news, David Zigdon, CEO of MIGAL said: "Given the urgent global need for a human coronavirus vaccine, we are doing everything we can to accelerate development.
"Our goal is to produce the vaccine during the next 8 to 10 weeks, and to achieve safety approval in 90 days. This will be an oral vaccine, making it particularly accessible to the general public.
"We are currently in intensive discussions with potential partners that can help accelerate the in-human trials phase and expedite the completion final product development and regulatory activities."
MIGAL is a regional research and development center of the Israeli Science and Technology Ministry, owned by the Galilee Development Company Ltd. Ofir Akunis, Israel's Minister of Science and Technology, congratulated the team "on this exciting breakthrough."
"I am confident that there will be further rapid progress, enabling us to provide a needed response to the grave global COVID-19 threat," he said.
Amesh Adalja, a senior scholar at Johns Hopkins Center for Health Security who was not involved in the research, told Newsweek on Friday he believes it is possible to adapt a vaccine for an avian coronavirus to human coronavirus.
"If the vaccine is shown to be efficacious and safe, roll out could be quite rapid given they could likely employ manufacturing centers making the prior poultry vaccine," he said.
Adalja added: "The challenge will be to conduct human trials rapidly to prove efficacy and secure regulatory agency approvals."
The announcement came a day after Dr. Anthony Fauci, director of the U.S. National Institute of Allergy and Infectious Diseases (NIAID), told CNN New Day host John Berman: "In order to get a vaccine that's practically deployable for people to use, it's going to be at least a year to a year and a half at best."
In late January, Fauci said a new research group of the National Institutes of Health's National Institute of Allergy and Infectious Diseases hopes to break the agency's record for developing a vaccine by having a preparation tested in humans in three months.
Experts at institutions in the U.K., China, Belgium, Germany, Russia and Australia, biotech companies such as Inovio, Moderna, and the pharmaceutical giant Johnson and Johnson, are also trying to develop COVID-19 vaccines.
But this can take years. There are, for instance, still no vaccines against SARS and MERS, which emerged in 2002 and 2012, respectively, while the Ebola jab was only approved in the U.S. in December 2019, 43 years after the disease was first identified.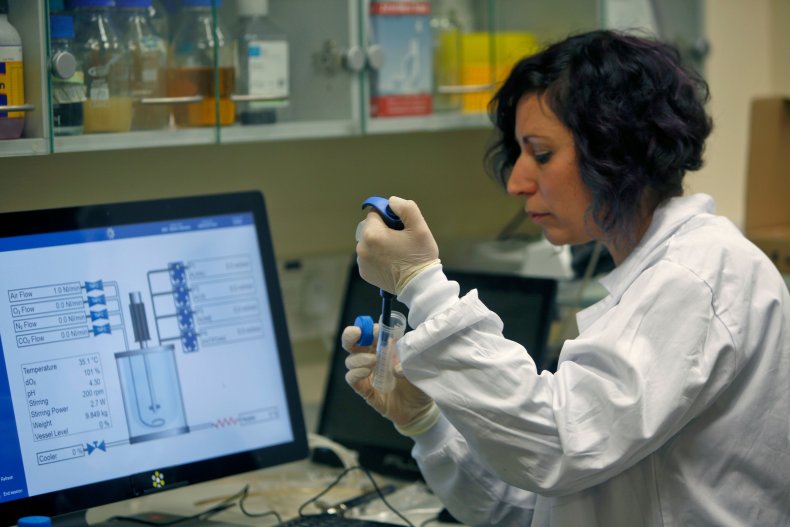 Last month, Adalja told Newsweek: "We should not expect a vaccine to have a major impact on this outbreak." However, he said attempts to speed up efforts suggested it would be possible that phase I clinical trials could start "in a matter of months."
Professor Brenda Hogue of the Biodesign Institute Center for Immunotherapy, Vaccines and Virotherapy at Arizona State University previously explained to Newsweek that creating a vaccine involves finding the right target that prompts an immune response to protect against an infection.
"Once a potential vaccine platform is identified, it goes into research and development," she said. "After meeting safety, quality and efficacy requirements the vaccine goes into pre-clinical studies that include testing in animal models before moving onto clinical trials that generally consists of four phases, with testing in humans, to further assess safety and assessment of effectiveness and dosage requirements."
Hogue said "it normally takes years to develop a vaccine and bring it to the point that it is approved for use in humans," but said "a significant amount of work has already been done toward the development of vaccines against the SARS and MERS coronaviruses.
"This should help guide and expedite the development of vaccines against" COVID-19, she said.