Woman Inspired by Giant Fake Nose Turns Her Van into a Googly-Eyed COVID Warning
If you happen to cross the Puget Sound and visit Vashon-Maury Island off the coast of Washington this summer, you may be surprised to notice a traveling nose driving around. No need to worry though—it's taking all the necessary coronavirus precautions and covering up with a proper face mask.
Okay, so it's not actually a nose on wheels on the roads of Vashon, but rather a van that has been transformed into a big sniffer, clad with googly-eyes and a blue face mask. Created by artist and photographer Michelle Bates, the van serves as a traveling warning sign of sorts, reminding residents and visitors to follow coronavirus safety guidelines by social distancing and wearing a mask.
The van was first donned with a mask by Bates' partner Stefan Freelan. Initially, Freelan dressed it up in a giant mask for a friend's graduation parade, but Bates took it one step further and decked it out with eyes and signs to spread COVID-19 warnings throughout the community. The van made its big debut at the island's Fourth of July Parade with the Vashon Emergency Operations Center.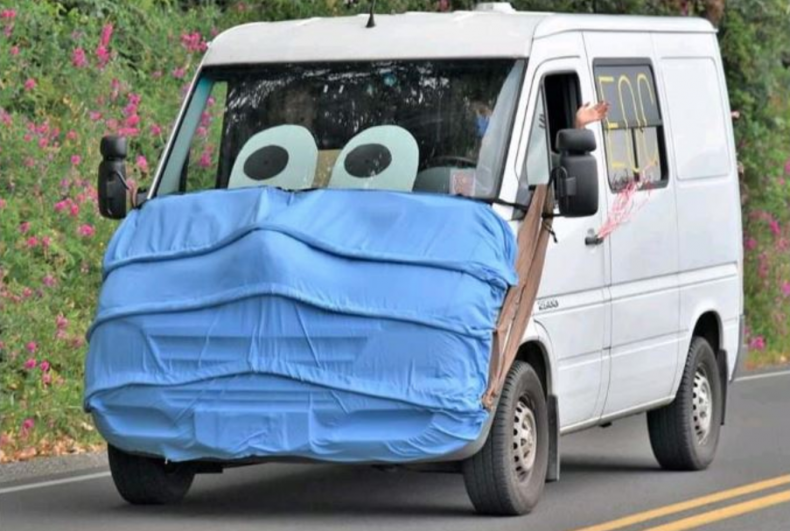 The mask-wearing van was also inspired by the work of another artist in Vashon, Mik Kuhlman, who put on a coronavirus-warning performance while greeting visitors as they disembarked from the ferries over Memorial Day weekend. Kuhlman was decked out in an oversized red cloak, reaching some nine-feet high and five-feet wide, with signs attached that encouraged islanders to wear their masks. It also reminded drivers that Vashon, which has a population of about 10,000 people, does not have its own hospital.
"We were very inspired by the large scale art pieces our friend Mik Kuhlman had done on the island promoting mask awareness and the island's COVID testing program," Bates said in an email to Newsweek. "We are all very concerned about safety for our community and for everyone around the globe, and realized quickly that pieces like this could not only get the word out to locals who stumbled on them but that their images would be a way to share the word through photos about masking and safety and concern for those around you to a wider audience, through the joy and magic of art."
Kuhlman's performance piece was created in effort to show people that the performance was to show people that "when they come on this island, it's not a normal situation here."
"We're not in normal times, we're in a pandemic. And we're not asking you to not enjoy our beaches, but if you're going to come in and shop, if you're going to come into any of our places, be aware that there is a possibility that you're bringing the virus with you," she told Vashon's local newspaper, Vashon Beach Comber.
The cloak was designed by artist Patricia Toovey, who lives on the island and also worked with Kuhlman on another COVID-19-inspired piece, The Nose Knows. The giant nose and swab were planted on a roadside to promote on-island coronavirus testing.
In addition to spreading coronavirus awareness, Bates said the project has been a resourceful outlet for Vashon's collapsing art community to share their creativity and talents in a big, impressionable way. And the community has really come to appreciate it.
"UMO Ensemble, who originally made the big nose, has been based on the island for over two decades. There is a venue called Open Space for Arts & Community where lots of quirky events are held," Bates explained. "The island expects these things and embraces them. "
Although cases of coronavirus have remained relatively low on Vashon, the island's Fire Chief Charlie Krimment, who also serves as the Incident Commander of Vashon's pandemic response activation, informed residents that a new burst of cases has occurred.
"In less than 30 days, we have added five cases. In just one month, we equaled the number of cases in the entire first four months of our activation, That's a very troubling trend," Krimmert said in a Facebook post. "Nobody wants family or neighbors to get sick, especially when it is so easy to take the steps to stay safe. We all know what to do by now. Keep your distance. Wash hands frequently. Wear a mask if you must go out."
As of Monday, there was a total of 11 confirmed cases of COVID-19 on Vashon-Maury Island.
This article has been updated to include comments from Michelle Bates.