Virginia School Cancels Classes As Nearly 500 Student COVID-19 Cases Reported in a Week
Virginia's James Madison University (JMU), which saw students return to campus housing from late August, will temporarily move in-person classes online following a recent rise in new cases. Students on campus have been asked to return to their homes by September 7, the school confirmed.
The university has a total of 513 active cases (those currently infected who are in hospital or recovering at home), with around 2.3 percent of its nearly 20,000 student population said to be currently infected, Virginia's WAVY-TV reported.
Almost all of those active cases were reportedly recorded in the last week, after in-person classes resumed from August 26 without requiring students to be tested before returning to campus, WAVY-TV reported.
Classes for the remainder of this week are scheduled to resume as planned, while in-person classes will move online no later than Monday, JMU president Jonathan Alger confirmed in a message emailed to university staff, students and parents, Virginia's WVIR-TV reported.
School officials will contact members of the campus community by September 25 about a possible return to in-person learning on or after October 5, after monitoring health trends over the coming weeks.
Alger stated: "As a result of a rapid increase in the number of positive cases of COVID-19 in our student population in a short period of time, the university is concerned about capacity in the number of isolation and quarantine spaces we can provide.
"After consultation with the Virginia Department of Health, James Madison University will transition to primarily online learning, with some hybrid instruction for accreditation and licensure requirements, graduate research, and specialized upper-class courses requiring equipment and space, through the month of September.
"Protecting the health of our Harrisonburg and Rockingham County community—including students, faculty, staff—is our top priority, and we need to act swiftly to stop the spread as best we can," he added.
The university and its on-campus facilities, such as dining, health and wellness services, will remain open throughout September.
Students living on campus have been asked to return to their homes by Monday to help minimize the number of people on campus.
"Decisions about refunds have not yet been made, but we will communicate with students and families as soon as possible on that topic," the message said.
Since August 17, there have been 372 self-reported positive cases among students, which counts students who were tested at off-campus health facilities and notified the school of their positive results.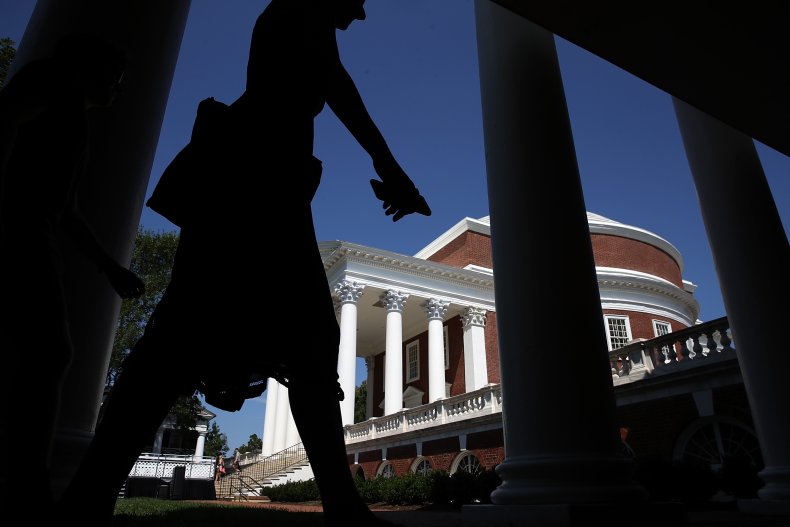 Since July 1, there have been 152 positive cases among students tested at the University Health Center (UHC), according to the data from JMU.
The university noted "not all positive cases are present on campus. There are many students and staff who are working, learning or teaching remotely and have been for some time. The size of our campus community totals close to 22,000 students and over 3,840 employees."
The latest rise in new infections at JMU comes as confirmed cases in Virginia approach 121,600, according to the latest report Wednesday from Johns Hopkins University (JHU).
The three-day average of daily new cases in Virginia was reported to be on an upward trend in the recent two-week period from August 18 to 31. The average daily case count mostly decreased since August 8, when it peaked at 1,406, according to the latest report Wednesday from JHU.
The novel coronavirus has infected more than 25.7 million people across the globe, including over six million in the U.S. Over 857,700 have died while more than 17 million have reportedly recovered, as of Wednesday, according to JHU.
The graphic below, provided by Statista, illustrates the spread of COVID-19 cases in the U.S.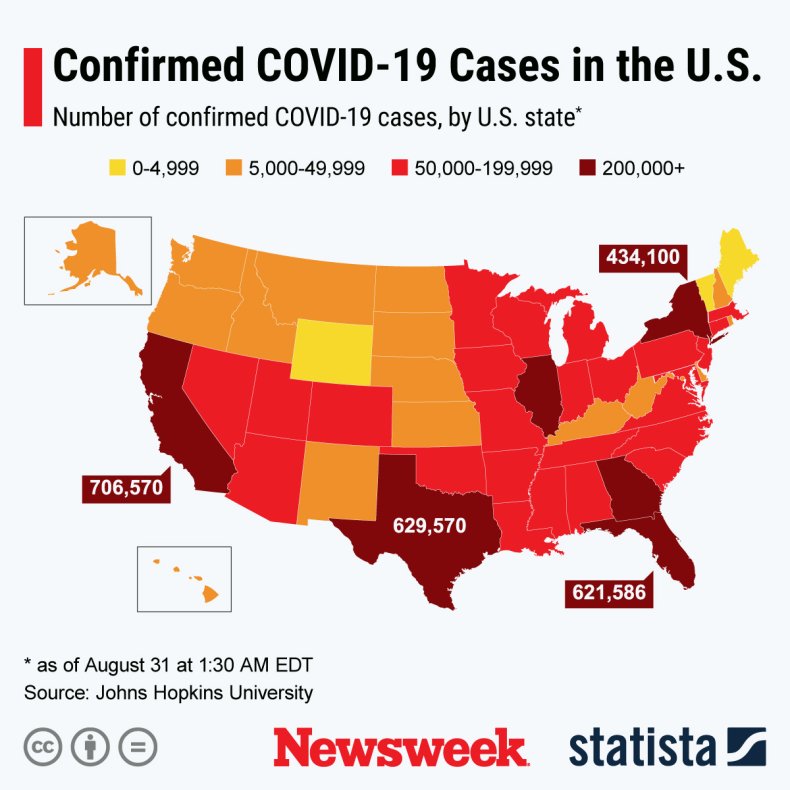 The graphic below, provided by Statista, illustrates countries with the most COVID-19 cases.