What to Know About Coronavirus in 2 Minutes or Less
A new coronavirus is spreading across the globe and the influx of attention may leave people overwhelmed with the amount of information that's available. So, here's a quick rundown of what you need to know.
COVID-19, the official name for the disease caused by the virus, was identified in humans for the first time in December in Wuhan, China. It has since infected 167,515 people in more than 150 countries and territories, and killed 6,606 people, according to the World Health Organization (WHO).
China's seen 81,077 cases and 3,218 deaths, the most of any country, but Chinese officials have been reporting fewer new cases and deaths. As the threat appears to be weakening in China, situations are becoming increasingly serious in other countries, such as Italy and Iran, where large outbreaks are occurring. Due to the significant number of cases in other parts of the world, the U.S. prohibited foreign nationals from entering the country if they've been in China, Iran, the United Kingdom, Ireland and 26 European countries within 14 days of their arrival.
Community transmission—when people test positive without visiting infected areas—is occurring in 49 U.S. states, Puerto Rico and Washington, D.C., have collectively reported about 4,226 cases. In an attempt to reduce infection rates, the U.S. adopted a domestic strategy that, generally speaking, is to engage in social distancing.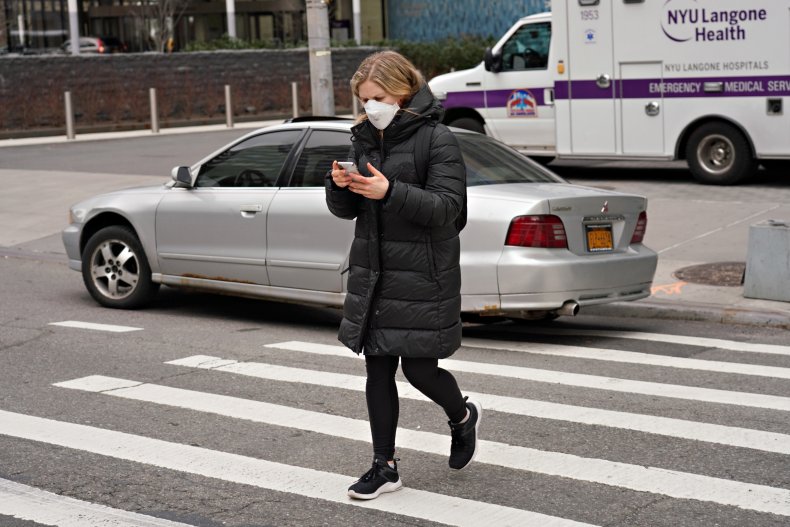 Social distancing is the deliberate increasing of space between people. To achieve this goal, major events, such as NBA and NHL games, along with NCAA March Madness and the Masters tournaments, have been suspended or canceled, schools are shut down and companies are asking employees to work from home if possible. Officials in multiple states also prohibited dine-in service at restaurants and bars and encouraged people to stay home.
President Donald Trump said quarantines of infected areas were possible but New York Governor Andrew Cuomo pushed back on the measure.
These measures can help reduce exposure, but health experts warn that cases of COVID-19 will rise. Fortunately, about 80 percent of people who contract the virus will experience mild symptoms, such as fever, cough and shortness of breath, and won't need to be hospitalized.
Symptoms usually occur 2-14 days after exposure and you can spread the virus after you stop feeling sick, according to WHO. So, WHO recommended those with the virus continue limiting interactions with family members and forgoing trips in public for two weeks after symptoms disappear.
COVID-19 can also cause pneumonia and lead to respiratory failure, especially in "vulnerable populations," including people over 60 and those with underlying health conditions or suppressed immune systems. Of the 75 deaths in the U.S., the majority involve people in the "vulnerable" population and 29 are associated with the Life Care Center of Kirkland, a nursing and rehabilitation facility in Washington state, according to the Health Department.
Globally, more than 80,000 people have recovered, according to a tracker maintained by Johns Hopkins University.
Regardless of personal risk levels, health experts implored everyone to take the outbreak seriously and work to limit the virus from spreading. That means regularly washing your hands, sneezing and coughing into your elbow, avoiding large gatherings and staying home whenever possible.