Wisconsin Hospital Sees Surge in Coronavirus Patients: 'Second Wave Is Here With a Vengeance'
Four local hospitals in the Green Bay area have reached near full capacity amid a "remarkable surge" in COVID-19 patients, a local doctor has warned.
Dr. Paul Casey, the medical director of the emergency department at Green Bay's Bellin Hospital of the Bellin Health System, noted: "The second wave is here, and it is here with a vengeance. All four Green Bay hospitals are close to capacity. Our ICU [intensive care unit] has been full several times this week, forcing cancellation of cardiac surgical cases," in a post on his Facebook page on September 25.
"For the first time in the 16 years I have been medical director, our ED [emergency department] has had to place patients in the hallway. This occurred twice in the last week. If you have not yet accepted the seriousness of this pandemic, now is the time to start. The life of a loved one could be at stake," he warned.
The total number of coronavirus cases recorded in Wisconsin has surpassed 117,500, according to the latest figures from John Hopkins University.
Casey also shared a graph on Facebook titled "Bellin Health Daily COVID Census," which showed the curve of the outbreak at the health system from late April through late September.
"To me it was striking. You could see the first wave [of the outbreak], it was a nice bell shaped curve up and down, it flattened out, and then since then it's been steadily rising and over the past three weeks you see that huge spike and that's just the first limb of another bell shaped curve," Casey told Green Bay's WBAY-TV.
"I can't speak to other areas in the state, but in Brown County we're in deep trouble.
"Over the last three weeks we have had a remarkable surge in COVID patients after being down to one inpatient in the first part of June," he said.
Bellin Hospital was reported to be at 92 percent capacity, with 30 patients being treated for COVID-19, the doctor told WBAY-TV.
According to the news station, the hospital has been forced to temporarily overflow patients into hallways while waiting for rooms to become available and is considering releasing patients early or limiting elective surgeries, as it did back in spring.
Hospitals in northeast Wisconsin have reportedly reached 74 percent capacity, according to the latest report Monday by the Wisconsin Department of Health Services.
The rise in COVID-19 hospitalizations has been exacerbated by staff shortages, with over 100 employees in quarantine following COVID-19 exposure, Casey added.
"We have no excess capacity and to have 150 people out on quarantine severely limits our ability to adequately care for the surge. It's a big problem," the doctor warned.
The latest local surge in cases, reported to be a result of community spread, could be curtailed if the public follows safety guidelines, Casey noted.
"You have to wear a mask when you're in public within six feet of another person. It's that simple. If 90 percent of the people did that we would put an end to this increasing surge in patients," he said.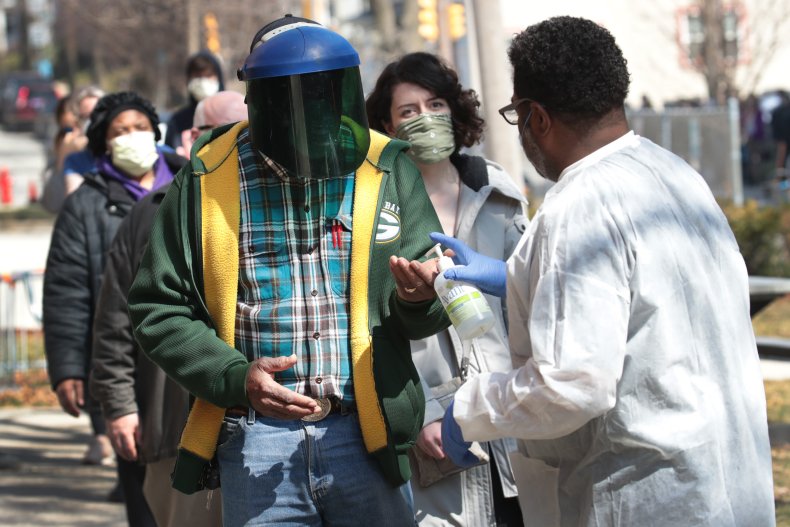 The three-day average of daily new cases in Wisconsin were reported to be on an upward trend in the recent two-week period from September 13 to 26, according to the latest report Tuesday from Johns Hopkins University.
Average daily new cases flattened out from late March to mid-June before rising through late July. The average daily case count flattened out again through early September before rising on a sharp incline for the rest of the month, according to JHU.
The wider picture
The novel coronavirus has infected over 33.3 million people across the globe, including 7.1 million in the U.S. Over a million people have died globally, while more than 23.1 million people have reportedly recovered from infection, as of Tuesday, according to the latest figures from JHU.
The graphic below, provided by Statista, illustrates U.S. states with the most COVID-19 cases.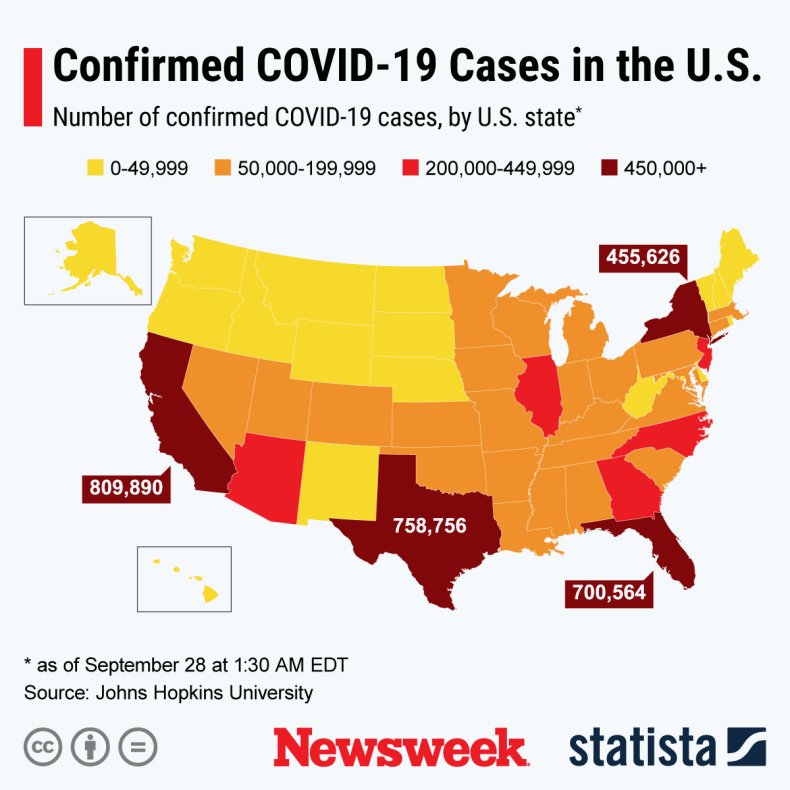 The below graphics, also provided by Statista, illustrate the spread of COVID-19 cases in countries across the globe.