Coronavirus Worldwide Death Toll Reaches 500,000
The worldwide death toll from the novel coronavirus reached 500,000 as of Sunday afternoon, according to Johns Hopkins University's tracker. The staggering figure comes the same day the total number of people affected from the virus globally reached 10 million people.
The U.S. leads the world with more than 2.5 million positive coronavirus cases and over 125,000 deaths.
The grim milestones hit worldwide on Sunday as a swath of Southern states have seen sudden surges in positive cases, and with Western states such as California and Arizona also experiencing more infections.
Florida had nearly 9,000 new cases on Friday, which crushed its old daily record. That state has reported more than 27,000 over the last three days. In response, Governor Ron DeSantis on Friday disallowed bars to serve alcoholic beverages. Meanwhile, beaches in Miami, Fort Lauderdale and other cities in Miami-Dade and Broward counties have been shut down, which will likely to extend through the upcoming July 4 weekend. Beaches in the Florida Keys will be closed July 4th weekend.
Texas began easing restrictions and reopening businesses, but its recent uptick in coronavirus cases led to Governor Greg Abbott on Friday shutting down establishments whose liquor sales accounted for more than 50 percent of sales. Some restaurants in Texas are now prohibited from allowing dine-in customers if their food sales are outpaced by liquor sales. However, the Texas Republican Party plans to host 6,000 attendees at its annual convention next month in Houston, which is one of the hot spots in the country.
California Governor Gavin Newsom on Sunday ordered bars in some counties to be shut down, and Arizona Governor Doug Ducey said last week he expects his state's positive cases to continue rising. On Sunday, Arizona reported its highest single-day amount of cases.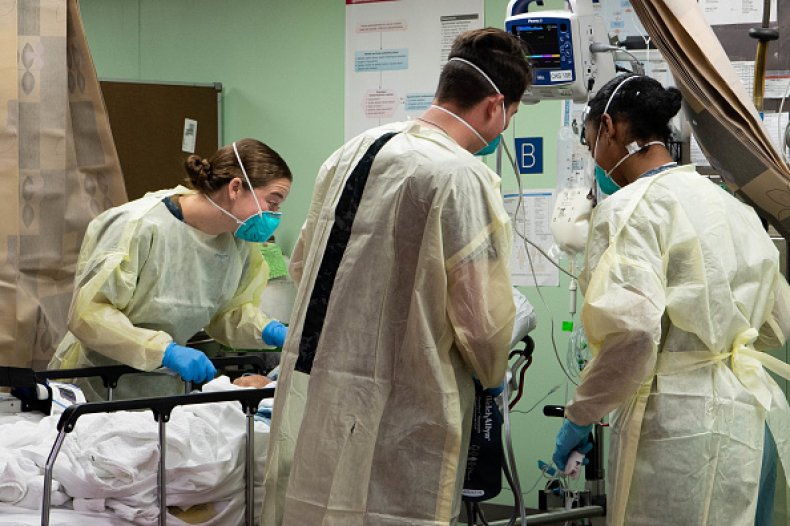 Overall cases in the U.S. have risen every day over the last week, reaching 44,000 in one day, which is the most in a single day for the country since the pandemic began in March.
Globally, European countries collectively account for about 25 percent of the worldwide cases, North American countries for another 25 percent, and Latin American countries for another 25 percent.
The virus outbreak originated in Wuhan, China, in late 2019 and then quickly spread across the globe. Asian countries only account for 11 percent of total cases, and the Middle East has reported nine percent of the world's total.
The pandemic has led to Depression-era levels of unemployment in the United States after many businesses temporarily closed, with some permanently shutting their doors. It also led to a worldwide suspension of sports beginning with the NBA and ultimately postponing the 2020 Tokyo Summer Olympics by one year. The Olympics will still be called the 2020 Tokyo Games, but they will be played in 2021.