Mobile App Could Help Stop Coronavirus Without Resorting to China-like Surveillance
China's approach of combating COVID-19 with the help of mobile software was criticized for taking advantage of the nation's surveillance and big data networks, but a group of scientists say the idea of using common smartphone features during such a crisis may still have merit.
As the novel coronavirus continues to spread globally, a team of University of Oxford-linked scientists have suggested a centralized smartphone app could feasibly be designed to alert people that they had been in close proximity to a person who later tested positive for the respiratory disease.
Earlier this month, The New York Times reported a Chinese app was assigning citizens with a color depending on their health, with the result determining if they could travel.
Alongside phone data, it appeared to be drawing conclusions from a variety of data sources—and shared information with local police. It was blasted by digital rights experts.
The university experts—epidemiologist Prof. Christophe Fraser, clinical scientist David Bonsall and ethicist Prof. Michael Parker—acknowledged in their findings that China's tool, integrated into the WeChat app, was scrutinized for "data protection and privacy" concerns, and said they sought to create a "broadly acceptable version."
They said most COVID-19 cases so far have been identified by testing people with symptoms, but noted tracing for additional victims is often based on memory, which is unreliable and time consuming.
This is where a mobile app could prove worthwhile—if handled with care, they said. It would have to be a centralized system, built with an option to request a COVID-19 test and log the result.
Theoretically, people who agree to use the application could be traced using GPS-based localization with other users and by scanning QR codes at high traffic locations, such as train stations.
If one person requested a COVID-19 test using the application and it came back positive, the app would automatically trigger an instant push notification to people who had been within close contact. The app would also send out advice surrounding isolation and decontamination procedures.
The paper states: "An alternative [to China's version] could be implemented with an algorithm that is so simple... yet is shown mathematically to feasibly contain epidemics. The core functionality is to replace a weeks' work of manual contact tracing with an instantaneous signal transmitted to and from a central [computer] server.
"The application is in green mode during normal times. The app is the central hub of access to all COVID-19 health services, information and instructions, [it is] the mechanism to request tests if a user is symptomatic [and it is] a mechanism to request food deliveries during self-isolation (code red.)"
The paper continues: "A positive test result is instantly communicated to the server, and enacts quarantine and social distancing measures in those known to be possible contacts."
---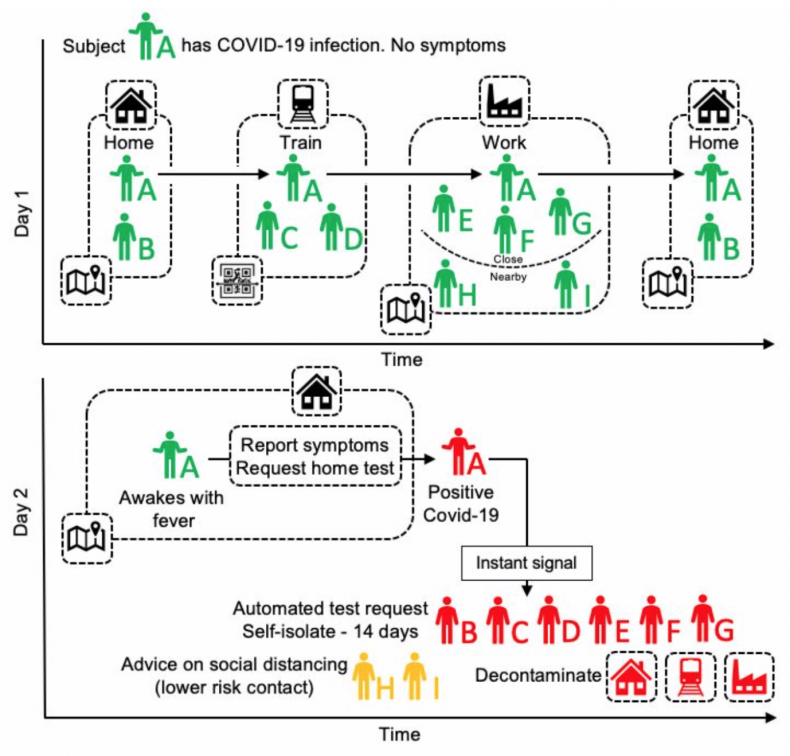 ---
The data findings—which were published on GitHub—have not yet been peer-reviewed, Fraser tweeted yesterday. He said the paper was released early because it "seems appropriate to have a wider debate given the general question of app-based approaches and ongoing feasibility studies."
At the time of writing, there have been more than 185,000 confirmed COVID-19 infections globally. It has caused more than 7,300 deaths, according to a map hosted by Johns Hopkins University.
The team of Oxford scientists stressed the importance of transparency if any app was pushed out for public use, and said it would need oversight and to be built on an auditable algorithm.
"The app proposed... offers the potential for important benefit to both society and to individuals, offering the possibility of both reducing the number of cases and also enabling people to continue their lives in an informed, safe and socially responsible way," the joint analysis paper reads.
"The system proposed here can in theory provide herd protection with much less disruption than lockdown... since most users will be able to continue with regular activities most of the time," it adds.