Coronavirus Task Force Briefing Live Stream Monday: How to Watch White House's Latest COVID-19 Updates
Members of the Coronavirus Task Force will convene again Monday afternoon for a press briefing to discuss the most recent developments surrounding COVID-19. The conference, scheduled for 5 p.m. EST, will be available to watch online via multiple platforms.
Both the White House's official website and YouTube page will stream the press conference live, allowing interested parties to tune in as it takes place in real time. The task force, formed in late January at the coronavirus pandemic's onset and chaired by Vice President Mike Pence, began holding televised daily briefings in response to COVID-19's accelerated impact across the United States.
President Donald Trump regularly participates in these televised updates. During Sunday's news conference, which broadcast from the White House's James S. Brady Press Briefing Room, Trump announced the administration's decision to extend social distancing regulations in the U.S. until April 30. The statement came less than one week after he expressed hopes to restore the country's status quo by Easter—April 12—and just days after the U.S. recorded more coronavirus cases than any nation worldwide, surpassing Italy, Spain and China.
According to the latest numbers reported by Johns Hopkins University, more than 143,000 cases of COVID-19 have been confirmed in the U.S. as of Monday morning. The diagnoses have led to 2,513 deaths and 4,865 recoveries, though experts have warned that the height of fatalities could still be ahead.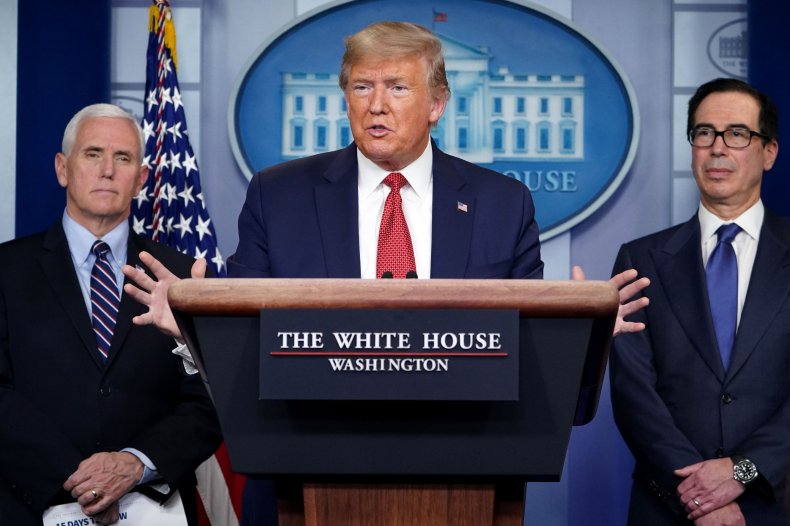 Speaking about the virus' projected influence, National Institute of Allergy and Infectious Diseases Director Dr. Anthony Fauci, who is also a member of the Coronavirus Task Force, told CNN's State of The Union on Sunday that the U.S. could ultimately see between 100,000 and 200,000 deaths as a result of the disease.
"The peak for death rates is likely to hit in two weeks," Trump said during Sunday's task force briefing, adding that he anticipates the country will be "well on our way to recovery" by June 1. Regarding a lengthened timeline for social distance guidelines, which have limited physical gatherings across professional, educational and recreational spaces, he referenced the threat of further spread, adding, "Nothing would be worse than declaring victory before victory is won."
Over to 740,000 positive coronavirus cases have now been identified globally, according to the Johns Hopkins tracker. Since COVID-19's discovery last December, the illness has led to more than 35,000 deaths worldwide and appeared in residents of 177 countries. In total, more than 156,000 people have recovered after testing positive for the disease.