Corporate Leaders Promote Plan to Become Carbon Neutral by 2050
Companies as varied as the Intel Corporation and building material giant LafargeHolcim USA backed U.S. decarbonization efforts on Wednesday during the release of an agenda about how to transform the American economy into a net zero emissions system by 2050.
The agenda published by the Center for Climate and Energy Solution (C2ES) offers a range of industry recommendations and policy guidelines for the government, urging a reconstruction of the way the U.S. regulates the gas and oil industry, uses land and incentivizes companies to take stronger climate action.
The research calls for decarbonization of buildings and regular updates to structure codes, tax credits for clean power generation and a reconfiguration of the transport sector to increase the proportion of electric vehicles. It notes that significant changes must be implemented in the next decade to enable carbon neutrality by 2050.
Elliot Diringer, the executive vice president of C2ES, told Newsweek that the scope of the research and its industry support made the agenda helpful catalyst for shifting conversations about climate change.
Private companies, including those who operate in industries with heavy carbon footprints, also praised the agenda.
"Smart policies, like those outlined in Getting to Zero: A U.S. Climate Agenda, can both reduce climate risk and strengthen U.S. competitiveness. We're committed to working in partnership with investors, policymakers and the public to deliver climate solutions," Michael LeMonds, the vice president of environment, land and government affairs at LafargeHolcim USA, said in the press release.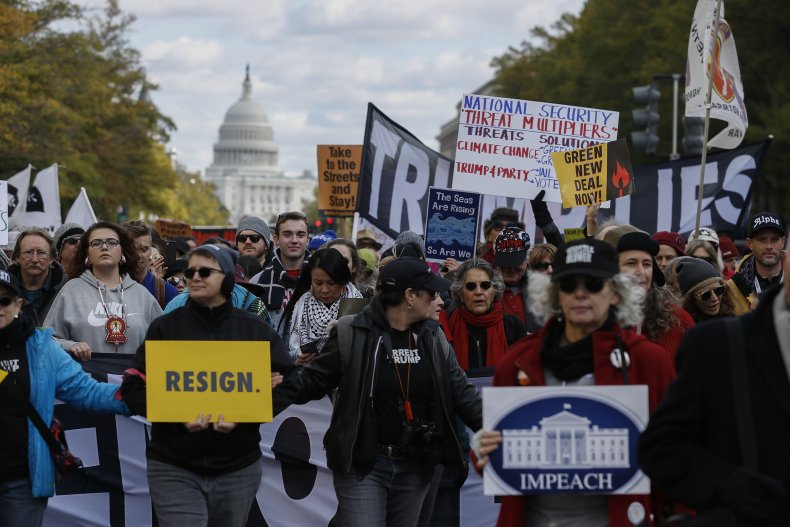 Developed countries including the U.S., Australia and a range of nations in the European Union have faced criticism from environmental activists, who allege nations that contributed the most to climate change are now failing to adequately address the growing crisis.
But amid this criticism, which activists bolstered with mass global protests during the United Nations' Climate Change Summit in September, companies offered a flurry of pledges. Eighty-seven companies with a market capitalization of $2.3 trillion pledged to reach carbon neutrality by 2050.
Google announced new energy deals that would increase the company's worldwide portfolio of wind and solar agreements by more than 40 percent. Amazon, which had been facing pressure from employees to implement more stringent environmental protections, said it would be carbon neutral by 2040.
These pledges, experts told Newsweek in October, have boosted hopes that the private sector will help spur faster decarbonization efforts by encouraging counterparts to reduce emissions and motivating countries to implement new environmental laws.
C2ES and the corporate backers of the research released Wednesday stressed the significance of business shifts to address climate change. But the report also offered myriad government changes the U.S. needed to implement to achieve carbon neutrality by 2050.
Both activist organizations and international governance bodies have focused on a similar message. "What I want is the whole of society putting pressure on governments to make governments understand we need to run faster, because we are losing the race," U.N. Secretary-General Antonio Guterres said in September.