Corporations OK, but Biden Inaugural Won't Be Fueled by Oil and Gas Industry Money
Joe Biden and Kamala Harris' inaugural festivities will likely be fueled by millions from corporations and other special interest groups in January, in addition to individual contributions from wealthy supporters.
But no money from lobbyists or the oil and gas industry, please.
The donation page that launched this week has a disclaimer saying that the inauguration committee "does not accept contributions from fossil fuel companies (i.e., companies whose primary business is the extraction, processing, distribution or sale of oil, gas or coal), their executives, or from PACs organized by them."
The committee also bars contributions from "lobbyists registered under the Lobbying Disclosure Act" or from "foreign agents registered under the Foreign Agent Registration Act."
A presidential inauguration committee official involved in planning told Newsweek that individual contribution limits are being capped at $500,000, while corporate limits have been set at $1 million. Any amounts over that will be refunded.
While still leaving room for deep-pocketed entities and people to signal support for the incoming Democratic president's administration, the limitations represent a reversal from four years ago, when President Donald Trump's inaugural committee set no restrictions on contributions, aside from barring foreign agents.
The virtual free-for-all led the Trump team to a record-shattering $107 million haul to pay for days of lavish parties and gatherings—more than twice that of the previous $53.3 million record set by President Barack Obama and Biden ahead of 2009's swearing in. Current law does not place restrictions on the size of donations.
Biden, as vice president to Obama, supported unprecedented caps on inaugural fundraising in 2008—a move touted as a way to "underscore their commitment to change business as usual in Washington and ensure that as many Americans as possible, both inside and outside Washington, will be able to come together to unite the country and celebrate our common values and shared aspirations."
Individual contribution limits were set $50,000, and the Obama inaugural team did not accept contributions from corporations, political action committees, registered lobbyists, non-U.S. citizens or registered foreign agents. Obama's team raised $43.7 million for the second inaugural in 2013, records show, but it loosened donation restrictions it had placed ahead of Obama's first term.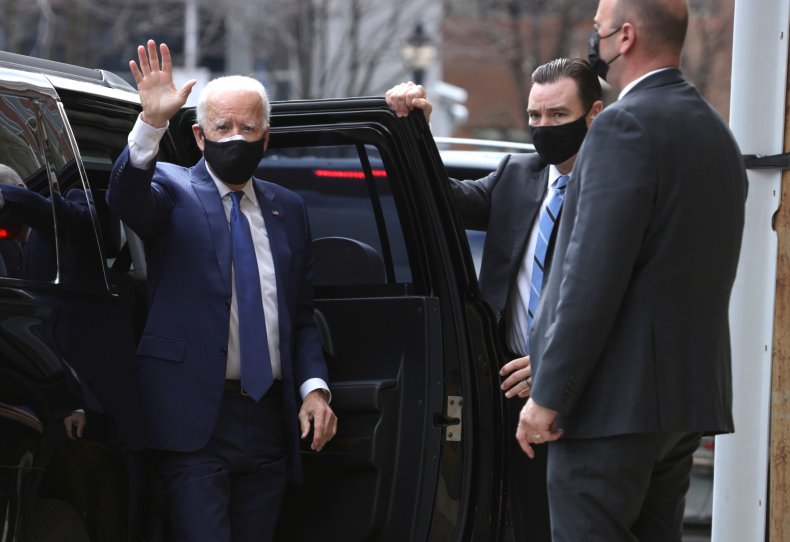 The Biden inaugural official declined to provide for Newsweek a target fundraising number for this year.
In addition to taking high-dollar donations from corporations and individuals, the inaugural planning team has set up a merchandise store where part of the proceeds from items like a pair of stemless wine glasses ($50), a wooden coaster set ($95) or a shot glass ($10)—all emblazoned with the Biden-Harris inauguration logo—can help defray the costs of ushering Biden into office.
The inaugural and transition teams have indicated that the festivities around the January 20 ceremony will be scaled back because of the coronavirus pandemic.
"This year's inauguration will look different amid the pandemic, but we will honor the American inaugural traditions and engage Americans across the country while keeping everybody healthy and safe," Tony Allen, the Delaware State University president who was chosen to lead the inauguration committee, said in a statement.
The committee, which is funded solely through millions in donations, organizes a week of festivities, including elaborate balls, star-studded concerts and extravagant luncheons and receptions.
It is separate from the Joint Congressional Committee on Inaugural Ceremonies, a group of House and Senate leaders that oversees the formal swearing in at the U.S. Capitol. But the groups are expected to work more closely this year to ensure that coronavirus safety measures are considered.
"We have engaged with the [Joint Congressional Committee on Inaugural Ceremonies] on initial planning discussions and look forward to working with them on planning safe inauguration events," the official told Newsweek.
In addition to Allen, the inaugural executive team consists of Maju Varghese, who was a senior adviser on the Biden-Harris campaign and an Obama White House aide; Erin Wilson, who was on the Biden-Harris campaign and other Democratic campaigns; and Nevada state Senator Yvanna Cancela, identified as "one of Joe Biden's earliest elected supporters."