As Corporations Pull Out of Russia, Koch Industries Pushes On
Since Russia's invasion of Ukraine, at least 375 international corporations have suspended their operations in Russia. However, some companies, including Kansas-based conglomerate Koch Industries, have not indicated any plans to withdraw their business operations from the country.
Koch Industries, which is run by American billionaire Charles Koch, has three subsidiaries that operate in Russia: Molex, Guardian Industries and Koch Engineering Solutions.
The subsidiaries have not publicly disclosed plans to pull out of Russia and statements that have been made suggest their operations are ongoing. Koch Industries' continuing business in Eastern Europe was first reported by Popular Information's Judd Legum on Monday morning.
In recent weeks, large corporations from McDonald's to Disney have all left Russia in response to the invasion of Ukraine. Some companies like Accenture, KPMG and PwC have announced they would leave Russia completely.
Yale School of Management's Jeffrey Sonnenfeld, who has kept a running list of which companies have halted operations and which continue, said these mounting pressures on Russian President Vladimir Putin have already worked to slow the country's economy, "if not bring it to a complete standstill."
"A lot of times, business leaders are not just problem-solvers, but they're always looking for that third solution, that a middle ground, that they're somehow we have issues that are black and white, we're going to wrestle with the gray," Sonnenfeld told PBS on Friday.
"There's no middle ground here. You have a vicious villain, and you have these innocent victims. And that sort of upsets the mindset of a lot of business leaders to get there, but they're getting there quickly," he added.
Earlier this month, Koch's donations to D.C. think-tank Atlantic Council came under scrutiny after staffers spoke out about an article published by two senior experts that argued the U.S. should not focus on human rights in the dealings with Russia—a stance some staffers told Politico is influenced by Koch's money.
"The Koch industry operates as a Trojan horse operation trying to destroy good institutions and they have pretty much the same views as the Russians," one of the staffers who signed a statement distancing themselves from the article told Politico.
Dan Caldwell, the vice president of foreign policy for Koch's philanthropic organization Stand Together, has also said he wants to see less American intervention abroad.
"I am extremely concerned that some of these policies being pushed from policymakers on both sides of the aisle will put us on a path toward a conflict with a nuclear-armed Russia," Caldwell told the New York Times last week.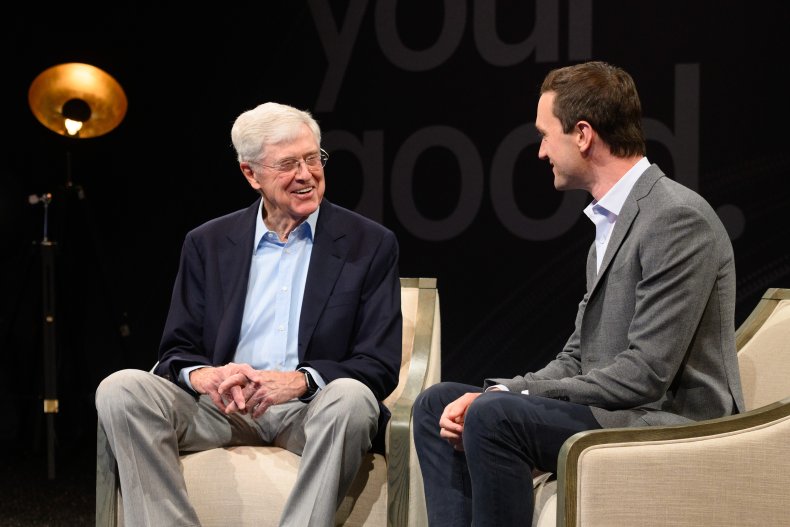 National polling shows that the majority of Americans want to see large corporations take a harder stance against Russia as the conflict continues to intensify in Ukraine.
A Morning Consult poll from earlier this month found that 75 percent of Americans support companies cutting ties with Russia and stopping business dealings there.
However, the statements that have been made by Koch Industries' subsidiaries suggest that they are not being swayed by public opinion and that their business activities have continued in Russia .
In a March 4 statement made to USGlass Magazine, a spokesperson for Guardian Industries said that the industrial glass manufacturer "continues to closely monitor the tumultuous events in Eastern Europe, supporting our employees who are affected."
The company has two production plants in Russia—one southeast of Moscow and another near the border of Ukraine.
Likewise, Koch Industries' Molex, an electronic components manufacturer—which doesn't operate production or distribution centers in Russia but offers its products through a third-party network—said it is "monitoring the ongoing developments in Eastern Europe" and described the situation as "fluid" in its latest March 1 letter.
"We will continue to monitor the situation and will keep you advised of any changes or potential risks," Molex wrote to its customers.
Koch-Glitsch, an affiliate of Koch Engineering Solutions that has a sales office in Moscow, has not publicly commented on the ongoing war in Ukraine at all. There are 10 Koch-Glitsch offices located in Europe.
Koch Industries isn't the only company that has remained in Russia.
Goldman Sachs, JP Morgan and Deutsche Bank have cited client relationships for ongoing dealings, while companies like Burger King and Marriott point to legal agreements that prevent them from severing ties in Russia.
Newsweek reached out to Koch Industries for comment but did not hear back before publication.