Corpse Flower: Visitors Line Up to Sniff Rare Once-in-a-Decade Bloom That Smells of Rotting Bodies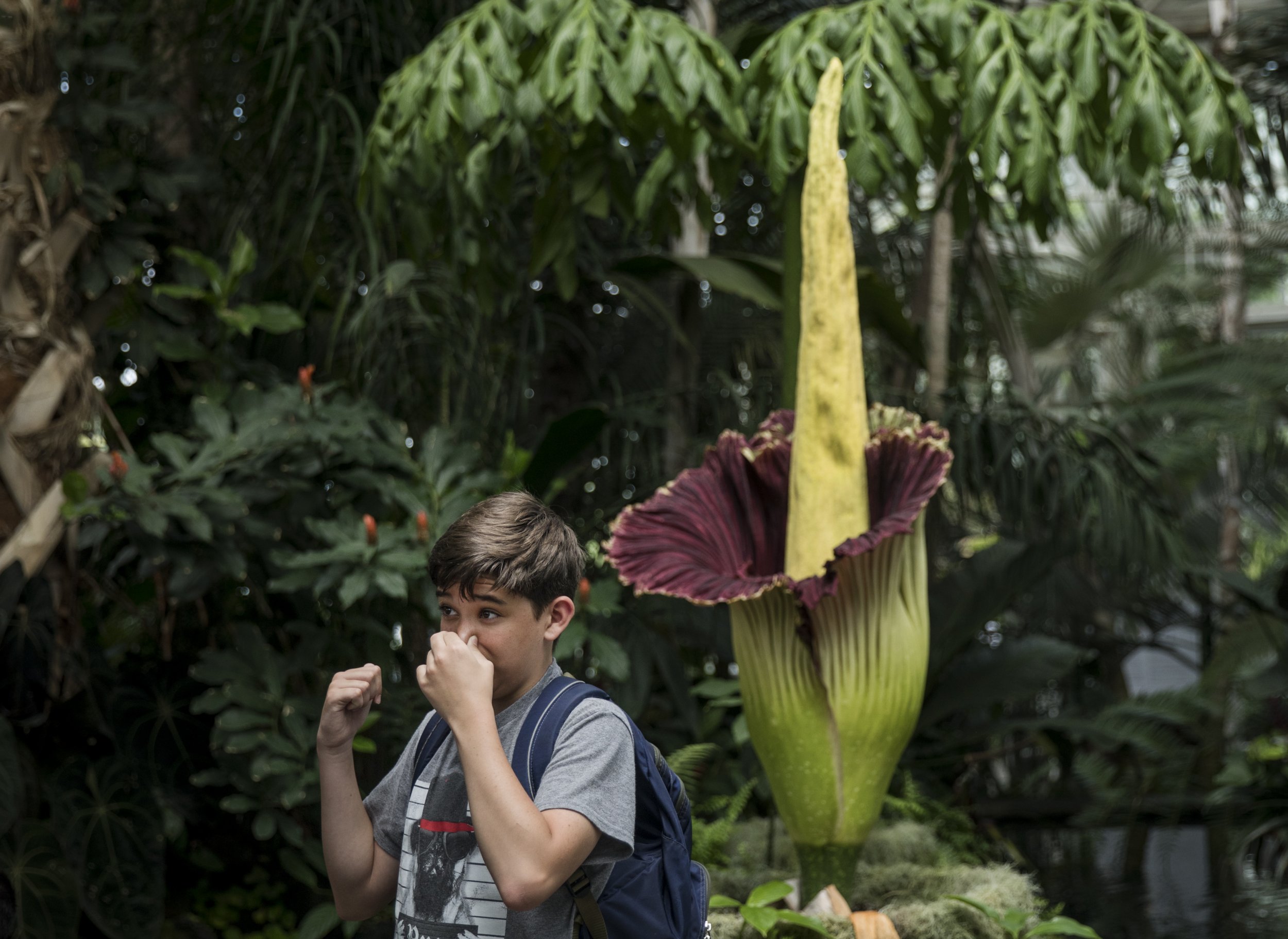 Getting excited about something that smells like a decomposing body may sound a little odd, but that's exactly what is happening at a botanical garden in San Francisco where a corpse flower has bloomed.
Over the past few weeks, the San Francisco Conservatory of Flowers has been teasing the progress of its Amorphophallus titanum,nicknamed "Suma the Titan," on its Instagram page.
"Soon the Conservatory of Flowers will be enveloped with the sweet scent of rotting corpses, as Suma the Titan beckons all potential pollinators," the conservatory wrote on its website.
At around 2 p.m. on Sunday, the corpse flower reached full bloom. By that night, a line of people wanting to experience the foul-smelling plant firsthand had already formed, and the conservatory was letting a dozen people in at a time, SFGate reported.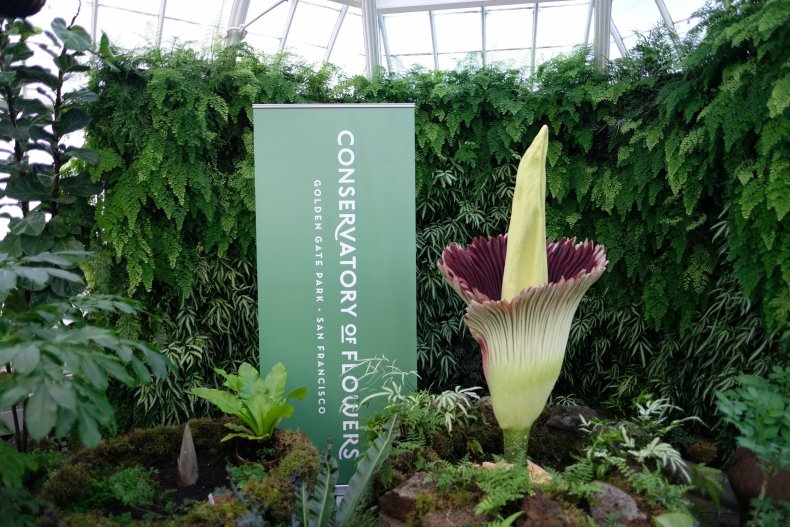 A visit should be arranged as soon as possible, as the plant will remain at its peak for only two or three days. After that, curious people will have to wait between seven and 10 years for Suma to bloom again.
To accommodate the expected high number of visitors, the conservatory has extended its hours to 10 a.m. to 10 p.m. from Sunday through Wednesday.
Matthew Stephens, garden director of the Conservatory of Flowers, told Newsweek: "Our visitors' consensus last night was that the strongest scent was compost heap imparted with a strong base of stinky cheese. Notes of rotting cabbage and smelly gym socks were also observed. The odor definitely comes in waves of intensity and the particular notes fluctuate dramatically."
Thousands of people have visited since the Conservatory announced the bloodm he said, and staff are expecting tens of thousands to visit this week.
"This plant is very special to us, as its intense odor during the bloom cycle is an experience to behold," he said. "This species is uncommon. Our current plant is ten years old, blooming for the first time, and its bloom is brief, making it such a unique olfactory botanical experience."
Despite its common name of "flower," the titan arum is in fact the largest unbranched inflorescence, or structure comprised of many flowers, in the world. The stem can tower 6 to 8 feet tall, while the leaf structure can measure a staggering 20 feet.
Also known as the carrion flower, or corpse plant, the A. titanum gets its name from its stench, which is caused by chemicals it shares with rotting onions, smelly cheese, sweaty socks, rotten fish and garlic.
Read more: Woman feels electric shock in her legs, doctors reveal parasite has invaded her spine
That smell, combined with the plant's rare ability to create heat up to 100 degrees Fahrenheit, tricks insect pollinators like carrion beetles into believing it is a rotting corpse.
Native to the tropical rainforests of Sumatra, Indonesia, the corpse flower blooms when the leaflike spathe pulls away from the spadix: a spike of flowers around a fleshy stem.
As it approaches this state, the plant grows taller and the spathe flushes a deep purple color and widens. When the plant slows its upward growth, it's a sign it is on the verge of reaching its peak.
This article has been updated with a photograph of Suma the Titan and Matthew Stephens.