As the Russian military retreats from the Kyiv oblast, the carnage left behind is becoming more visible. There are reports of civilians being shot to death while there hands were tied behind their back. Bodies of naked women were found on a highway and corpses have been spotted in yards, in cars and in the streets near the Ukrainian capital.
"Russians are shooting civilians after tying their hands behind their backs," wrote Anastasiia Lapatina, a journalist for the Kyiv Independent. "Dead bodies are all over the Kyiv oblast, on the streets, in cars, in people's yards. Mass graves are full of unidentified bodies. Many families will never know what happened to their loved ones."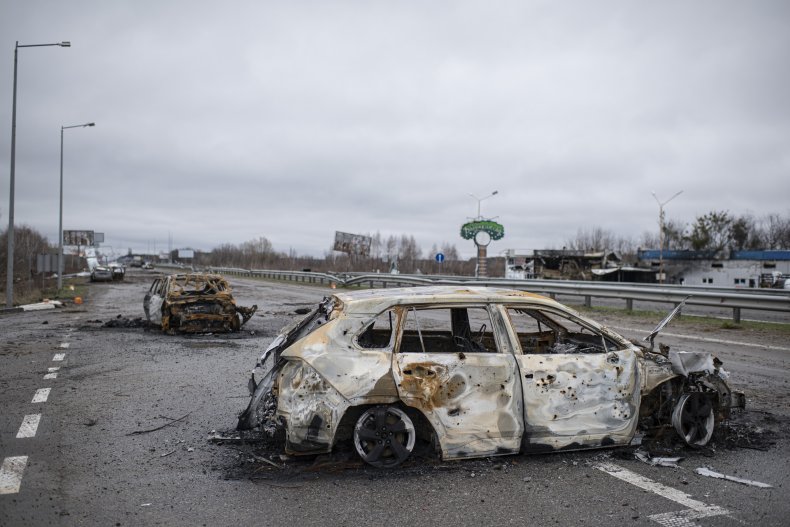 Ukraine's war with Russia will enter its sixth week on April 6. There have been horrifying images and stories of death and destruction since Russia first invaded the country in late February. Ukrainian photojournalist Mikhail Palinchak captured a photo Saturday of what he described as dead, naked bodies of at least four women. He said they were found on the roadside, perhaps with intentions to be burned.
(Note: the following tweet can be disturbing)
Russian forces have begun an exit from the Kyiv oblast as Ukraine fighters have taken back much of the areas northwest and east of the capital. Russian troops have also pulled out of Hostomel airport near Kyiv, the British Defense Ministry stated earlier today.
"Ukrainian forces continue to advance against withdrawing Russian forces in the vicinity of Kyiv," the British ministry stated. "Along the north western axis, Ukrainian forces' attempts to advance from Irpin towards Bucha and Hostomel are ongoing."
Russian troops have evacuated east to the Kharkiv oblast after failing to capture Kyiv, and with Ukraine's liberation of Trostyanets near Sumy earlier in the week.
Now that heavy fighting in the Kyiv oblast has settled, the body count is starting to rise.
Mariupol is perhaps the hottest hotspot for continued fighting and soaring death toll. Having faced intense bombings for weeks, the city has an estimated 5,000 residents who have died, according to local authorities.
Ukraine President Volodomyr Zelensky said Saturday that "we have managed to rescue 6,266 people, including 3,071 people from Mariupol."
Human corridors have helped many residents evacuate from Mariupol during cease fire agreements. In all, more than 4 million Ukraine residents have fled the country as refugees into neighboring countries.
The evacuations continue, though, according to Oleksiy Arestovych, an adviser to Zelensky who says new negotiations are planned between Moscow and Kyiv.
"Our delegation has reached an agreement in Istanbul to provide evacuations. ... I think that today or maybe tomorrow we will hear good news, regarding the evacuation of the inhabitants of Mariupol," Arestovych said.
Newsweek reached out to the Russian defense ministry for comment.