Corpses of Executed Prisoners Used In Real Bodies Exhibition, Campaigners Say
Opponents of an exhibition displaying human bodies claim that it could be using the corpses of executed Chinese prisoners.
Questions have been raised about the source of the 200 specimens which are preserved through plastination on display in Sydney at Real Bodies: The Exhibition after it was revealed that they came from China.
Susie Hughes, from the International Coalition to End Transplant Abuse in China (ETAC), questioned exhibition organizers' claims the bodies were "unclaimed corpses".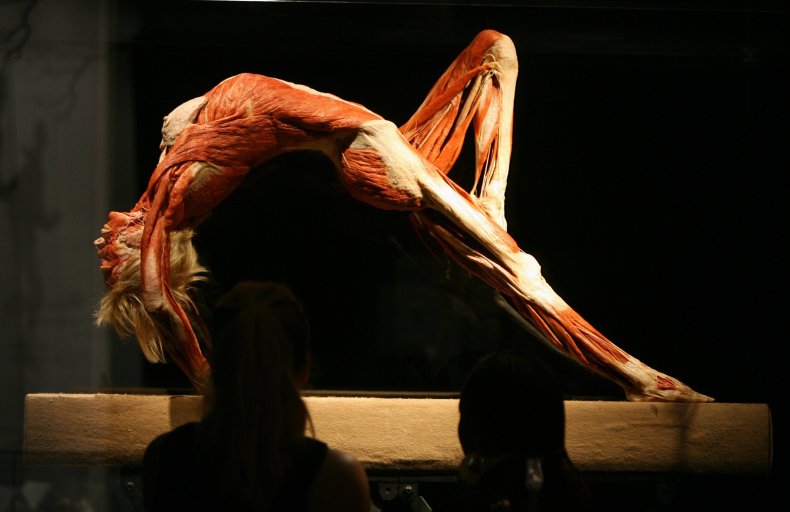 She says Chinese hospitals only deem a body unclaimed after 30 days, which is at odds with the requirement to start the plastination process within 48 hours after death.
ETAC has written an open letter to Australian Prime Minister Malcolm Turnbull and New South Wales Health Minister Brad Hazzard urging the the exhibition to be closed.
"Using human organs and tissues without consent for financial profit is the antithesis of ethical and legal practice," the letter said.
"Strong evidence supports the bodies and organs being exhibited having come from executed prisoners in China," Vaughan Macefield, a professor of physiology at the Western Sydney University, told The Guardian. "These are mostly young males on display, quite different to the older donated bodies used to teach anatomy in Australian medical schools."
Tom Zaller, chief executive of the display's organizer, Imagine Exhibitions insists there were no ethical concerns, which he dismissed as having "no basis" .
"We have been down this road so many times. There's absolutely no truth in what's being said, he told News Corp. "The bottom line is all of the specimens used in our exhibition are legally sourced and they have all died from natural causes, which has been expressed since the beginning of these exhibitions touring, as well as forensic anthropologists."
Exhibitions of plastinated bodies, pioneered by German anatomist Gunther von Hagens, have been viewed by more than 50 million people worldwide, but have seldom failed to spark controversy. They are banned in Israel and France.