Jamie Foxx's Daughter Corinne Takes Charge With New Netflix Series 'Dad Stop Embarrassing Me!'
When you're 16 years old, the last thing you want is to spend the night camping out in front of a store, awaiting the release of the new limited-edition Yeezy sneakers with your father—especially if he's going to be embarrassing you with his many corny dad jokes.
It's a scenario Sasha Dixon (Kyla-Drew), one of the lead characters of Netflix's newest series Dad Stop Embarrassing Me!, will have to endure in one episode of the sitcom. Her father Brian, played by award-winning actor Jamie Foxx, does a lot more than just humiliating her with lame stories, though. He breaks out a karaoke machine, bursts into song and convinces her friends to join along. He totally overreacts when he catches Sasha "gallivanting" with one of her male friends (yes, Brian calls it "gallivanting" because, as Foxx says on the show, "Black men say 'gallivanting.'") And he even gets them kicked off of the line after he attempts to incite a riot and throws shrimp at a security guard.
It's madness! But the incident may not be too far off from what Corinne Foxx, Jamie Foxx's real-life daughter, may have experienced when she was growing up under his roof. After all, Dad Stop Embarrassing Me! is inspired by the situations described in Corinne Foxx's diary.
"It really started from years of my dad and I telling these funny, embarrassing stories we had throughout my life and throughout my teenage-hood. Everyone's always laughed at them, so we thought, Why don't we take these stories and turn them into episodes of a TV show? That's really what we did. We basically took my diary and pitched it to Netflix, and they loved it," Corinne Foxx told Newsweek during a recent phone interview.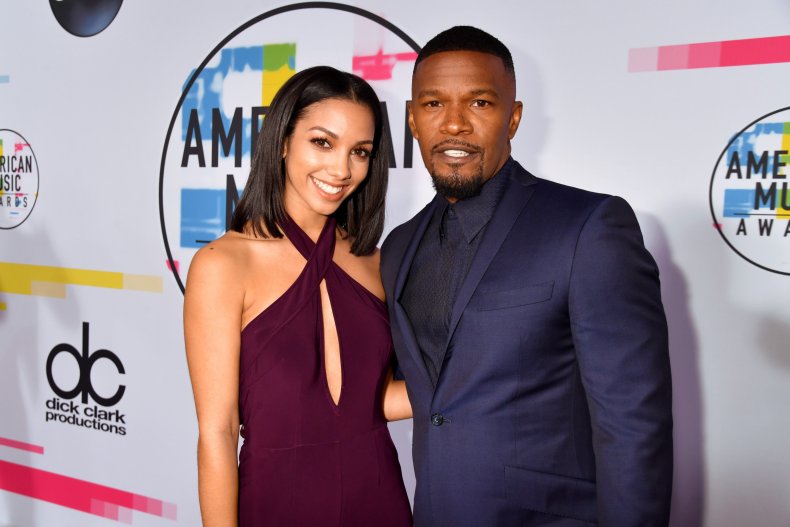 Although the show includes some particularly awkward moments based on Corinne Foxx's actual experiences, the series is largely fictional. It follows the blossoming relationship of the charming single father and Bay Cosmetics owner Brian and his sassy, smart teenage daughter Sasha after she moves in with him. Along with all the other growing pangs teenage girls experience that Brian must learn to navigate, Sasha is also grieving the sudden death of her mother all while adapting to a new life in a new city.
The pair face some rocky moments living together for the first time, but with the help of a few lively characters—Brian's father Pops (David Alan Grier), his witty sister Chelsea (Porscha Coleman) and best friend Johnny (Jonathan Kite)—the father-daughter duo improve their bond.
Dad Stop Embarrassing Me!, which released on Netflix on Wednesday, marks the first executive producer credit for Corinne Foxx. And while it was a big role to fill, the actor and model noted that working with her father—as his boss, nonetheless—on a show loosely based on her life was one of the most rewarding experiences of her career thus far.
"It was pretty surreal to be an executive producer on a show about my life when I'm only 27, because I feel like my life is just starting," Corinne Foxx said.
See Newsweek's full interview with Corinne Foxx below.
What was it like working with your dad in this capacity?
My dad and I have worked together before—we did Beat Shazam together—and I feel like we creatively understand each other. I've worked with him kind of as a peer on the other side of the camera, but now that he was on camera and I was behind it, I do think our dynamic shifted. Suddenly I was his boss, and I was the one calling the shots. If you think about the whole show and years of embarrassment, for me to now be his boss, it's very full circle for me. But honestly, my dad believes in me so much. There were times, yes, where we didn't agree on things. But he would always trust me and encouraged me to trust my gut. He really gave me so much of a voice, and I noticed that the other producers realized that because they would come to me to tell [my dad] bad news or that he needed to come in early because he'd listen to me and not them. So that was kind of a funny part of the job.
How different was being an executive producer compared to acting and things you've done in the past?
This was a completely new job for me, and I had to really psych myself up to even do it because I was the youngest producer of the project. I was in rooms with big Netflix executives with longtime producers who have been doing this for years. At times, I would feel like, Oh my gosh. How did I get in this room?
I think also just being a woman and finding my voice in the room was a huge part of my journey. Once I was an EP, I got involved in every small detail. I was sitting with the colorist. I was coloring the show with them, I was editing the show, I was writing the show, casting—every single part of this. There are so many decisions that have to be made and I think that because it's my story, I was so closely involved in every small detail of putting the show together.
What was it about Kyla-Drew that made her the perfect fit for Sasha?
We saw lots of girls for that role, and we spent a lot of time choosing Sasha because she's so important to the show. We had girls that came in who were really really funny and could play with the energy that my dad was giving them. But when Kyla came in, she had this groundedness to her that we were really looking for. The comedy in the show is the conflict between my dad's character, who is over the top and very flamboyant, and the daughter character who is more grounded—kind of the yin and the yang. So when Kyla came in and worked with my dad she could give him this look like, "What? You think you're cool? You're not cool." And that's what we really needed. When she gave us this one look we knew she was it. That's also the face she makes on the promo poster. She just has this grounded nature that compliments my dad's over-the-top nature really well.
How did you guys land on David Alan Grier for Pops?
That was my dad. He was very very adamant about getting him. There was potentially a scheduling conflict so at first, we weren't sure if David was going to be a part of the show. But my dad was super adamant about it, and I was like, "Why do you want David so bad, dad?" And he was like, "Well you didn't see us in In Living Color." I wasn't born when it was on, and he just talked about their chemistry so much. I didn't fully get it until the first day on set and I saw David and my dad just going at it. It was magic. It was something that only years of knowing each other and years of performing with each other could create. And I honestly think David makes the show.
Yea, David and Jamie's chemistry is unmatched. Watching them together with Kyla, it feels like a lot like a real family.
Yea it does. Honestly, everyone on the show besides Kyla has worked with my dad before—Porscha Coleman, Jonathan Kite. It was really important to him to have people around him that he felt comfortable with, and it totally shows when you watch the show.
So many cast members have a comedy background. How did you guys get anything done without laughing all the time?
That's when I was called in. My dad loves to use the time in between every take. He's always dancing, playing music and sometimes I'd have to be called in to be like, "Hey, dad. Gotta turn off the music. Time for work." But I would say so much of the show is ad-lib and the actors feeling comfortable enough to say what they want to say. I also told that to Kyla. I told her, "You are actually 16. If we give you a line that isn't cool, that isn't what you'd say, say it how you want to say it. You have creative freedom here to do whatever you want." That was also the beauty of working with Netflix because they really let us make the show that we wanted.
We haven't seen a lot of shows following a single Black dad raising a daughter on his own. Were you thinking about representation and how this could help change the narrative surrounding Black fathers when you were creating the show?
Absolutely. Positively portraying Black fatherhood was something that we were really aware of and something that we felt a huge responsibility to get right because for years when we saw Black fatherhood in the media it was the absent father, the father we never knew, someone who was incarcerated. And we had the opportunity to change that narrative into one that so many people experience. I've had such an amazing relationship with my dad my whole life, and so many other young girls have as well. You change the narrative by showing how Black families really are. It was written by a Black family, and I think that's also a big part of it—not having a white guy write about a Black family.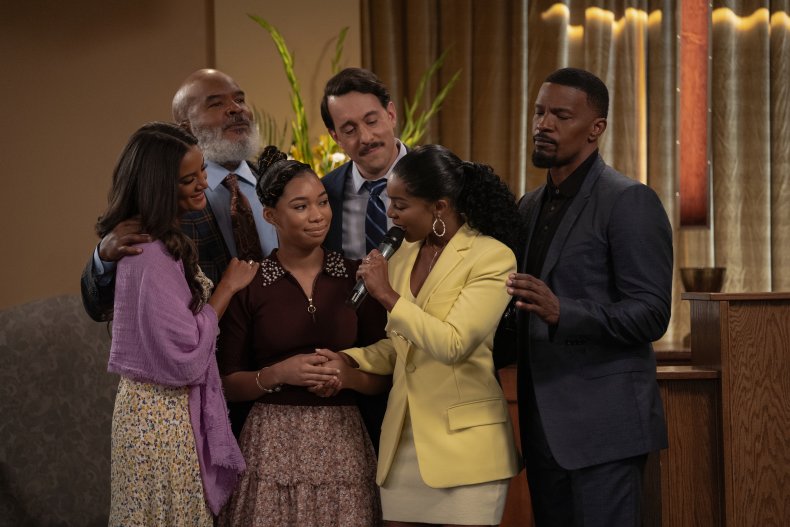 If there was one major takeaway you hope viewers are left with after watching Dad Stop Embarrassing Me!, what would it be?
One of the big themes of our show is that it takes a village. Part of Brian and Sasha's relationship is the fact that there are so many other people who are supporting Brian in getting to know his daughter more and showing up for her more. Family isn't necessarily only blood. It's your neighbor that shows up. It's your friends. We added that element into the show, and I hope people take that away.
What's the biggest thing you've learned in your first time as an executive producer?
Something that I've learned is to really trust your gut. There were times when I felt really intimidated by the rooms I was in, by the decisions I had to make. And when I trusted my gut it always worked out. You also have to be able to make compromises and listen to everybody to make the show work collectively, but the biggest learning moment was finding my voice and just going for it.
What's next for you? More shows with your name stamped on it?
Definitely. I'm developing a few shows besides this, and hopefully, we get a Season 2 of Dad Stop Embarrassing Me! as well. I also have a podcast that's called Am I Doing This Right? that comes out every Tuesday, so you can catch up with me every week there.